EMV Challenges: Extending Useful Life of Cards to 5 Years
Transitioning from traditional magnetic stripe cards to EMV chip cards was a major change for the card manufacturing industry. Now, three years into the transition in the United States, issuers and manufacturers are preparing for new challenges.
The problem centers on the cost of EMV card manufacturing. Using chips adds a great deal of complexity to manufacturing, requiring new processes and additional materials. Issuers often incur increased costs for EMV cards, compared to magnetic stripe cards. Faced with higher prices for cards, issuers pushed manufacturers to deliver cards that could last five years in the field instead of the typical three years.
The challenge for plastic credit card manufacturers is in the raw materials required for cards with longer lifespans.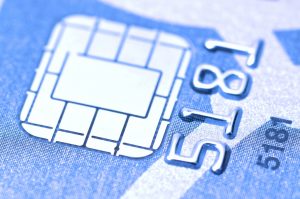 Magnetic stripe cards have been traditionally made from PVC plastics and they were designed to last for three years. Some ID cards, on the other hand, are meant to last 5 – 10 years because they are made of plastics like PET, PET/PVC hybrid, and polycarbonate.
"These ID card materials are more durable than PVC," said Barry Mosteller, president of ICMA and director of technology engineering at CPI Card Group. "That durability costs 8 – 14 times more than PVC though, so changing from PVC isn't the first option for issuers."
Alternatives to switching the card substrate from PVC to PET or polycarbonate include different coatings to make the cards more durable.
"There are materials out there that make the cards scratch resistant or even completely scratch proof, but they are not conducive to bank cards," said Mosteller. "The harder coatings get, the less ability there is for hot stamps and applying signature panels. The earlier materials out there when EMV started wouldn't work with holograms and hot stamps."
Durable Coatings Play Bigger Role for Manufacturers
Long-lasting coatings are going to become acutely important for card manufacturers.
"In the past, most card failures came from cards not functioning," said Mosteller. "Because more and more transactions are happening on the chip and less and less on the magnetic stripe, the mag stripe may not be the failure point."
Since the introduction of EMV cards three years ago, the search has been on for a coating that could survive in the field for five years, but still allow things like thermal printing, embossing and hot stamps.
"Industry suppliers are working to modify coatings so they have scratch resistance and can still do thermal stamps," said Mosteller.
Aside from offering durable coatings to provide greater life span, EMV cards bring a host of challenges to manufacturers that drive the cost.
For example, ISO standards dictated that cards should be 30 mils thick (plus or minus three mils). PVC cards were typically made 28-30 mils thick to comply, while EMV cards require a pocket milled in them for the chip to sit in and this necessitates a slightly thicker card. EMV cards are typically made 31 mils thick now, which means the card uses 10 percent more PVC.
Additionally, there are stringent security protocols associated with the EMV chips and software licensing costs for manufacturers and personalizers.
"When chips are received, they are unlocked with a transport key," said Mosteller. "Then, the personalization bureau's transport key is placed on the chips and they are sent to the personalization bureau. The personalization bureau unlocks the chips with their key and places the issuer's key on them. There's a lot involved in the EMV process."
The card manufacturing industry has weathered the initial transition to EMV cards and the next step is refining the materials and processes to ensure the cards can deliver a long lifespan in the field.
"We are at three years now with EMV cards. Emergency card replacement is costly for banks and if replacing cards goes up for issuers, it may make sense for them to pay a little more up front for more durable cards," said Mosteller.
Want more?
For three decades, ICMA has represented the interests of the card manufacturing industry—which includes manufacturers, personalizers, issuers and suppliers—as its leading global association.
ICMA maintains several training and education programs about card manufacturing for members and hosts conferences throughout the year. Training includes the Advanced Card Education (ACE) program and the main conference is the Annual Card Manufacturing & Personalization EXPO.