Advance your career and your company's reputation with ACE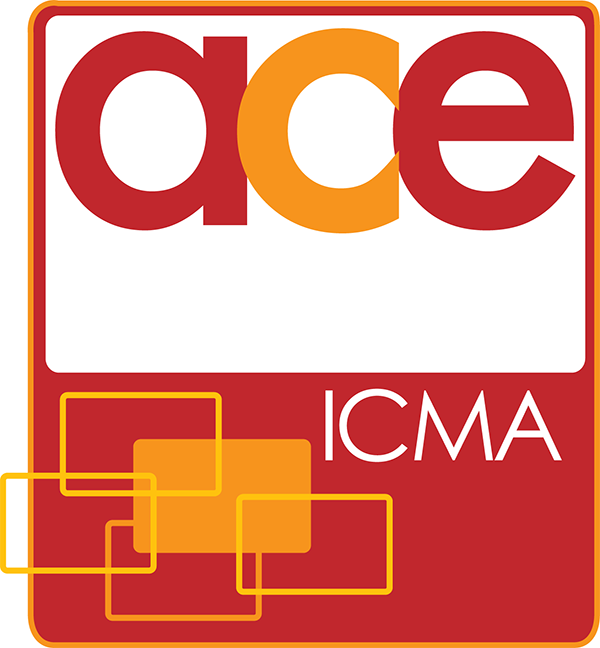 There's a lot of competition in the card manufacturing and personalization/fulfillment industry, but the ACE-M, ACE-P and ACE-A designations will set you apart. It's awarded to people with a broad and detailed knowledge of the industry who successfully complete a rigorous exam. As the demand for experts grows, continual training and expertise are crucial for individuals – and companies – to stay ahead of the crowd.
NEW! ICMA is offering a virtual live training program, ACE-Commercial, which provides sales, marketing, customer service and other key personnel at your company the opportunity to learn the fundamentals of card manufacturing as well as typical customer questions and challenges. Elevate your marketing team with ACE-Commercial!
About the ACE program
Be Recognized for Your Achievements
ACE for individuals acknowledges:
Expertise
Competence
Dedication
Commitment
For companies:
ACE validates expertise and distinguishes your employees as motivated experts in the card manufacturing industry. It also increases customer confidence in your business.
Gateway to Opportunity ACE
The one card you really need to make your mark in the industry. People with ACE recognition can:
Use the ACE designation after their name
Proudly display their ACE certificate
Put the ACE logo on their business cards and email signature
Enable their company to tout its accomplished staff
ACE levels
Currently ICMA offers three designations, ACE-M, ACE-P and ACE-A. Each designation is developed as a stand-alone and does not build upon, nor require, the other designation as a precedent. Consequently, the card professional can build upon their ACE-M with the ACE-P as well as the ACE-A, or alternatively, for those that specialize in personalization and fulfillment segments of the industry, can seek ACE-P separately.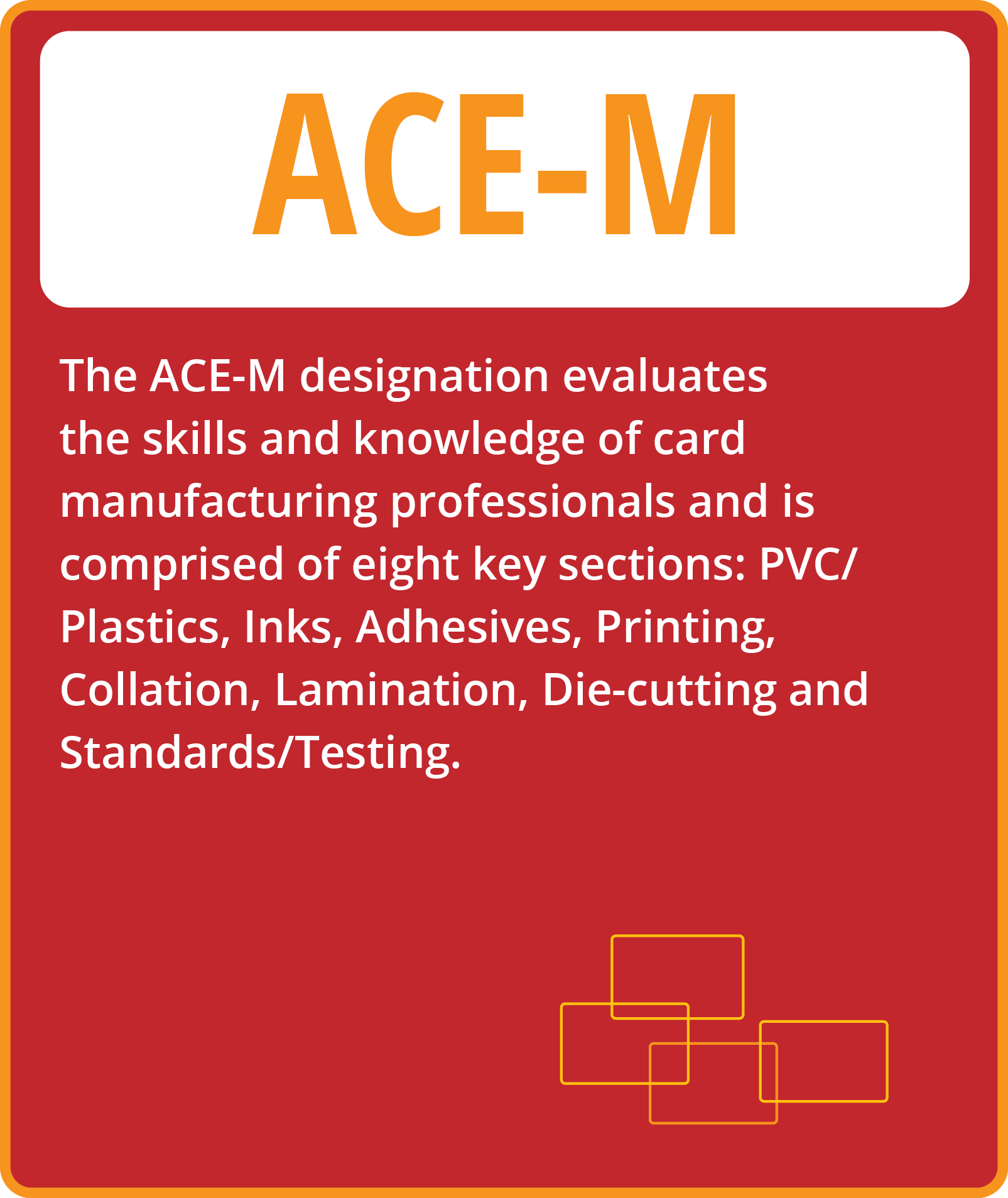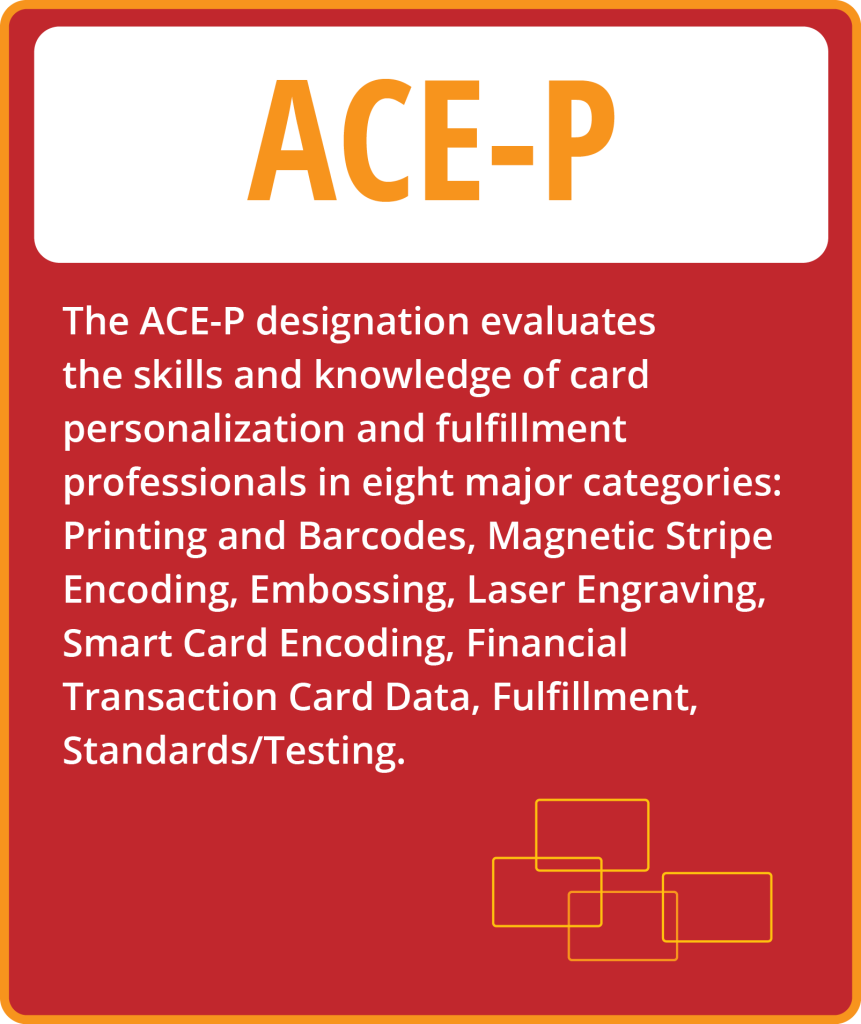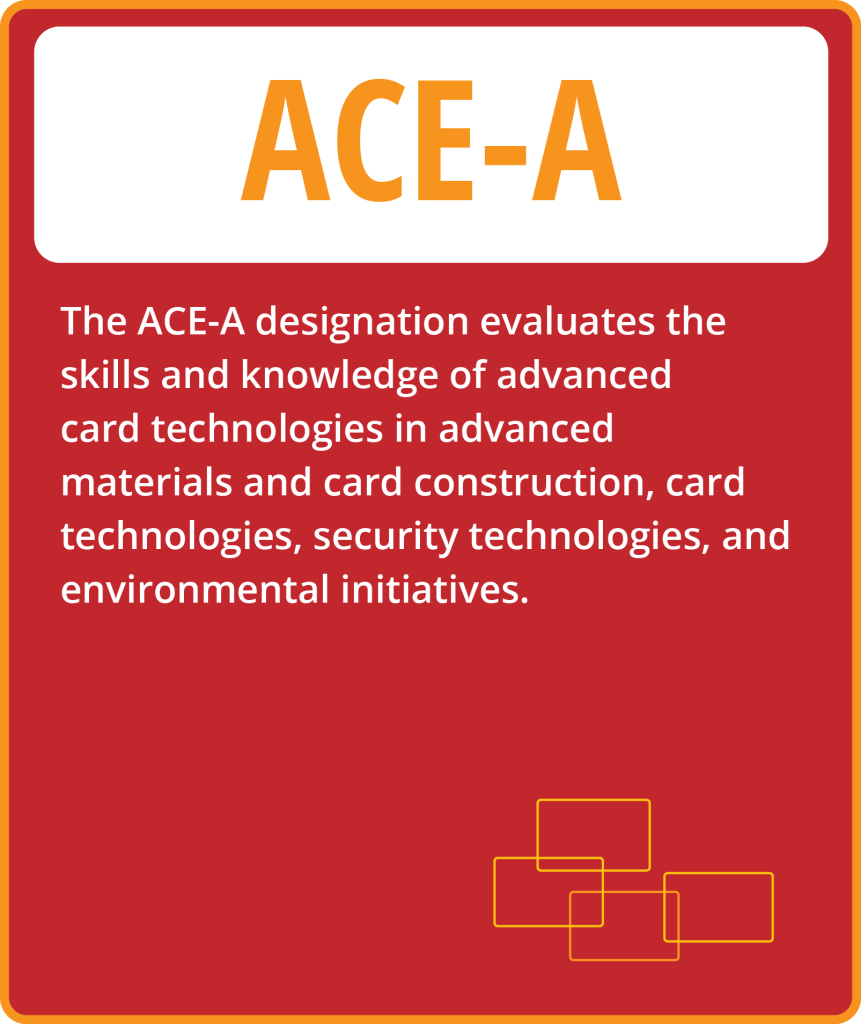 Private Group Training / Exams
Companies may elect to host a private training and exam with a minimum of 10 participants. Contact ICMA for details.
ICMA reserves the right to evaluate the current COVID environment prior to confirming and scheduling a private training & exam.
ACE Training Seminars Available
ICMA Standards Representative, David Tushie, guides you through your questions about the ACE exams and the manuals they are based upon. ACE enrollees have the opportunity to participate in an interactive session to learn the best way to prepare and feel ready for the exam. David will go into details of the manual to ensure you are familiar with the wide variety of subject matters covered.
Whether you plan to take the exam at the EXPO, CardTREX North America or CardTREX Europe, you'll get the chance to receive instant feedback on your questions. To sign up for this seminar, the cost is $295, please click the link below and apply for the ACE program. Once your ACE application is approved, you can register for an exam, then the training seminar through the exam registration. Companies with a minimum of 10 registrants may also arrange a dedicated training session.
How To Achieve The ACE Designation In Four Steps
1. QUALIFYING / APPLY TO TAKE THE EXAM
The ACE designation is for card manufacturing professionals who have demonstrated abilities and knowledge in technologies and processes in specific card manufacturing, personalization/fulfillment or advanced technology areas. Applicants must be working for an ICMA member company and have a minimum of two years experience working in the card industry in any of the following areas.
Card manufacturing
Personalization or service bureau
Supplier to the card industry
If you or your employee have 2+ years of experience in the card manufacturing or personalization industry, and a broad and detailed knowledge of manufacturing, then click the link below to apply for the Exam. Once we have approved the application, we will notify applicants of their acceptance. There is a non-refundable application fee of $50 per applicant. All applicants must be a current employee of an ICMA member company.
Applications are due 30 days prior to testing date. PLEASE NOTE: ACE exams and trainings are contingent on a minimum number of registrants. If the minimum number is not met 21 days before the scheduled training, participants will be notified to reschedule at the next event training is being offered.
ICMA EXPO ACE-M: Manufacturing Training:
ICMA EXPO ACE-M Exam:
2. REGISTER FOR AN EXAM / STUDY GUIDE
Testing is conducted at ICMA events, including the EXPO, CardTREX events and other major industry shows. Once you are notified that you have been approved to sit for an exam, you must register for an Exam date. You will receive an email from ICMA confirming your approval and letting you know you can register for an exam. There is an Exam fee of $275 per person. Confirmed exam registrants will receive a comprehensive study guide, outlining general areas of knowledge required for the exam. The guide will not include all the questions and answers because applicants are expected to have gleaned much of their knowledge from hands-on experience in the industry. Once registered for the exam, applicants are eligible to sign up for an in-person training session.
You must register for the exam at least 30 days prior to the Exam date.
3. PREPARE
The study guide is not meant to be an all-inclusive resource for the questions on the exam, it is just a guide as to the type of material that will be represented.
We recommend the training seminar and it is usually best to take it at the same event as you are taking the exam. You can sign up for the training as part of the exam registration process.
4. TAKE THE EXAM
Arrive at the Exam on time, and bring Photo ID. You will have 3 hours to complete the test which will be proctored. There is a pool of questions to ensure that the exact same questions will not show up on consecutive exams. Exam results will be announced within 30 days following the exam date. If someone fails the Exam, they can re-test, following the same deadlines, with a $50 re-test fee.
STAY CONNECTED
Sign up for ICMA announcements
Contact us
"*" indicates required fields