Consumers Demand Gift, Loyalty Cards
Did you know that 93 percent of American consumers received or gave a gift card in the last 12 months? Or that gift cards have been the top most-requested gift for the holiday season for the last 11 years running?
Gift and loyalty cards—physical cards—are here to stay, said Tiffany Milbrandt, national account manager at CARDSource. She recently delivered a talk on the subject at the International Card Manufacturer Association's CardTREX North America in Minneapolis.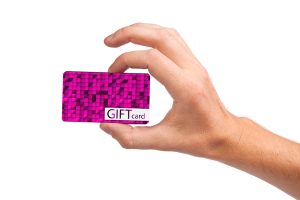 We bank online, order furniture online and order takeout online. But the less face-to-face interaction we have, the more we crave it. "We still desire a real tactile connection with things," Milbrandt said. "Physical cards improve customer relationships and strengthen brand loyalty while bringing customers back into brick and mortar locations."
More than 80 percent of Millennials, a generation synonymous with technology, say they want physical cards, but they also want their reward program to have a mobile component, Milbrandt said. Digital cards have experienced a 200 percent growth, but still only make up 10 percent of the overall gift card market.
Multi-channel, multi-brand loyalty programs like BRIGHT Rewards (that includes retailers Gap, Old Navy, Banana Republic, Athleta) drive 10 times more revenue than a basic loyalty program, according to Milbrandt's research
Physical cards are more secure against fraud— if someone hacks into the database, the most they could see is the gift card limit. A gift card is also a cheaper way to send a gift, especially at the holidays.
Gift and loyalty cards are relatively inexpensive to produce and they serve as in-wallet advertising that lasts for years. Retailers pay no processing fees with gift cards like they do on credit card transactions and recoup balances not used within five years— unused gift cards added $3.5 million to retailers' profits in 2017, Milbrandt said.
So how can retailers keep gift and loyalty cards top of wallet? Milbrandt says it's a combination of factors. Loyalty programs used to consist of punch cards- buy 10 ice cream cones, get one free. Today's most successful programs offer travel incentives, hotel discounts and gift cards. The best programs also include a mobile component.
Nearly half of consumers purchase gift cards for themselves to earn rewards and they say loyalty programs influence what and where they buy. Nearly three quarters of consumers say they would recommend a brand with a loyalty program over a competitor with the same product but fewer perks, Milbrandt said. Beyond square plastic cards, retailers are issuing loyalty cards made of materials like wood and metal, as well as cards in different shapes, in innovative packaging and more.
Projections show the global gift card sector will reach $750 billion by the year 2026. Milbrandt says card manufacturers need to work with retailers and marketers to create a robust loyalty program and continue to show the value of physical cards as part of a great program.
"Remember, if we don't allow our customers' programs to go stale, neither will our card manufacturing numbers," Milbrandt said.
Want more industry insider insights or a glimpse into global card trends?
For three decades, ICMA has represented the interests of the card manufacturing industry—which includes manufacturers, personalizers, issuers and suppliers—as its leading global association.
ICMA maintains several industry-leading training and education programs about card manufacturing for members. These include the Advanced Card Education (ACE) certificate and the web-based Card Industry Training & Education programs, which provide information on key areas of the industry, as well as online tutorials and webinars on specific topics from card industry experts and leading industry suppliers.
ICMA also provides regular industry reports to keep members informed of emerging trends and changing standards, including Global, European and North America Card Market and Personalization and Fulfillment Statistics Reports each year.
The organization hosts three conferences each year. The main event is the Annual Card Manufacturing & Personalization EXPO and the other two conferences are CardTREX North America and CardTREX Europe.
To learn more about the benefits of ICMA membership, click here.