ICMA Élan Award Winner Pushes Boundaries with Leading-edge Card Technology
As Asia's largest supplier of financial cards and personalization services, Goldpac Limited's business philosophy is simple: Create value for customers with cutting-edge technology. Goldpac continues to innovate and shape the future of the card industry with best-in-class products. With an eye toward trends in design, Goldpac earned the prestigious International Card Manufacturers Association's (ICMA) 2018 Élan Award of Excellence in the People's Choice Category for the Filigree My Starbucks Rewards Card manufactured for Starbucks.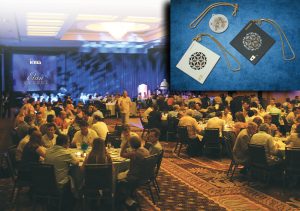 The Élan Awards are the only industry-wide awards for card manufacturing in the areas of card design and development, as well as supplier and personalization innovation. They celebrate the pinnacle of card design innovation, security and technical achievements in the industry. ICMA has offered the awards annually since 1999 to showcase the world's best cards and technology.
"As a foremost recognition in the card manufacturing industry, the Élan Awards recognize the best cards in globally-led design technology," said Goldpac's Hong Li, director of design. "Our award will help us highlight our strengths in creative design and will give us the confidence to keep progressing forward."
Goldpac's winning card was inspired by the ancient artistic technique of Chinese filigree. The card plays with the contrast in brightness between the gold fibers against a black or nacre background. Finished with epoxy, the impression is one of flowers swaying gently in the wind on a delicate piece of artwork. Goldpac credits winning the People's Choice Category to their commitment to recruiting the best designers and staying up on the latest trends and production practices. Each year, the winner of the People's Choice Category is selected by ICMA EXPO attendees.
"We set our sights on producing modern, high-end designs," said Li. "With our understanding of the trends in fashion, we hope to constantly be among the leaders in the industry and to provide value to our customers. We are very proud and humbled to have our work recognized on such an international scale."
As a leading enterprise within the secure payment industry, Goldpac has devoted its efforts to the creative aspects of product development. As a full card solution provider—combining manufacturing, personalization and card issuing services to create value for customers—Goldpac continues to encourage the widespread use of intelligent, secure payment technology, allowing people everywhere to benefit from the freedom of a safe and convenient payment experience.
Since 2003, Goldpac has won 30 Élan Awards across multiple categories, which are a tribute to the company's technological innovations. The company credits the Élan Awards with boosting their name recognition in the industry and adding brand value. Most recently, they submitted 12 cards for the 2019 Élan Awards. In addition to leveraging their Élan Awards for business opportunities, Goldpac also credits their ICMA membership with providing them with a platform in the global industry to network for business opportunities and resources.
Established in 1993, Goldpac is the only secure payment solution provider in China to hold simultaneous certifications by China UnionPay, VISA, MasterCard, American Express, JCB and Diners. As a card industry leader, Goldpac is actively engaged in the development of China's industry standards. The company has led several projects that include the first EMV program in Mainland China, Hong Kong and Macau, the first provincial social security card project, the first financial social security card, the first citizen card and the first healthcare card projects.
Goldpac continues to shape the future of advanced technologies in internet finance, mobile payment, smart city, host card emulation, identity-based encryption and attribute- based encryption systems and attributes much of its success to its employees who are passionate about their work and driven by the company's core values.
Serving clients across the entire Asia Pacific region, Goldpac provides solutions that address the diverse needs of secure payment systems, embedded software and security products, personalization, data management services, card issuance systems, multi-function terminals and custom turn-key solutions, covering a wide range of businesses from financial services, social security and healthcare, to transport, retail, mobile payment, identity, third-party payment platforms and other security services domains.
Want more industry insider insights or a glimpse into global card trends?
For three decades, ICMA has represented the interests of the card manufacturing industry—which includes manufacturers, personalizers, issuers and suppliers—as its leading global association.
ICMA maintains several industry-leading training and education programs about card manufacturing for members. These include the Advanced Card Education (ACE) designation and the web-based Card Industry Training & Education (CITE) programs, which provide information on key areas of the industry, as well as online tutorials and webinars on specific topics from card industry experts and leading industry suppliers.
ICMA also provides regular industry reports to keep members informed of emerging trends and changing standards, including Global, European and North America Card Market and Personalization and Fulfillment Statistics Reports each year.
The organization hosts three conferences each year. The main event is the Annual Card Manufacturing & Personalization EXPO and the other two conferences are CardTREX North America and CardTREX Europe.
To learn more about the benefits of ICMA membership, click here.