PLI Card Marketing Solutions Wins Élan Award of Excellence for Energizing 'Gifting Experience'
PLI Card Marketing Solutions was recently awarded the International Card Manufacturers Association's (ICMA) Élan Award of Excellence in the Loyalty, Promotional and Gift Card Category for the Starbucks' Holiday Surprise Card.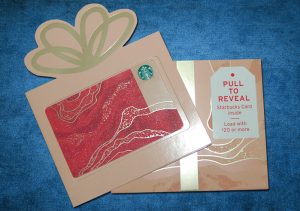 ICMA's Élan Awards of Excellence celebrate the pinnacle of design innovation and security and technical achievements in the global card industry. With more than 113 entries this year, there were some definite trends—innovation in design, personalization, packaging and fulfillment.
Based in Las Vegas, PLI is the world's largest manufacturer of hotel keycards, serving as the exclusive vendor for Hilton, Marriott and Hyatt.
PLI's Melissa Clemente, corporate director of innovation and marketing, recognizes the fun and exciting "gifting experience" consumers want to have when giving a gift card and said the winning card delivers.
"It includes a beautifully designed carrier with gold foil accents and an interactive pull-to-reveal clear core card that creates a noteworthy and memorable experience," Clemente said. "It's fun. It builds excitement, offers a surprise and makes the recipient feel special. But beyond the elegant look of the gift card presentation, the judges recognized the complexity of the manufacturing process, which included a specialty combination of clear core PVC, precision layered printing, subtle fine glitter and gold foil stamping."
Jeffrey Barnhart, ICMA founder and executive director, announced the Élan Awards of Excellence winners at the 2019 ICMA Card Manufacturing and Personalization EXPO, which was held at the Omni Orlando Resort at ChampionsGate in Florida.
"ICMA members know that being recognized with an Élan Award goes far beyond winning worldwide industry recognition," Barnhart said. "Winning means prestige, brand recognition and new business opportunities, which build competition in the industry and ultimately drives the entire card industry forward. Personalizers, manufacturers and suppliers also realize that creating a positive consumer experience leads to repeat purchases, brand loyalty and social sharing."
The Élan Award judges use a quantifiable scoring system based on criteria in nine categories, which are graphical design, printing, complexity, technology, quality, innovation, uniqueness, practicality and security (if applicable).
"Being recognized for both extraordinary manufacturing abilities and quality production by international industry peers and experts is not only a compliment, but a testament to our outstanding capabilities and standards of excellence," Clemente said.
PLI plans to continue showcasing examples of the company's work, as well as their clients' innovations with future entries into the Élan Awards of Excellence competition. 
"Competition helps drive innovation at PLI and innovation brings new and improved substrates, specialty print and lamination techniques, as well as unique packaging and product promotion ideas, to our clients," Clemente said. "It helps them and us earn distinction, which leads to success in the marketplace."
PLI's business philosophy centers on the belief that a card is the smallest canvas for a brand.
"With that in mind, we deliver cards to our clients that they can be proud and excited to present to their customers—cards that will get noticed and purchased," Clemente said.
To learn more about submitting an entry into the 2020 Élan Awards of Excellence competition, visit ICMA.com or email info@icma.com.
Want more industry insider insights or a glimpse into global card trends?
For three decades, ICMA has represented the interests of the card manufacturing industry—which includes manufacturers, personalizers, issuers and suppliers—as its leading global association.
ICMA maintains several industry-leading training and education programs about card manufacturing for members. These include the Advanced Card Education (ACE) designation and the web-based Card Industry Training & Education (CITE) programs, which provide information on key areas of the industry, as well as online tutorials and webinars on specific topics from card industry experts and leading industry suppliers.
ICMA also provides reports on the card market and on personalization and fulfillment statistics to keep members informed of emerging trends and changing standards.
The organization hosts three conferences each year. The main event is the Annual Card Manufacturing & Personalization EXPO and the other two conferences are CardTREX North America and CardTREX Europe.
To learn more about the benefits of ICMA membership, click here.