Celebrate a Major Milestone with ICMA in 2020
Backed by a strong history, 2020 marks the International Card Manufacturers Association's (ICMA)  30th anniversary—that's three decades of building unity within the industry—all with a goal of overcoming industry challenges, celebrating incredible accomplishments, embracing growth, adapting to change and propelling the global card manufacturing and personalization industry forward.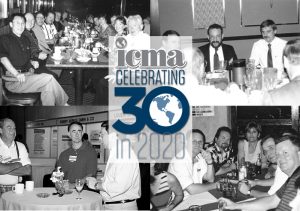 ICMA was established as an independent voice—for manufacturers and product and service providers in the transaction card industry—to network and share resources and best practices. It began in 1990 with just seven companies coming together. Over the past thirty years, membership has grown tremendously and ICMA remains the card industry's premier association.
Although the industry has changed rapidly, many things are still the same. The industry continues to be built on relationships, which ICMA facilitates in new ways, like with the introduction of the membership directory to help generate new business opportunities for members.
From educational opportunities, to bringing members from across the world together at the EXPO and at networking events, ICMA continues to deliver the data members rely on to analyze market trends and remain at the cutting-edge.
ICMA's 30-year anniversary is more than just a date to celebrate. It is a rare opportunity to recognize and revel in ICMA's success as an association and the strengths that will lay the groundwork for continued growth.
Although ICMA's 2019 Card Manufacturing & Personalization EXPO has recently come to a close, plans are already in the works for the 2020 EXPO, which will take place March 29-April 1 at the Saddlebrook Resort in Tampa, Florida, and will commemorate ICMA's 30th anniversary.
The agenda will include the leading-edge educational programming and networking opportunities that members have come to expect at the EXPO—presentations by leading industry experts, informal and formal networking opportunities, the Élan Awards of Excellence ceremony and dinner, and so much more. Jeffrey Barnhart, ICMA founder and executive director, continues to explore new opportunities to push the association to new heights by expanding business opportunities for members through networking, membership initiatives and education.
"ICMA's strength is rooted in each and every member," said Barnhart. "Over the past 30 years, ICMA has grown to more than 200 members with industry-leaders coming from more than 40 countries, representing every continent and market in the world."
Through member support, ICMA continues to deliver leading-edge educational programming, expand the breadth of events, increase member benefits and provide unique networking opportunities where manufacturers and suppliers develop new ideas to innovate the card manufacturing business into the future.
Al Vrancart, ICMA founder emeritus and industry advisor, said, "ICMA's success has been built on resiliency, collaboration, innovation and a commitment to keeping members at the top of their game by offering industry-leading training and educational opportunities. Although we are celebrating our 30-year anniversary—we are just getting started shaping the future of the industry."
Big things are in store for the 2020 EXPO, the card industry's premier event that gives members a place to unite and strategize. Don't miss out on your chance to celebrate this momentous occasion
It's not too early to reserve an exhibitor booth or sponsorship package for the 2020 EXPO. Email Dwebster@icma.com for more information.
Want more industry insider insights or a glimpse into global card trends?
For three decades, ICMA has represented the interests of the card manufacturing industry—which includes manufacturers, personalizers, issuers and suppliers—as its leading global association.
ICMA maintains several industry-leading training and education programs about card manufacturing for members. These include the Advanced Card Education (ACE) designation and the web-based Card Industry Training & Education (CITE) programs, which provide information on key areas of the industry, as well as online tutorials and webinars on specific topics from card industry experts and leading industry suppliers.
ICMA also provides reports on the card market and on personalization and fulfillment statistics to keep members informed of emerging trends and changing standards.
The organization hosts three conferences each year. The main event is the Annual Card Manufacturing & Personalization EXPO and the other two conferences are CardTREX North America and CardTREX Europe.
To learn more about the benefits of ICMA membership, click here.