How Card Technology Is Improving POS Transaction Time
So many evolutionary changes have advanced the card industry to where it is today. This is especially true for financial credit/debit cards, the many types of pre-paid cards and the card payment transaction systems that work reliably all over the globe. The reach of these products controls the rate in which change can be accommodated.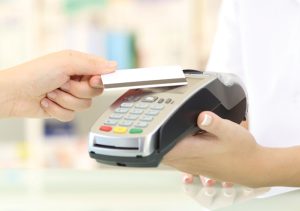 Smart chip cards evolved like a wave starting in France with the pre-paid telephone card and flowed outward, around the world, to finally reach North America. The liability shift to the retailer, mandated by the payment brands, finally pushed the wave over the coastal dike that held it back for so long. Some say that it was the Target breach that provided the necessary "tipping point" to make the investment happen in the United States.
"Regardless, the fact is chip cards are here to stay," added David Tushie, Magellan Consulting, Inc., International Card Manufacturers Association (ICMA) standards and technical representative.
With chips now in cards worldwide, other card applications, such as physical access control, could move toward alternative card technologies to achieve more security, convenience and other benefits.
Contactless cards, which employ a "tap and go" solution, are just starting to be used by transit systems for secure transactions in their various applications. Contactless technology can provide both security and the transaction speed necessary for transit fare card and turnstile applications.
Contactless Technology Delivers Speed, Security
High-speed, secure transactions are the goal of every retailer for purposes of both customer service and merchant productivity. After years of contact chip card use, it was clear that some markets in Europe and Asia would be adding contactless technology to their point-of-sales (POS) terminals.
Since we know that card systems are evolutionary, both contact and contactless technologies had to coexist during this evolutionary transition. POS terminal manufacturers and card readers needed to add contactless read capability to their chip devices. Card manufacturers needed to deliver dual-interface (DI) cards with both technologies, which have a long useful life.
"Over the past several years, we have seen the gradual growth of POS terminals in North America that meet the needs of both contact and contactless technologies," Tushie said. "Card issuers have started to add DI capability to their newly-issued chip cards."
Transaction volume in the United States has been slow to grow to meaningful levels. Canada is ahead of the United States with more than 90 percent use of DI technologies. In December 2018, Target was in the news again with a pilot contactless POS solution in one of its stores in San Francisco. These terminals were near-field communication (NFC) based, accepting Apple Pay and other contactless card and mobile payment solutions.
"The results were sufficiently compelling since Target announced in late January that it would soon 'accept Apple Pay, Google Pay and contactless cards from Mastercard, Visa, American Express and Discover,'" Tushie said.
Target expects contactless payments to account for 15 percent of in-store transactions globally next year.
One of the technology challenges faced by the card manufacturers is achieving sufficient card service life from their new DI cards. The DI manufacturing process requires an interconnection between the chip in the micromodule and the antenna that is mounted on an inner layer of the card. This interconnection can be a point of failure as cards are carried and used in unfriendly environments.
A patented development inserts a small coil in the micromodule and attaches it to the chip in a rugged connection. Contactless data, either sent or received via the card's antenna, gets inductively coupled to the chip using the micromodule's antenna. This technique is called Coil on Module (CoM). The resulting card construction is very robust and reliable, as no mechanical attachment is required between the chip and the contactless antenna thereby eliminating a critical point of failure.
In recognition of the market transition from chip to contactless cards both the U.S.-based INCITS and the ISO standards groups have moved their chip standards efforts into their respective contactless card working groups. Further solidifying the contactless card standards has been the recent effort to harmonize the NFC and the EMVCo standards with the fundamental ISO 14443 standard that is operational globally. This will help focus the contactless efforts encouraging faster growth going forward.
Want more industry insider insights or a glimpse into global card trends?
For three decades, ICMA has represented the interests of the card manufacturing industry—which includes manufacturers, personalizers, issuers and suppliers—as its leading global association.
ICMA maintains several industry-leading training and education programs about card manufacturing for members. These include the Advanced Card Education (ACE) designation and the web-based Card Industry Training & Education (CITE) programs, which provide information on key areas of the industry, as well as online tutorials and webinars on specific topics from card industry experts and leading industry suppliers.
ICMA also provides reports on the card market and on personalization and fulfillment statistics to keep members informed of emerging trends and changing standards. The organization hosts three conferences each year.
The main event is the Annual Card Manufacturing & Personalization EXPO and the other two conferences are CardTREX North America and CardTREX Europe.
To learn more about the benefits of ICMA membership, click here.