ACE Spotlight Series: PASP ID Leverages ICMA Training to Innovate Card Security
As the card manufacturing and personalization industry continues to evolve, the International Card Manufacturers Association (ICMA) keeps members at the cutting-edge by offering educational opportunities.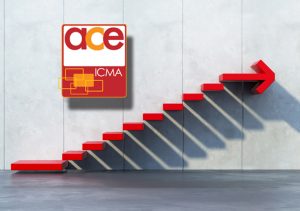 Just ask PASP ID's Madeleine Raiford-Holland, vice president of operations, one of six ICMA members who have recently earned all three ACE designations. With just five years of experience in the card industry, she pursued the ACE specializations seeking to expand her knowledge of manufacturing and personalization processes.
"On a daily basis, I really enjoy the challenge of helping to create new and innovative security technologies," she said. "I pursued the ACE specializations to gain an in-depth understanding of our business processes—from manufacturing through personalization—as well as advanced security features and anti-counterfeiting measures," she said.
PASP ID offers high security printing solutions, including photo ID systems, HID/FARGO printer supplies and card encoder software to capture and load photos and digitize signatures.
"Having earned all three ACE specializations, I now have a comprehensive understanding of the big picture that is production, as well as the foundational knowledge to solve in-depth problems in PASP ID's manufacturing and personalization facilities," Raiford-Holland said.
That's why ICMA offers the Advanced Card Education (ACE) program, which includes three stand-alone designations—ACE-M, ACE-P and ACE-A—all designed to keep members at the top of their game:
ACE-M focuses on PVC/plastics, inks, adhesives, printing, collation, lamination, die-cutting and standards/testing
ACE-P delves into printing and barcodes, magnetic stripe encoding, embossing, laser engraving, smart card encoding, financial transaction card data and fulfillment and standards/testing
ACE-A reviews card technologies in advanced materials and card construction, security technologies and environmental initiatives
Recognizing that continuous education is key to keeping up with industry trends prompted Raiford-Holland to pursue all three ACE designations.
"The ACE program opened my eyes to new possibilities in the secure printing sector," she said. "I'm looking forward to leading PASP ID in continued innovation to bring new products to the market."
Upcoming blogs will continue to showcase the ways ICMA members are using their specializations to "ACE" the card industry.
ACE Eligibility
ACE applicants must work for an ICMA member company and have a minimum of two years of experience working in the card industry. Prior to the exam(s), David Tushie, ICMA standards and technical representative, guides members through an interactive session to prepare for the exam. Testing is conducted at ICMA events, including the EXPO and CardTREX events. Members can also hold group exams at their locations. For more information on training and exams, contact ICMA Headquarters at info@icma.com or call 609-799-4900.
Want more industry insider insights or a glimpse into global card trends?
For three decades, ICMA has represented the interests of the card manufacturing industry—which includes manufacturers, personalizers, issuers and suppliers—as its leading global association.
ICMA offers regular educational opportunities, including the web-based Card Industry Training & Education program, which provides information on key areas of the industry, as well as online tutorials and webinars on specific topics from card industry experts and leading industry suppliers. ICMA also provides reports on the card market and on personalization and fulfillment statistics to keep members informed of emerging trends and changing standards.
The organization hosts three conferences each year. The main event is the Annual Card Manufacturing & Personalization EXPO and the other two conferences are CardTREX North America and CardTREX Europe.
To learn more about the benefits of ICMA membership, click here.