CardTREX North America Provides Immersive Innovation Experience
There are three reasons why technical and production staffs in the card industry circle CardTREX North America on the calendar:
Educational sessions on the latest trends, as well as roundtable discussions, are invaluable.
Face time at networking sessions, which include industry players throughout the hemisphere, is priceless.
A firsthand, exclusive tour of a smart factory in the card industry is worth the trip to Virginia by itself.
And that's why the International Card Manufacturers Association (ICMA) is the leading provider of education and networking in the card manufacturing industry. CardTREX North America, along with CardTREX Europe, is one of two of ICMA's hallmark educational offerings—designed to report on regional challenges and spotlight opportunities for card manufacturers, personalizers and suppliers, as well as provide information on the latest trends, technology and innovations.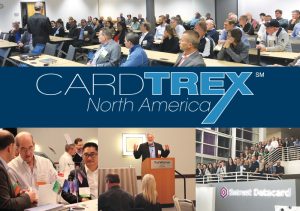 CardTREX North America will take place September 25-26, 2019 at the Marriott Newport News City Center in Newport News, Virginia. (CardTREX Europe will take place 22-23 October 2019 at the Maritim Hotel Nürnberg in Nürnberg, Germany, which will feature a factory tour of Kurz.)
Learn Trends, Network with Industry Leaders
In the one-and-a-half-day conference, CardTREX North America will highlight new and emerging manufacturing technologies, color core techniques and dual interface trends.
In addition to educational sessions on the latest developments in card production and personalization, attendees are also invited to participate in roundtable discussions, a networking dinner, as well as the signature Networking Zone. Card suppliers will display product literature for card manufactures, giving production and operations personnel a chance to meet suppliers. During the Speed Share session, exhibitors will provide an overview of their product offerings. Attendees will vote on the best product of the show.
CardTREX North America will include an opportunity for attendees to pursue ICMA's Advanced Card Education (ACE) industry accreditation training and exams—ACE-M (Manufacturing), ACE-P (Personalization) and ACE-A (Advanced Technologies).
Experience A Smart Factory
This year, CardTREX North America will include an exclusive tour of Mühlbauer International, which specializes in one-stop solutions including the production, personalization and issuance of ID cards and other card-related security documents.
CardTREX attendees will tour the company's new space in Newport News, Virginia, which has served as a base for Mühlbauer's North American business activities since 2009. The tour of Mühlbauer's Industry 4.0 enabled Smart Factory Competence Center will include expert demonstrations of manufacturing processes such as Dual Interface and Personalization (DoD), card body machines, perso machines and software solutions. Attendees will also have an opportunity to ask questions about the processes and equipment.
Register Today
Registration is now open for ICMA's 2019 CardTREX North America and CardTREX Europe events. Both conferences will deliver insights of geographic interest, education, networking and cutting-edge insight from industry leaders.
Want more industry insider insights or a glimpse into global card trends?
For three decades, ICMA has represented the interests of the card manufacturing industry—which includes manufacturers, personalizers, issuers and suppliers—as its leading global association.
ICMA offers regular educational opportunities, including the web-based Card Industry Training & Education program, which provides information on key areas of the industry, as well as online tutorials and webinars on specific topics from card industry experts and leading industry suppliers. ICMA also provides reports on the card market and on personalization and fulfillment statistics to keep members informed of emerging trends and changing standards.
The organization hosts three conferences each year. The main event is the Annual Card Manufacturing & Personalization EXPO and the other two conferences are CardTREX North America and CardTREX Europe.
To learn more about the benefits of ICMA membership, click here.