CompoSecure Wins 2019 Élan Awards with Leading-edge Technology
CompoSecure LLC's most recent innovation may move the entire industry forward.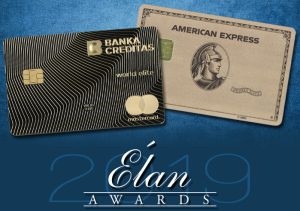 Earlier this year, CompoSecure, the company that created metal cards, won two prestigious 2019 Élan Awards of Excellence from the International Card Manufacturers Association (ICMA). The awards promote the best of the best in the global transaction card industry, honoring world-class achievements in card design, technological innovation, as well as other categories that establish the global vanguard for card manufacturing excellence.
With 113 entries in the contest, the Élan Awards celebrate the pinnacle of design innovation and security and technical achievements in the global card industry. The judges noted that secure metal/metal composite cards have come of age and are a major industry trend.
In the Unique Innovation Category, which recognizes the most innovative technical achievement in card functionality or personalization for a product or service that demonstrates novel or expanded functionality, CompoSecure won for the Banka Creditas Full Metal Card manufactured for Idemia/Banka Creditas. Designed for elegance, the Banka Creditas black card is a full metal card constructed of 10KT solid gold with a unique black coating.
CompoSecure's Dori Skelding, who is the company's vice president of marketing and supply chain, said, "The ability to fully incorporate a unique color coating on solid gold is a perfect balance of materials, science, chemistry and technology that takes card manufacturing to a new level."
In the Best Secure Payment Card Category, CompoSecure was awarded an Élan Award for the American Express Rose Gold Metal Veneer Dual-interface card manufactured for American Express. The limited edition rose gold card has a full metal front, which allows a natural shine to beam through the rose gold color.
"Metal cards are really hot right now," Skelding said. "To truly be top of wallet, a credit card has to offer something different, such as novel material or a unique look. The American Express rose gold card does just that. It has tactile features that create an impression, giving consumers an elevated point-of-sale experience."
"Our metal veneer cards allow for production options that create unique card designs while incorporating dual-interface technology," Skelding added.
The benefits of entering the Élan Awards of Excellence competition go far beyond winning worldwide industry recognition for producing one of the best cards of the year. They include driving innovation within an organization for better outcomes, which builds competition in the industry.
Each year, the competition of the Élan Awards gets tougher and tougher. "Even winning one award is a great honor," said Skelding. "But to win two awards and be recognized for the beauty and quality of our cards is something we do not take lightly. It shows that the judges understand the complexity of our production and manufacturing techniques."
ICMA judges use a quantifiable scoring system based on criteria in nine categories. ICMA Standards and Technical Representative David Tushie of Magellan Consulting who served as one of the judges, said, "Each year I see progressively increasing sophistication in card design, technology features, graphical effects and processes employed. This year did not disappoint in continuing this trend."
Year after year, CompoSecure continues to be recognized for its innovative approach, combining science and art to offer clients secure and durable proprietary products that implement leading-edge engineering capabilities and technology.
Since 2012, CompoSecure has had a winning card design every year. To date, CompoSecure has won 13 Élan Awards and has placed as a finalist 13 times.
Want more industry insider insights or a glimpse into global card trends?
For three decades, ICMA has represented the interests of the card manufacturing industry—which includes manufacturers, personalizers, issuers and suppliers—as its leading global association.
ICMA maintains several industry-leading training and education programs about card manufacturing for members. These include the Advanced Card Education (ACE) designation and the web-based Card Industry Training & Education (CITE) programs, which provide information on key areas of the industry, as well as online tutorials and webinars on specific topics from card industry experts and leading industry suppliers.
ICMA also provides reports on the card market and on personalization and fulfillment statistics to keep members informed of emerging trends and changing standards.
The organization hosts three conferences each year. The main event is the Annual Card Manufacturing & Personalization EXPO and the other two conferences are CardTREX North America and CardTREX Europe.
To learn more about the benefits of ICMA membership, click here.