2019 CardTREX Europe: 3 Reasons Why You Must Attend
With live demos, presentations on the future of the industry and informal opportunities to discuss focused topics, the International Card Manufacturers Association's (ICMA) CardTREX Europe on 22-23 October 2019 at the Maritim Hotel Nürnberg in Nürnberg, Germany, is a must-attend meeting. See who's attending and join the conversation!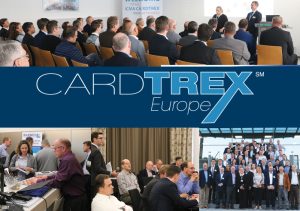 #1. Learn a Lot in a Short Period
As one of two of ICMA's hallmark educational offerings, CardTREX Europe is intended to report on regional challenges and spotlight opportunities for growth during the one-and-a-half-day conference.
CardTREX Europe will include presentations on the future of the card in the digital world, sustainable card products, near field communication (NFC) security, as well as how disruptive technology will affect the industry and more!
#2. Connect with People You Otherwise Wouldn't
In a world where everything has become digital, in-person connections are extremely powerful and meetings like CardTREX Europe offer face time geared toward production, management and other personnel who are looking to network. Attending or even serving as an exhibitor or presenter at industry meetings like CardTREX Europe should be a part of your overall business growth strategy. Every person you meet is a contact who can potentially help you achieve a business goal or perfect a manufacturing, design or production process.
In addition to educational sessions on the latest developments in card production and personalisation, attendees are invited to participate in a networking dinner, as well as the signature Networking Zone.
Card suppliers will display product literature for card manufactures, giving production and operations personnel a chance to meet suppliers. During the Speed Share session, exhibitors will provide an overview of their product offerings and attendees will vote on the best product of the show.
#3. Attend an Exclusive Tour about Thin-Film Tech
CardTREX Europe will include an exclusive tour of the Kurz facility in Fuerth, Germany, a worldwide leader in thin-film technology and supplier of decorative and functional coatings. The tour will also include the in-house application center for testing.
Attendees will watch demonstrations of rotogravure printing, in-mold decoration, digital metal and the hot stamping application, as well as explore printing equipment, tools and an overview of the quality assurance process.
Register Today
Registration is now open for ICMA's 2019 CardTREX Europe meeting, which will deliver insights of geographic interest, education, networking and cutting-edge presentations from industry leaders.
Want more industry insider insights or a glimpse into global card trends?
For three decades, ICMA has represented the interests of the card manufacturing industry—which includes manufacturers, personalizers, issuers and suppliers—as its leading global association.
ICMA offers regular educational opportunities, including the web-based Card Industry Training & Education program, which provides information on key areas of the industry, as well as online tutorials and webinars on specific topics from card industry experts and leading industry suppliers. ICMA also provides reports on the card market and on personalization and fulfillment statistics to keep members informed of emerging trends and changing standards.
The organization hosts three conferences each year. The main event is the Annual Card Manufacturing & Personalization EXPO and the other two conferences are CardTREX North America and CardTREX Europe.
To learn more about the benefits of ICMA membership, click here.