2021 ICMA EXPO: 5 Reasons Why 'Cards Reimagined' is Our Theme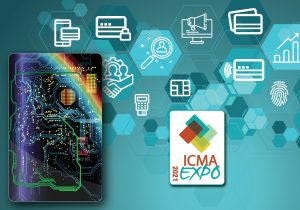 Today's cardholders are challenging card organizations to deliver more innovative products and value. Card industry changes are taking place across the globe at unprecedented speed and scale amid economic and geopolitical uncertainty. This new landscape presents huge opportunities for those willing to seize the upside of disruption.
As new ideas and technologies converge, the global card industry and cards themselves are being reimagined. Card industry professionals who want to learn how to embrace the changes should attend ICMA's 2021 Card Manufacturing and Personalization EXPO. This in-person event, scheduled for November 7-10 at the Renaissance Orlando at SeaWorld in Orlando, Florida, will offer an abundance of networking opportunities and a comprehensive conference program based around the theme Cards Reimagined.
Here are the top five reasons why ICMA chose Cards Reimagined as this year's EXPO theme.
Technological Advancements
Credit card issuers across the globe were already adding contactless capabilities to credit cards before the pandemic, but consumers' desire to touch as little as possible while shopping has accelerated the adoption of the technology. According to an April 2020 Mastercard study, 79% of consumers worldwide said they were using contactless payments.
Similarly, the use of biometric sensors is on the rise. Soon, people will no longer need to reach for their analog or even digital wallet to buy something. Instead, point-of-sale systems and public transit turnstiles will identify citizens as they wave their hand or glance at a red dot. In September 2020, Amazon introduced Amazon One at select Amazon Go store locations, allowing customers to tie their phone number and credit card information to the palm of their hand. The system is contactless—the cardholder simply hovers his/her hand over a biometric sensor.
Environmental Considerations
Card companies around the world are realizing waste reduction and using sustainable materials are better for corporate reputation and, most importantly, the environment. There is also a shift in consumer buying, with more consumers willing to pay extra for environmentally friendly products.
"Nine out of 10 consumers report that they are willing to make changes in their lives to help the environment," said Karen Brooker, vice president of client marketing and sales enablement, PLI Card Marketing Solutions. "These strong consumer attitudes are inspiring today's brands to introduce greener options, and in some cases to migrate entire card programs to more sustainable card materials—even if it means a cost premium over standard materials. But it's not just about delivering products that look and feel more sustainable—today's consumers want to look under the hood and know that we are greening our business practices as well."
In response to this demand, the ICMA launched its ICMA EcoLabel Standard Program, a certification that establishes third-party credibility of card manufacturers' assertions that a product is an environmentally preferable alternative. The program defines criteria for environmental green card standards, allows for ICMA EcoLabel usage, licenses companies and certifies card products.
"Greening gives us the opportunity to reset our customers' expectations, lockout the competition, win new business from customers who have stringent supply chain requirements and improve loyalty with existing customers," Brooker added. "It also helps to prevent a loss of new customers who are launching brand new sustainability programs."
Consumers today use cards both as transaction tools and a physical means to convey their identity and values. Card issuers, as a result, are now viewing eco-friendly cards as the right products to retain existing customers, win new ones and achieve top of wallet.
Manufacturing Transformation
The manufacturing industry is on the cusp of a transformation. Card manufacturers that expect to grow in the coming years must move quickly, cost-effectively and confidently in order to leverage growth opportunities. This requires an operating model that accommodates the dynamic shifting of available resources, as well as the movement of activities across geographies or within a factory in response to the market changes or differences in demand.
Across the globe, card manufacturers continue to face supply chain delays and production challenges, resulting from the pandemic. The impacts are far-reaching, affecting inventory levels, delivery times and, for some, even the ability for companies to fulfill contracts.
The pandemic prompted suppliers and card manufacturers to streamline their processes and identify local, secondary providers who can, in some cases, complete an entire product build in-house. That allows a swift response to changing market demands, ensuring customers' orders are fulfilled. Amid the pandemic, streamlining supply chains and identifying domestic suppliers also became critical for reducing shipping times and minimizing shipping logistics costs.
Rarely have supply chain leaders faced more complex, rapidly evolving conditions as they have during the COVID-19 crisis. But card manufacturers and suppliers are building resilience in anticipation of future challenges, as well as shifting operations to manage disruption.
New Materials
The changes in payment technology (elimination of mag stripes, rapid adoption of digital wallets, etc.) are bringing innovation to the card market both in terms of creativity and substrate options.
"In the distant future, we see the rapid growth of paper cards in all short-term and single-use plastic applications as more corporations/brands implement sustainability goals or government regulations force them into the adoption of plastic alternatives such as paper-based solutions," said Greg Maze, director of product management, packaging, Neenah Paper.
Paper card substrates are more suitable than ever for non-secure card applications, including closed-loop gift cards, merchandise-return cards, ID cards (i.e., medical cards, insurance cards), hotel key cards and direct mail.
"For non-secure applications, paper cards offer the performance/security of plastic, with the improved print quality/aesthetics of paper," said Maze. "Paper substrates print better than plastic. They are whiter/brighter than plastic."
Paper cards also contribute to corporate/brand sustainability goals and aspirations. "They address current environmental concerns surrounding single-use or limited-use plastics, are 100% recyclable, repulpable, manufactured using Forest Stewardship Council-certified fiber and contain post-consumer waste," Maze said.
User Experience
In 2019 and 2020, tech companies launched branded cards like the Apple Card and the Venmo Credit Card, which offer app-based card management, instant access to a virtual card upon approval and other unique features.
Even traditional credit card companies are imagining ways they can update their user experience so cardholders can understand and harness the full value of their cards. Any product that doesn't offer a seamless online and mobile experience, plus easy reward redemptions, will be left in the wallet.
To learn more about the latest trends in the global card industry, register to attend the ICMA EXPO.
Want More Industry Insider Insights or a Glimpse into Global Card Trends?
For three decades, ICMA has represented the interests of the card manufacturing industry—which includes manufacturers, personalizers, issuers and suppliers—as its leading global association.
ICMA offers regular educational opportunities, including the web-based Card Industry Training & Education program, which provides information on key areas of the industry, as well as tutorials and webinars from industry experts. ICMA also provides reports on the card market and on personalization and fulfillment statistics to keep members informed of emerging trends and changing forecasts.
Throughout the year, ICMA members have the opportunity to share insights and knowledge by giving presentations at ICMA events, webcasts and tutorials. The organization hosts three in-person conferences each year. The main event is the annual Card Manufacturing & Personalization EXPO and the other two conferences are CardTREX North America and CardTREX Europe.
Learn more about the benefits of an ICMA membership.