Tips for Designing an Eco-Focused Card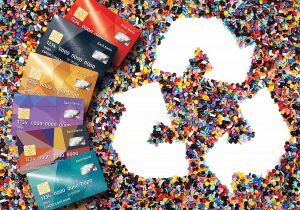 Card issuers that are interested in eco-focused materials are becoming more common, as a way to appeal to environmentally conscious cardholders. In a 2020 survey performed by an independent research firm for CPI Card Group, respondents indicated interests in switching to cards made with eco-focused card material. If offered a debit or credit card with the same features and benefits, but made with recovered ocean plastic, 85% indicated they would switch with their current issuer and 53% indicated they would switch to a different issuer. These findings reflect a considerable cardholder interest in eco-focused card products.
"When you step back and look at the variety of different plastic types out there and how they can be upcycled, the creative opportunity to incorporate them into a card product is pretty amazing," said Megan Bogard, design manager, CPI Card Group. "Card providers are getting creative, by sourcing materials that incorporate upcycled plastics or plastic alternatives."
From a card development perspective, looking at existing card products and re-imagining how they can be created in a more eco-conscious way is key.
Eco-Focused Materials Use is Growing Across Card Market Segments
Cards that incorporate eco-focused materials are emerging across many different segments of the card market. The type of material used in an eco-focused card may differ, depending on the specific market or card use. For example, the retail and gift industries use recycled paperboard-based cards. In the secure/financial card market, alternative upcycled materials are being used, such as recovered ocean bound plastic, recycled PET-G (polyethylene terephthalate glycol) and recycled PVC (polyvinyl chloride).
Elements to Consider When Designing an Eco-Focused Card
Bogard reveals three important elements to consider when designing an eco-focused card:
Treatment and ink selection: With eco-focused card design elements, the principle "less is more" rings true. An eco-focused design is crafted by carefully selecting compatible treatments and using only what's necessary. Not all plastic types are the same, so it's important to take care in selecting treatments and inks that are compatible with the base card material.
Balance and flexibility: In some instances, eco-focused cards may display visual characteristics that immediately point to an eco-focused value proposition. However, CPI wants to dispel the myth that an eco-focused card means you must compromise on design. The key is for card designers to communicate with card manufacturers to help balance the brand's look and feel, while ensuring that the eco-focused construction of the card remains intact. The ability to be flexible in look and feel is truly one of the advantages of utilizing eco-focused materials in card designs.
Technology: Eco-focused design options can be incorporated into smart cards. Contact, contactless and dual-interface capabilities are important components depending on the end use of the card. Due to this, consider the technology as part of the foundation during the planning of the primary card construction.
How to Ensure a Successful Eco-Focused Card Project
Bogard shares insights on how to ensure an effective eco-focused card project:
Collaborate with your card provider: Put talking to your card provider at the top of your to-do list. Any opportunity for a card issuer to collaborate with the manufacturing team helps to set projects up for success, from the start. Collaboration in the early stages of the eco-focused card design process can be a beneficial component in ensuring that the card issuer's expectations are met, along with the card meeting all requirements to fully function in the field. Sometimes the simplistic looking designs can be the most complex to manufacture. Start by selecting the eco-focused card material that will be used, along with identifying technology needed in the card. These two decisions lay the foundation for further decisions on inks, treatments, personalization and all the elements that go into card design.
Set a goal: Keep the overarching eco-focused goal in mind while designing, along with the goal of attracting cardholders. It's important for designers to acknowledge their decisions at the concept level, as it will have further impact in the future. Every step, every material and every process count. It's not only about the look and feel of the card that's important. It's the mindfulness of designing minimalistic treatments that also can speak volumes. Less is more.
Know what works (and doesn't): Understanding what works well is important. However, it's equally as important to understand what doesn't work well, and why. The physical nature of various eco-focused materials is a consideration in the look and feel of the card design, along with knowing what materials work well together—from plastics to inks. This means pushing the boundaries to design a card using only a few key ingredients. From a design perspective, it means a lot of learning.
Keep adaptability in mind: Adaptability is a key component to incorporating upcycled materials into a card manufacturing environment that was primarily built on working with first-use materials. When you consider the long history of using first-use PVC, which has been the go-to card material for more than 70 years, and the fact that ISO standards were all developed with PVC in mind, you can see that a changeover to eco-focused materials required a substantial effort. The good news is that the card industry in general, and CPI in particular have many resident experts in plastics. Legacy knowledge, combined with the drive for innovation, has made this a reality. Additional resources are required for setting up supply chains, processing material and ultimately delivering a finished product that is up to industry and customer standards.
Have a transparent and honest marketing messaging: Marketing efforts around the card product help get it into the wallets of consumers. There are a lot of terms and acronyms around being "eco-friendly" that can be confusing for consumers. For instance, there's a difference between whether the card can be recycled after use (recyclable) or whether it's made from recycled materials. Therefore, it's important that messaging about a move toward eco-focused materials in cards is clear, transparent and honest.
Want More Insights on Eco-Focused Card Trends?
For more than 30 years, ICMA has represented the interests of the card manufacturing industry—which includes manufacturers, personalizers, issuers and suppliers—as its leading global association.
In response to consumer and card issuer demand for green transaction and identification cards, the ICMA EcoLabel Standard Program provides a determination of the environmental performance of a manufacturer's cards through a third-party ecolabeling certification program. Manufacturers can become EcoLabel Program licensees to showcase their support of sustainability initiatives. Licensees can also offer clients a valuable EcoLabel opportunity for cards that meet established criteria in the following categories: reduced materials, recycled content, compostable and biobased content.
ICMA also offers regular educational opportunities, including virtual ACE-Commercial training, which provides sales, marketing, customer service and other key personnel at ICMA member companies with the opportunity to learn the fundamentals of card manufacturing.
Throughout the year, ICMA members have the opportunity to share insights and knowledge by giving presentations during ICMA webcasts and events. The association's main event is its annual Card Manufacturing & Personalization EXPO, happening May 15-18.
Learn more about the benefits of an ICMA membership.