ICMA EXPO 2022: Presenters to Reveal Latest Card Manufacturing and Design Trends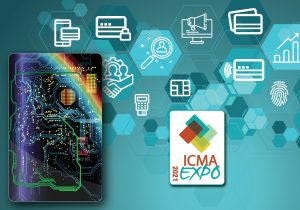 The global cards market size is expected to grow from $251.33 billion in 2021 to $275.5 billion in 2022, at a compound annual growth rate (CAGR) of 9.6%. In 2026, the global card market size is expected to grow to $399.15 billion at a CAGR of 9.7%. The rising demand for credit cards is expected to fuel the growth of the cards market in the forecast period.
Despite digitalization taking hold across the world, physical cards continue to play a key role in our daily
lives and will for many years to come, as they are continuously being reimagined to meet issuer and
consumer needs. Thus, the International Card Manufacturers Association (ICMA), the leading global card association for card manufacturers and personalizers, selected Cards Reimagined as the 2022 ICMA EXPO theme. This in-person event is scheduled for May 15-18 at the Saddlebrook Resort in Tampa, Florida.
"The EXPO isn't just the world's only card-focused event, it's our place to unite and strategize successful
outcomes for all of our card industry initiatives and endeavors. It will offer a great deal of networking
opportunities and a comprehensive agenda, with topics centered around the theme," said Jeffrey Barnhart, ICMA founder and executive director.
Following are ICMA EXPO presenters and topics:
Megan Anthony Bogard, design manager of CPI Card Group, will present Reinventing Card Design Using Traditional Materials. The presentation will open with the importance of gathering the materials needed to manufacture, before finalizing the card design. Readily available core materials serve as the foundation of the design phase, along with ideas for selecting treatments to enhance the core and the design elements in unison. It also will incorporate ways to differentiate the visual aesthetic of the card using elements that are already integrated into traditional card manufacturing, changing the way the end user sees the card, while maintaining full functionality of the card product.
Chris Burket, senior product marketing engineer of TDK Corporation, will present The 3 Ms: Metal,
Magnetics and Modules. Today's credit cards, besides being maxed out for many owners, are also in a phase of continued migration from all plastic to metal-plastic hybrids or full metal jacket smart
cards. With an outer surface metal configuration, there are a number of new challenges encountered by the card maker. This presentation will focus on these issues, along with some others, and will offer potential solutions to the "challenges" through state-of-the-art magnetic materials. In addition, a unique antenna module technology also will be introduced, which will assist the card maker by reducing
the layer count and card thickness, minimize variables in the manufacturing process, and enable more consistent electrical parameters.
Michael Dorner, owner and CEO, Varisucard, will present Blockchain, NFT & Phygitals in the Card Industry: A Game Changer? Most people know what a blockchain is by now. But what are non-fungible tokens (NFTs) and phygitals and how can these new technologies generate billions in revenue? This presentation will review how the card industry can profit from these new technologies and introduce new ways of promoting cards and adding value to the product.
János Friss, head of travel document business unit of Jura JSP GmbH, will present Why Physical Documents Still Exist: Security by Portrait and Data. Friss will discuss the trend toward the proliferation digital credentials, carrying biographic information of the document holder and enabling up-to-date electronic reading and verification before justifying the need for physical (printed) documents. Friss will share scenarios where these physical documents are still unavoidable and give clear explanations
of security solutions, which meet the requirements of digital age. He also will show the reading/verification/authentication of physical documents with various devices, including smartphones.
Patrice Meilland, chief strategy and product officer at ZWIPE will present The Time is Right for Biometric Payment Cards. This presentation will discuss biometric cards as well as review the consumer, issuer and manufacturer views of these types of cards.
Fabio Romano, marketing director of STMicroelectronics, will present Biometric System-on-Cards. Romano will talk about a smartcard containing a biometric sensor for self-authentication, enrollment, template storage and matching within the card. This is a completely battery-less solution with energy harvesting and power domain management.
Denise Stewart, senior product manager of Entrust, will present Modern Payment Card Possibilities.
Stewart said the future of the payment card is here. The ability to personalize and design cards with fl at personalization (in any orientation, on either side of the card) has opened the door for unique card differentiation. The increasing evolution of fintechs and the shift modern banks are taking toward digital is challenging the card market to be more innovative and agile. She will walk EXPO attendees through
a use case, where a card portfolio manager works with her bureau to choose the technologies that best support her new card and carrier designs.
David Tushie, standards and technical representative, ICMA will present Digital Personalization. There is growing momentum for the integration (bridging) of physical cards and digital capabilities. Some of this is due to introduction of features that are only achievable with a digital platform. Other drivers are related to a seamless and familiar interface to users comfortable with, and preference for, digital
devices at the center of their daily activities. These changes will drive new possibilities for customized personalization that enhance these digital features that are unlocked by the physical card.
Kelsey Tweedly, marketing manager, ICMA, will present How to Capitalize on ICMA's Marketing Efforts to Benefit Your Company. Learn all that ICMA does from a marketing perspective and how your company can leverage these efforts to increase visibility among your customers and prospects and enhance your overall industry exposure. Tweedly will review social media and digital marketing
strategies that can help you grow your network. She will also explain how to optimize participation in ICMA marketing programs to effectively meet your goals.
Judy Vigiletti, vice president, brand strategy & innovation, integrated marketing & communications, Mastercard, and Kathleen Tobin, global enterprise strategic alliance executive, IDEMIA, will present Building on a Promise of Financial Inclusion and discuss how Mastercard's new Touch Card builds upon a current design standard by introducing a system of notches built into the side of the card, allowing consumers to use the right card, the right way, using touch alone. Vetted and endorsed by The Royal National Institute of Blind People in the U.K. and VISIONS/Services for the Blind and Visually Impaired in the United States, the card was co-designed by IDEMIA.
Eric M. Virostek, senior product manager, Secure Transaction+Services, Giesecke+Devrient will present
Smartcard Recycling Concepts: End of Life. The card industry has responded to demand for sustainable and green options for a variety of products. Now an increasing number of customers and banks are asking for after-life management and recycle processes for both first-use and recycled products. The presentation will give an overview of the advantages, disadvantages, as well as the challenges most
common end-of-life options including education of customers, card collection, transport and recycling methods. The presentation will have a focus on the payment card industry.
Thomas Weiss, CEO of Authentic Vision, will present Solutions for Card Issuers to Improve Security and
Enhance the Cardholder Customer Experience. The presentation will include information about NFTs and Authentic Vision Meta Anchor® Technology, which is used to securely bridge the physical and digital world along with more details/examples. This session is for secure card manufacturers
who are seeking to enhance their security offering and for non-secure card manufacturers, who would like to easily add secure and unique experiences for cardholders.
Throughout the year, ICMA members have the opportunity to share insights and knowledge by giving presentations during ICMA webcasts and events. ICMA offers regular educational opportunities, including virtual ACE-Commercial training, which provides sales, marketing, customer service and other
key personnel at ICMA member companies with the opportunity to learn the fundamentals of card manufacturing.
To learn more about the latest trends in the global card industry, register to attend the ICMA EXPO at
ICMAEXPO.com.