CardTREX Europe: Unique Event Offers Regionally Focused Education and Networking Opportunities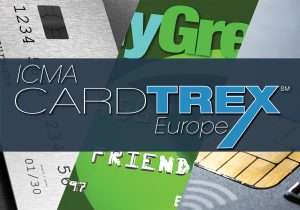 The International Card Manufacturers Association (ICMA), the leading global card association for card manufacturers and personalizers, presents CardTREX Europe on 8-9 November at the Munich Marriott Hotel in Munich, Germany. The event brings technical and production staff together with executives and business owners for regionally focused education and networking. Both ICMA members and non-members can attend.
"CardTREX Europe is a unique event for the card manufacturing industry," said ICMA President Michael Dorner, owner and CEO, Variuscard. "In addition to gaining insight into new materials and technologies, CardTREX Europe is the ideal venue for attendees to network with thought leaders, industry peers and experts in their field."
Along with having access to regionally focused educational sessions, the event offers attendees the opportunity to enhance strategic business relationships in the region of the world where they work. Similarly, attendees will get indispensable industry insights that they can leverage to drive innovation and profitability within their organization.
The event will feature:
Supplier exhibits in ICMA's signature Networking Zone: This will bring card manufacturers, personalizers, suppliers and issuers together to discuss opportunities and challenges in their region of the card industry.
Speed Share session: Exhibitors will promote their best product and attendees will vote on the best product of the event.
The presentations will include:
Blockchain, NFT & Phygitals in the Card Industry, A Game Changer? presented by Dorner, owner and CEO, Variuscard
Sustainable by Birth: The Choice of Your Materials Matters for the Future presented by Mikko Kahkonen, vice president, global head of card products, Giesecke+Devrient
Advances in Card Certification Testing: Visa Europe Self-Service PVT presented by Denise Noha, Barnes International
Biometric Cards to Secure Access Control presented by Celine Littre, product marketing manager, Linxens
Going Green presented by Matteo Panetta, area sales manager, SPICA
Standardization as Powerful Lever to Manage Globalization Challenges in Card Manufacturing presented by Dr. Milena Niedernhuber, product management director, Giesecke+Devrient
The Evolution of Chip Payment Cards presented by Hans Joerg Frey, senior product marketing manager, Infineon AG
Metal Cards: Practical Insights on Personalization Methods and Technologies, presented by Ferdinando Filippone, business development executive, IXLA and Mauro Costantini, product marketing, IXLA
Dorner will review how the card industry can profit from new technologies such as blockchain, non-fungible tokens and phygitals. He'll also introduce new ways of promoting cards and adding value to the product.
Kahkonen will present Giesecke+Devrient's insight on how the payment card industry can pursue a greener future by choosing materials that will make a positive environmental impact. His session will explain why card manufacturers need to choose more eco-friendly materials and how material choice can be critical for payment cards. Additionally, he will focus on how payment card manufacturers can utilize existing resources to drive the adoption of more sustainable material choices for their clients and end customers.
Panetta will outline SPICA's approach and investments into being more sustainable, both on the production side and in terms of catalogue. Likewise, the presentation will provide an explanation of the circular economy approach and the next steps in this evolution.
Niedernhuber's session will focus on the challenges of efficient internal processes, which are key for the success of each card organization. As a result, she'll share what can be done within new product developments and in the daily card manufacturing production process.
IXLA's presentation will brief some examples and conclusions from the experience cumulated during the product development and testing of laser solutions and some initial considerations regarding the inkjet use in the metal card market.
CardTREX North America is scheduled from November 16-17 at the Renaissance Schaumburg in Schaumburg (Chicago), Illinois. Attendees will have access to regionally focused educational sessions and will be taken off site on the first day for a tour of Meyercord/SICPA. The North American event will also feature supplier exhibits in the Networking Zone, a Speed Share session and the Advanced Card Education training program and exams.
More Insights on Card Trends
For more than 30 years, ICMA has represented the interests of the card manufacturing industry—which includes manufacturers, personalizers, issuers and suppliers—as its leading global association.
In response to consumer and card issuer demand for green transaction and identification cards, the ICMA EcoLabel Standard Program provides a determination of the environmental performance of a manufacturer's cards through a third-party ecolabeling certification program. Manufacturers can become EcoLabel Program licensees to showcase their support of sustainability initiatives. Licensees can also offer clients a valuable EcoLabel opportunity for cards that meet established criteria in the following categories: reduced materials, recycled content, compostable and biobased content.
ICMA also offers regular educational opportunities, including virtual ACE-Commercial training, which provides sales, marketing, customer service and other key personnel at ICMA member companies with the opportunity to learn the fundamentals of card manufacturing.
Throughout the year, ICMA members have the opportunity to share insights and knowledge by giving presentations during ICMA webcasts and events. The association's main event is its annual Card Manufacturing & Personalization EXPO.
Learn more about the benefits of an ICMA membership.