CardTREX North America: Premier Networking Event with Educational Presentations and Plant Tour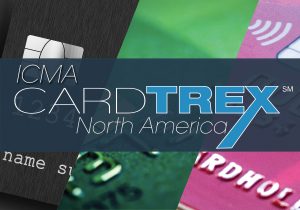 Designed for card manufacturing executives, cutting-edge technology providers and supplier partners, the International Card Manufacturers Association (ICMA)'s CardTREX North America will take place on November 16-17 at the Renaissance Schaumburg in Schaumburg (Chicago), Illinois. The conference offers networking opportunities and educational presentations on trends specific to the North American region. Both ICMA members and non-members can attend.
As the card manufacturing industry landscape continues to evolve, organizations need to know how to adapt and grow in a competitive marketplace. Card manufacturers have an ongoing commitment to improve their productivity, performance, delivery, quality, compliance, environmental footprint and customer satisfaction. Understanding the unique solutions other manufacturers develop to universal challenges has never been more important.
"I'm excited to chair CardTREX North America this year," said Megan Anthony Bogard, ACE-M, senior manager, design, CPI Card Group. "The card industry is made up of an immensely creative and collaborative group of experts. CardTREX is an opportunity for attendees to come together, focus on manufacturing and share perspectives on how the industry continues to evolve."
In addition to having access to regionally focused educational sessions about new materials and technologies, the event offers attendees the opportunity to enhance strategic business relationships in the region of the world where they work. Similarly, attendees will gain indispensable industry insights that they can leverage to drive innovation and profitability within their organizations.
The event will also feature:
Meyercord/SICPA facility tour: On the first day, attendees will be taken off site and provided information about Meyercord's history and how the company serves some segments of the card manufacturing industry. While visiting the pressroom, attendees will see demos of the plant's coating process, followed by a tour of the finishing room including slitting, coding and packaging capabilities as well as its finished goods inventory management. Visitors will see the lab and its QA capabilities as well. Please note that direct competitors will not be allowed access to the facility tour to be in compliance with host company policy.
Supplier exhibits in ICMA's signature Networking Zone: This will bring card manufacturers, personalizers, suppliers and issuers together to discuss opportunities and challenges in their region of the card industry.
Speed Share session: Exhibitors will promote their best product and attendees will vote on the best product of the event.
ICMA's Advanced Card Education (ACE) program (registration required): ICMA members can register to take the ACE-Personalization training session and exam.
The presentations will include:
Creating an Environment of Manufacturing Excellence Through Teamwork and Innovation presented by panelists Jeremy Witte, director of operations, CPI Card Group; Jim Colleran, R&D and engineering director, CPI Card Group; and Jim Beatty, vice president of operations, (personalization solutions) CPI Card Group. Bogard will moderate.
The Evolution of Chip Payment Cards presented by Oliver Manahan, senior director, business development, Infineon Technologies.
Enabling Innovative Solutions for Battery-Less Payment Cards presented by Fabio Romano, Secure Microelectronic Marketing Director Americas, STMicroelectronics.
Is the Time Right for a Recycled PVC Core? presented by Robert Forbes, director of sales and marketing, VinylOne.
Payment Brand Personalization Certification presented by Brian Summerhayes, managing director, Barnes International Limited
CPI Card Group panelists and Bogard will present reasons why it's important to introduce new products, treatments and materials into the card manufacturing process. Additionally, the presentation will review the positive impact they can have on each other and the manufacturing processes they go through.
Manahan's presentation follows the evolution of chip payment cards from the early days of contact-based chips to dual interface, progressing to new innovations such as biometric cards, dynamic Card Verification Value (CVV), custom logo and payment + crypto.
Romano will share how STMicroelectronics is bringing banking players new ways to ensure more secure and more convenient contact and contactless payments, regardless of transaction amounts. He'll also talk about innovative solutions for banking, such as biometric and dynamic CVV.
Forbes said consumer demands are shifting and manufacturers are facing changes with environmental, social and governance investing; sustainability; cost of materials and aligning organizational values. His presentation will review whether the time is right for a recycled polyvinyl chloride (PVC) core.
Summerhayes will talk about the brand certification systems (Visa, MC, Amex and Discover) and how bureaus can speed up card certification.
CardTREX Europe is scheduled from 8-9 November at the Munich Marriott Hotel in Munich, Germany. Attendees will have access to regionally focused educational sessions and networking opportunities. The European event will also feature supplier exhibits in the Networking Zone, as well as a Speed Share session.
More Insights on Card Trends
For more than 30 years, ICMA has represented the interests of the card manufacturing industry—which includes manufacturers, personalizers, issuers and suppliers—as its leading global association.
ICMA offers regular educational opportunities, including virtual ACE-Commercial training, which provides sales, marketing, customer service and other key personnel at ICMA member companies with the opportunity to learn the fundamentals of card manufacturing.
Throughout the year, ICMA members have the opportunity to share insights and knowledge by giving presentations during ICMA webcasts and events. The association's main event is its annual Card Manufacturing & Personalization EXPO.
Learn more about the benefits of an ICMA membership.