ACE: Designed to Advance Career Development and Company Reputation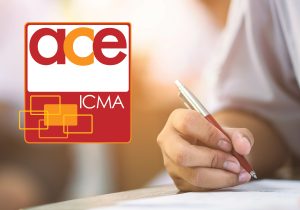 Training and development of employees across all industries are key to helping companies boost job satisfaction, acquire and retain top talent, improve productivity and increase profit. According to a recent state of the workplace study, among the greatest growth areas for HR budgets is employee training and development, which increased 35% in 2022.
As the demand for experts grows, continual training is crucial for individuals and companies to stay ahead of the crowd, especially in the card manufacturing industry. Employees are expected to be proficient in the latest materials and technologies to meet customer challenges. In response, the International Card Manufacturers Association (ICMA), the leading global card association for card manufacturers and personalizers, offers training through its Advanced Card Education (ACE) program.
ACE Designations
Currently, ICMA offers three designations, ACE-Manufacturing (ACE-M), ACE-Personalization (ACE-P) and ACE-Advanced Technologies (ACE-A). Each designation is developed as a stand-alone and does not build upon, nor require, any other designations as a precedent.
Details on the three designations:
ACE-M: Evaluates the skills and knowledge of card manufacturing professionals and is comprised of eight key sections: PVC/Plastics, Inks, Adhesives, Printing, Collation, Lamination, Die-Cutting and Standards/Testing.
ACE-P: Evaluates the skills and knowledge of card personalization and fulfillment professionals in eight major categories: Printing and Barcodes, Magnetic Stripe Encoding, Embossing, Laser Engraving, Smart Card Encoding, Financial Transaction Card Data, Fulfillment and Standards/Testing.
ACE-A: Evaluates the skills and knowledge in advanced materials and card construction, card technologies, security technologies and environmental initiatives.
"There's a lot of competition in the card manufacturing and personalization/fulfillment industry," said Jeffrey Barnhart, ICMA founder and executive director. "The ACE designations will set you apart, validate expertise and distinguish your employees as motivated experts in the card manufacturing industry. ACE designations also increase customer confidence in your business because they are awarded to people with a broad and detailed knowledge of the industry who successfully complete rigorous exams."
Individuals with ACE recognition can:
Use the ACE designation after their name
Proudly display their ACE certificate
Put the ACE logo on their business cards and in their email signature
Enable their company to tout its accomplished staff
Triple Aces
ICMA's most recent triple aces, individuals who have earned all three ACE designations, include:
"I decided to take all three exams after accumulating a few years in the card industry," said Virostek. "I started with the ACE-M. As my experience grew and after acknowledging that I wanted a deeper education in manufacturing, I took the ACE-A."
Virostek continued, "Oddly enough I spent an early part of my time in the personalization field. After many years away from that side of the business I wanted to make sure my skills were still intact, so I took the ACE-P. Somewhere in between those three exams, I also took ICMA's ACE-Commercial training. This is a great way to get a high-level and complete understanding of card manufacturing and personalization."
"The ACE program tests the knowledge accumulated from industry experience and fills in the gaps of that knowledge," Virostek said. "The result is an overall understanding of card manufacturing and personalization. The program also works as a great reference resource, which are just some of the advantages. I would suggest to anyone in the card industry to engage in the program and not just one. Having a complete understanding of the process can only be a benefit."
"Working for a company like CPI, which encompasses many aspects of card manufacturing, I wanted to have a broad knowledge base of the industry," said Walter. "The ACE certifications are a great way to expand one's knowledge and confirm a good understanding of the information."
"Successfully completing the certifications demonstrates to myself, my organization and business contacts that I have a solid and broad understanding of the card manufacturing industry," Walter said. "If the certification interests someone, they should not hesitate to do it. The study guide is great, but the training session is extremely helpful as it provides a forum to ask questions and get a better understanding of the material."
ACE-Commercial Training Seminars
ICMA recently expanded its ACE program to include a new virtual training series: ACE-Commercial training. The purpose of ACE-Commercial training is to provide sales, marketing, customer service and other key personnel at ICMA member companies with the opportunity to learn the fundamentals of card manufacturing. Others who may find this training beneficial include suppliers and consultants who want to have a deeper understanding of the card industry opportunities and challenges experienced by card providers.
ICMA member company employees who participate in the ACE-Commercial training series:
Receive a high-level overview of the major components of a card manufacturing business
Learn about the production of cards
Review customer service and sales issues that arise in the sale and support of card products and projects
Analyze top-of-mind questions and topics that customers of card products may have
Unlike ICMA's other ACE programs, which require students to pass an exam to achieve a corresponding certification, ACE-Commercial is more qualitative and not as quantitative. The objective is not to teach the application of concepts in a card plant but to provide employees in customer-facing roles with high-level card industry education without the need to enroll in certification-level curriculum.
ACE-Commercial is a four-hour virtual training program taught in two, two-hour sessions on the same day. There are no prerequisites, but the program is only available to current ICMA member companies. Employees who complete the training class receive a certificate of completion.
After each session, there is a content review period with multiple choice questions and time for students to discuss the covered material with the instructor.
ICMA member companies with 10 or more participants can register for on-site ACE-M, ACE-P or ACE-A trainings. ICMA also provides these trainings and corresponding exams at its annual Card Manufacturing & Personalization EXPO, which will take place next year in Orlando, Florida from May 15-18, 2023.
ICMA member companies with 10 or more participants can register for ACE-Commercial training. ICMA also offers ACE-Commercial training for individuals throughout the calendar year. Stay tuned to icma.com for the 2023 schedule.
ICMA Membership
For more than 30 years, ICMA has represented the interests of the card manufacturing industry—which includes manufacturers, personalizers, issuers and suppliers—as its leading global association.
Learn more about the benefits of an ICMA membership.