CardTREX: An Invaluable Experience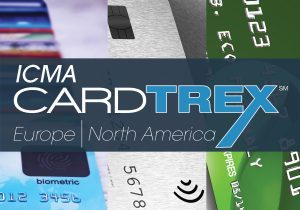 ICMA's CardTREX Europe and CardTREX North America events provided card industry professionals with indispensable industry insights and networking opportunities specific to the regions of the world in which they work.
CardTREX Europe took place from 8-9 November at the Munich Marriott Hotel in Munich, Germany. CardTREX North America took place from November 16-17 at the Renaissance Schaumburg in Schaumburg (Chicago), Illinois.
Both events featured regionally focused educational sessions. They also featured supplier exhibits in ICMA's signature Networking Zone and a Speed Share session
during which exhibitors promoted their best product and attendees voted on the best product of the event. In Europe, Barnes International's CPT 3000v3CL Dual Interface EMV Personalization Validation Tool for Development, Certification & Bureau QC took top honors. In North America, Meyercord Revenue Inc., a SICPA company, earned the most votes for its NASPO and ISO 14298-certified security printer for the driver's license and card industry. The printer is capable of integrating security features while printing and coating on multiple laminate substrates.
Seminars at CardTREX Europe included:
• Sustainable by Birth: The Choice of Your Materials Matters for the Future by Mikko Kahkonen, VP Global Head of Card Products, Giesecke+Devrient
• Advances in Card Certification Testing: Visa Europe Self-Service PVT by Denise Noha, EMV Product Manager, Barnes International
• Going Green by Matteo Panetta, Area Sales Manager, SPICA
• Standardization as Powerful Lever to Manage Globalization Challenges in Card Manufacturing by Milena Niedernhuber, Product Management Director, G+D
• The Evolution of Chip Payment Cards, Hans Joerg Frey, Senior Product Marketing Manager, Infineon Technologies
• Metal Cards: Practical Insights on Personalization Methods and Technologies by Luca Vassia, Sales Manager & Key Account Manager, IXLA
• Blockchain, NFT & Phygitals in the Card Industry, A Game Changer? by Michael Dorner, Owner & CEO, Variuscard
• Energy Efficiency in Card Production by Christian Reuther, Managing Director, Plasticard-ZFT GmbH & Co. KG.
Seminars at CardTREX North America included:
• Creating an Environment of Manufacturing Excellence Through Teamwork and Innovation moderated by Megan Anthony Bogard, ACE-M, Senior Manager, Design, CPI Card Group and including panelists Jeremy Witte, Director of Operations, CPI Card Group; Jim Colleran, R&D and Engineering Director, CPI Card Group and Jim Beatty, VP of Operations, (Personalization Solutions) CPI Card Group.
• The Future of the Card Industry: A Guided Discussion moderated by Tiffany Milbrandt, Manager of Business Development, Card Source
• Enabling Innovative Solutions for Battery-Less Payment Cards, Fabio Romano, Marketing Director, STMicroelectronics
• Is the Time Right for a Recycled PVC Core? by Robert Forbes, Director of Sales and Marketing, VinylOne
• Payment Brand Personalization Certification by Brian Summerhayes, Managing Director, Barnes International Limited
CardTREX North America also included a tour of SICPA's Meyercord facility. During the tour, attendees learned about Meyercord's history and how the company serves some segments of the card manufacturing industry. While visiting the pressroom, attendees saw demos of the plant's coating process, followed by a tour of the finishing room including slitting, coding and packaging capabilities as well as its finished goods inventory management. Visitors also saw the lab and its QA capabilities.
ICMA would like to thank Bogard for chairing and Superior Tape & Label, Barnes International, Graph-Tech and SICPA for exhibiting at the North American event.
ICMA would like to thank Dorner for chairing and Barnes International, Graph-Tech and VFP Ink Technologies for exhibiting at the European event.
Throughout the year, ICMA members have the opportunity to share insights and knowledge by giving presentations during ICMA webcasts and events. The association's main event is our annual Card Manufacturing & Personalization EXPO.
ICMA'S 2023 EXPO will take place May 15-18 in Orlando, Florida.
Interested in giving a presentation at the event? Contact Jennifer Kohlhepp at jkohlhepp@icma.com.
Interested in exhibiting or sponsoring at the event? Contact Nicole Lauzon at nlauzon@icma.com.
Stay tuned to ICMAEXPO.com for more information about the event as it becomes available.