How the Élan Awards Spur Card Company Growth
So much work goes into making those plastic and metal cards that end up in people's wallets. What the end-user sees as another piece of plastic is the culmination of years of design, planning, engineering, manufacturing and production. The technical prowess and innovation that go into producing a card would likely surprise the general public.
However, it would not surprise the International Card Manufacturers Association (ICMA), which presents the annual Élan Awards for Card Manufacturing Excellence. The awards recognize and celebrate the pinnacle of design innovation, security and technical achievements in the industry by leading global manufacturers, personalizers and suppliers who are members of ICMA.
With multiple category wins with the JP Morgan Palladium Card in 2013, ICMA recognized the innovation of NJ-based card manufacturer CompoSecure LLC., which began producing metal cards in 2003. As a pioneer in a relatively new market segment, receiving recognition from the Élan Awards helped propel CompoSecure to achieve record-breaking growth.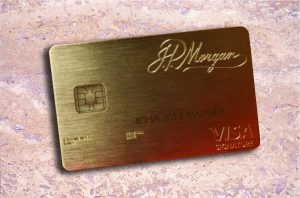 "Because our cards were recognized by ICMA's Élan Awards' judges reinforced the fact that we have very unique, innovative products." says Justin D'Angelo, CompoSecure's chief operating officer who has worked in the card industry for nearly 30 years. "After that, we realized there was potential to expand on our newer products. It really gave us global visibility. That put us in a great position to significantly grow our business. We've had phenomenal growth. I don't think this type of growth for new products happens often in this industry."
CompoSecure has seen yearly double-digit growth since introducing the embedded metal card in 2012, expanded its workforce and achieved record sales.
"Everyone in the card industry knows about the Élan Awards," says David Tushie, ICMA's technical standards representative and one of three independent card industry experts who judge the annual competition. "I think winning an Élan Award is almost a level of 'certification' in card manufacturing and there's a certain status recognized when a company wins."
Each year, ICMA recognizes one winner and two finalists in each of the following categories:
Best Supplier/Vendor New Product, Service or Innovation
Best Personalization & Fulfillment (P&F) Product, Service or Project
Manufacturing Excellence

Loyalty, Promotional and Gift Cards
ID and Access Control Cards
Unique Innovation
Best Secure Payment Card
The People's Choice Award, awarded by ballots cast by ICMA EXPO attendees
Each entry is judged against a certain set of criteria per category and against competing cards. While the precise judging criteria is a closely guarded secret, Tushie offers a glimpse into the process.
"Generally, we're looking at the technologies that have been employed in the production of the card, not just what's on the card, but also what's inside the card, including, for example, the chip, antenna or an LED lighting feature," Tushie said. "It's as much about the technology and processes of producing the card as the card itself. Some companies use 3D printing to produce effects on cards and you have different kinds of inks and different types of manufacturing processes deployed to produce the cards. We also look at innovative and unique features of the card that makes it stand out from its run-of-the-mill function. What people think looks like a plain card is often much more sophisticated is terms of the materials, technologies and processes used to make the card."