Catching the Wave of Dual-Interface Cards in the U.S.
Dual-interface cards, or those with an embedded chip and antenna enabling both contact and contactless transactions, are nothing new in card manufacturing. They're already prevalent in Europe and Asia. But in the United States, terminal updates are still needed.
Widespread adoption of dual-interface cards is on the horizon in the United States, says Barry Mosteller, current ICMA president and director of research and development at CPI Card Group Inc. If issuers send dual interface into the marketplace and the merchant terminals' contactless capabilities are activated," Mosteller said "we could see the largest transition when the percentage of terminals that are capable of performing contactless transactions is added to those that simply require additional software to perform contactless transactions," Mosteller said. "That would create a contactless infrastructure in the United States that also supports the conversion to NFC." Near-field communications (NFC) is the technology that allows two devices—like your phone and a payments terminal—to talk to each other when they're in close proximity.  NFC provides a means to provide direct, in-store marketing to consumers for the merchant's products and services.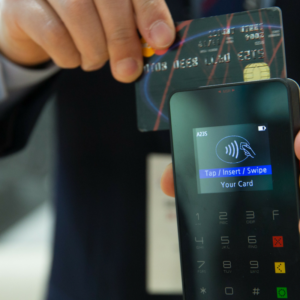 "Additionally, dual-interface cards could boost bottom lines for certain card manufacturers if there are efficient processes already in place. Others may need to update processes and/or technology," Mosteller said. Some companies may need to add an extra antenna layer in the card body to create a physical connection between a card's chip and antenna to enable the necessary communications. Many dual interface technologies call for a high level of compression in the manufacturing process as the components are glued together between layers and shaped into a usable card. Air coupling technology simplifies the manufacturing process, since it does not require a physical connection between chip and card.
However, when it comes to dual-interface cards, personalization is a bit more complex. Unlike EMV cards, which have one profile, dual-interface cards have two profiles, one for the contact interface and one for the contactless technology. Issuers would ultimately benefit from partnering with mature providers that have the experience of producing millions of cards and expert teams that can take dual-interface projects from concept through completion. Manufacturers must be prepared to sustain large production volumes or risk losing business.
"In the near term, not only will we see dual interface technology being introduced, we could see many other next-generation payment form factors", Mosteller said, "including mobile devices, wearables and payment objects, which will complement traditional cards and help to make the overall payment experience consistent and seamless."
For more information about the dual-interface wave, click here to read CPI's whitepaper, "Catching the Dual Interface Wave".