How Wearables Anticipate Customer Needs
The wearable technology market is growing and poised for exponential growth. According to the latest research, global wearable device shipments will reach 500 million by 2021, and 20 percent of those devices will be equipped with a payment, transport or access control feature.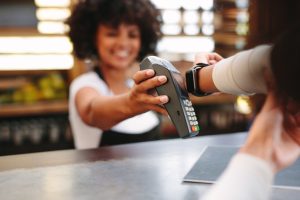 But in practical terms, what does that really mean? How will wearable technology affect people in their daily lives? Here are some examples:
Imagine you're at the beach and you take a refreshing dip in the water. You step out of the water and instead of having to fetch your wallet or mobile phone to buy an ice cream cone, you make a beeline for the snack stand and pay with your wristband. How? There's a small waterproof chip embedded inside your wristband.
Easy, right?
Nordic bank Handelsbanken has introduced a contactless micro card that can be put into a wristband, bracelet watchstrap, even a keyring. The card is connected to the user's bank and enables PIN-free banking for small purchases- up to NOK 200.
Passengers aboard a Carnival Cruise are given a quarter-size wearable called the OceanMedallian, according to John Padgett, the company's chief experience and innovation officer, global experience and innovation. Carnival Cruises operates more than 100 ships under nine brands that travel to more than 700 destinations.
Guests can pair the wearable technology with an app that then allows guests to set up port activities, on-ship interests and preferences in food and drink prior to departure. Once on board, the wearable technology unlocks the stateroom and allows guests to order anything they want on demand—from suntan lotion to lunch.
The purpose is clear, according to Padgett. It's a simple way to save people time.
"This is their [consumers'] vacation time so it's critical to focus on that and increase the value for guests and customers," Padgett explained in the article. "We're selling happiness, people, places and culture."
Elsewhere in the world, wearable technology is cropping up to make even the oldest of traditions more user-friendly and efficient.
Saudi Arabia has unveiled its vision of the future for Hajj, the annual Muslim pilgrimage to Mecca.
The country's Ministry of Hajj sees a world where pilgrims would navigate the event through wearable technology and contactless cards. Registered pilgrims who sign up through the app would be given a card, bracelet and earphone.
The card would work as a passport (and eliminate the need for customs), a train ticket, hotel check-in and hotel room key. The earpiece would serve as a translator for every language and guide pilgrims through which prayers are to be recited at certain points, while the wristband would count how many times they circle the Kaaba. Both would serve as trackers to locate those who might become separated from their fellow pilgrims.
Want more?
For three decades, ICMA has represented the interests of the card manufacturing industry—which includes manufacturers, personalizers, issuers and suppliers—as its leading global association.
ICMA maintains several industry-leading training and education programs about card manufacturing for members. These include the Advanced Card Education (ACE) certificate and the web-based Card Industry Training & Education programs, which provide information on key areas of the industry, as well as online tutorials and webinars on specific topics from card industry experts and leading industry suppliers. ICMA also provides regular industry reports to keep members informed of emerging trends and changing standards. The organization hosts three conferences each year. The main event is the Annual Card Manufacturing & Personalization EXPO and the other two conferences are CardTREX North America and CardTREX Europe.
To learn more about the benefits of ICMA membership, click here.