Card Manufacturers Choose Eco-Friendly Inks
On a global scale, card manufacturers are moving toward dramatically reducing the use of volatile organic compounds (VOCs) in the production of plastic cards.
VOCs are a major factor in the formation of ground-level ozone, which is a public health concern.
The transition to VOC-free inks, however, will affect the entire supply chain from pigment suppliers to card personalizers, according to Christian De Rueda, a technical applications manager at VFP Technologies, a member of the International Card Manufacturers Association. De Rueda recently wrote an article on this very topic for Card Manufacturing magazine.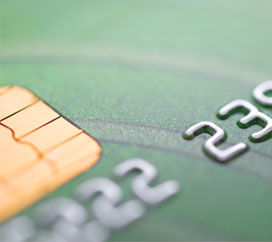 More than 10 years ago, some in the global card industry began R&D on VOC-free products, including VOC-free inks, an effort that led to the first orders of VOC-free ultraviolet inks in 2009.
The first UV-curable inks were specifically for PVC bank cards, gift cards and loyalty cards and accepted overprinting, lamination (peel test ISO 10373) and embossing. They came in many colors and adhered well to plastic.
Next, the colors expanded to include pearl and metallic offerings.
Then came a hybrid of water-based and UV curing screen ink for PVC. It accepts overprinting of offset inks, lamination and embossing. It leaves a thin ink deposit, excellent screen ink stability and a finish that resembles solvent-based inks.
The use of VOC versus VOC-free inks varies widely in different parts of the world, although it's expected that new laws and taxes, as well as health, social and environmental concerns will force industries using VOCs to modify their processes sooner rather than later, according to De Rueda.
In the U.S. and the European Union, restrictions have been effective at reducing VOC use. The European Union puts a limit on organic solvents and allowable VOC emissions. California banned the use of solvent products and many companies tout their "green" practices for public relations kudos.
In China, paints with high levels of VOCs (whether manufactured or imported), have an additional 4 percent consumption tax. Also in China, provinces that adopted laws and taxes against VOCs are seeing unprecedented innovation in companies seeking to adopt and industrialize new processes, including high-solid, solvent-less and waterborne technologies.
Petrochemical, packaging and printing industries mandated to complete pilot projects for VOC emissions fees. In July 2015, Guangzhou took the lead, levying VOC emission fees. By the end of 2015, the city had collected 1,128,900 Renminbi from 669 enterprises emitting benzene, methylbenzene and dimethylbenzene. There are more than a dozen provincial level regions in China that impose fees on the disposal of VOC pollutants.
The "Made in China 2025" and Air Pollution Prevention Action Plan aims to cut key industries' VOC emissions by one-third by the end of 2018 and improve China's air quality.
VOC-free UV-curable inks are widely used in North America and it's expected that trend will grow in other parts of the world. These changes will help raise consciousness, and a common understanding may lead to a full VOC-free industry within a few years.
Want more industry insider insights or a glimpse into global card trends?
For three decades, ICMA has represented the interests of the card manufacturing industry—which includes manufacturers, personalizers, issuers and suppliers—as its leading global association.
ICMA maintains several industry-leading training and education programs about card manufacturing for members. These include the Advanced Card Education (ACE) certificate and the web-based Card Industry Training & Education programs, which provide information on key areas of the industry, as well as online tutorials and webinars on specific topics from card industry experts and leading industry suppliers.
ICMA also provides regular industry reports to keep members informed of emerging trends and changing standards. The organization hosts three conferences each year. The main event is the Annual Card Manufacturing & Personalization EXPO and the other two conferences are CardTREX North America and CardTREX Europe.
To learn more about the benefits of ICMA membership, click here.