ICMA Asks Innovators for Best Work
Attention card manufacturing innovators: Are your card designs, engineering, technology and form factors worthy of industry-wide recognition?
If so, get ready to enter them into competition for the 2019 Élan Awards for Card Manufacturing Excellence!
The awards are presented annually by the International Card Manufacturers Association (ICMA), a global trade association for card manufacturers, personalizers, issuers and suppliers.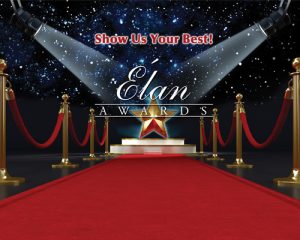 "Winning an Élan Award can have a significant impact on your business," said Jeffrey Barnhart, executive director and founder of ICMA. "We're proud to recognize the companies that are taking their cards to the next level and producing the best and most innovative card products in the world."
ICMA honors its members' outstanding achievements in both card design and technology innovation through its annual Élan Awards for Card Manufacturing Excellence The awards celebrate the pinnacle of design innovation, security and technical achievements in the industry by leading global manufacturers. Judging encompasses three categories: card manufacturing, personalization and fulfillment as well as card suppliers.
The March 8, 2018 deadline is set for award applications and product samples. Winners will be announced at the 2019 EXPO on April 2, 2019 at the Omni Orlando Resort at ChampionsGate in Florida. To begin the application process, click here.
Manufacturing entries are judged against a set of criteria and against competing submissions. It's not just about how the card looks, but also the processes and technology (e.g. chip, antenna, LED lighting) that go into the production of the card. The judges also look at what makes each card stand out from its run-of-the-mill function. Cards that the average person might consider plain may be incredibly sophisticated when you examine the materials, technologies and processes that went into its development.
"Everyone in the card industry knows about the Élan Awards," says David Tushie, ICMA's technical and standards representative and one of three independent card industry experts who judge the annual competition. "I think winning an Élan Award is almost a level of 'certification' in card manufacturing and there's a certain status recognized when a company wins."
Each year, ICMA recognizes one winner and two finalists in each of the following categories:
Awards will be presented for the following categories:
Secure Payment Cards:The card includes financial, retail or gas/petrol-branded cards from secure issuing organizations, retailers or gas/petrol companies. The card can be magnetic stripe and/or smart chip with debit, credit or prepaid and must have the branding of a recognized secure issuer.
Loyalty, Promotional, Gift Cards:The card includes cards for airline, hotel, car rental and grocery loyalty programs, as well as gift cards with a prepaid value usually initiated at check out. Cards must be printed on card stock of 24 to 30 mil thickness and can have a magnetic stripe or smart chip.
ID and Access Control Cards:This category includes government-issued cards like healthcare, driver's license or national ID cards. It also includes cards for access control, such as door keys, access ID badges or cards for entry/access. Cards can have a magnetic stripe or smart chip and may or may not have photo identification.
Unique Innovation: This category recognizes the most innovative technical achievement in card functionality or personalization/fulfillment product or service (multi-application, biometric, optical, alternative material, environmentally friendly, other innovative cardholder features) that demonstrates novel, unique or expanded functionality in response to customer application requirements. Entries must be card industry-based products or services.
Personalization & Fulfillment (P&F) Product, Service or Project: P&F bureaus submit a new card-based product, service or project launched in the card market in the past year.
Best Supplier/Vendor New Product, Service or Innovation: Associate members enter a product, service or innovation that was in the card and/or personalization and fulfillment industry during the past year.
People's Choice (selected by ICMA EXPO delegates): EXPO attendees select their favorite card from all entries.
Learn first-hand about ICMA Member Goldpac, a company that has received 30 Élan Awards of Excellence. See samples of Goldpac's winning entries and what drives the company's innovation.
Want more industry insider insights or a glimpse into global card trends?
For three decades, ICMA has represented the interests of the card manufacturing industry—which includes manufacturers, personalizers, issuers and suppliers—as its leading global association.
ICMA maintains several industry-leading training and education programs about card manufacturing for members. These include the Advanced Card Education (ACE) designation and the web-based Card Industry Training & Education (CITE) programs, which provide information on key areas of the industry, as well as online tutorials and webinars on specific topics from card industry experts and leading industry suppliers.
ICMA also provides regular industry reports to keep members informed of emerging trends and changing standards, including Global, European and North America Card Market and Personalization and Fulfillment Statistics Reports each year.
The organization hosts three conferences each year. The main event is the Annual Card Manufacturing & Personalization EXPO and the other two conferences are CardTREX North America and CardTREX Europe.
To learn more about the benefits of ICMA membership, click here.