Top 5 Benefits for Exhibitors, Sponsors at 2019 ICMA EXPO
Want to reach new customers? The answer is simple: exhibit or reserve a sponsorship package at the ICMA Card Manufacturing & Personalization EXPO, March 31-April 1, 2019 in Orlando, Florida.
As the world's only manufacturing-focused global card conference, the EXPO is designed to educate attendees about new ways to develop products that will help the card industry evolve—from gift cards to loyalty cards to identification and financial cards—into an era of innovation. Serving as a sponsor or exhibitor is one of the best ways to guarantee visibility among EXPO card manufacturer and personalizer attendees.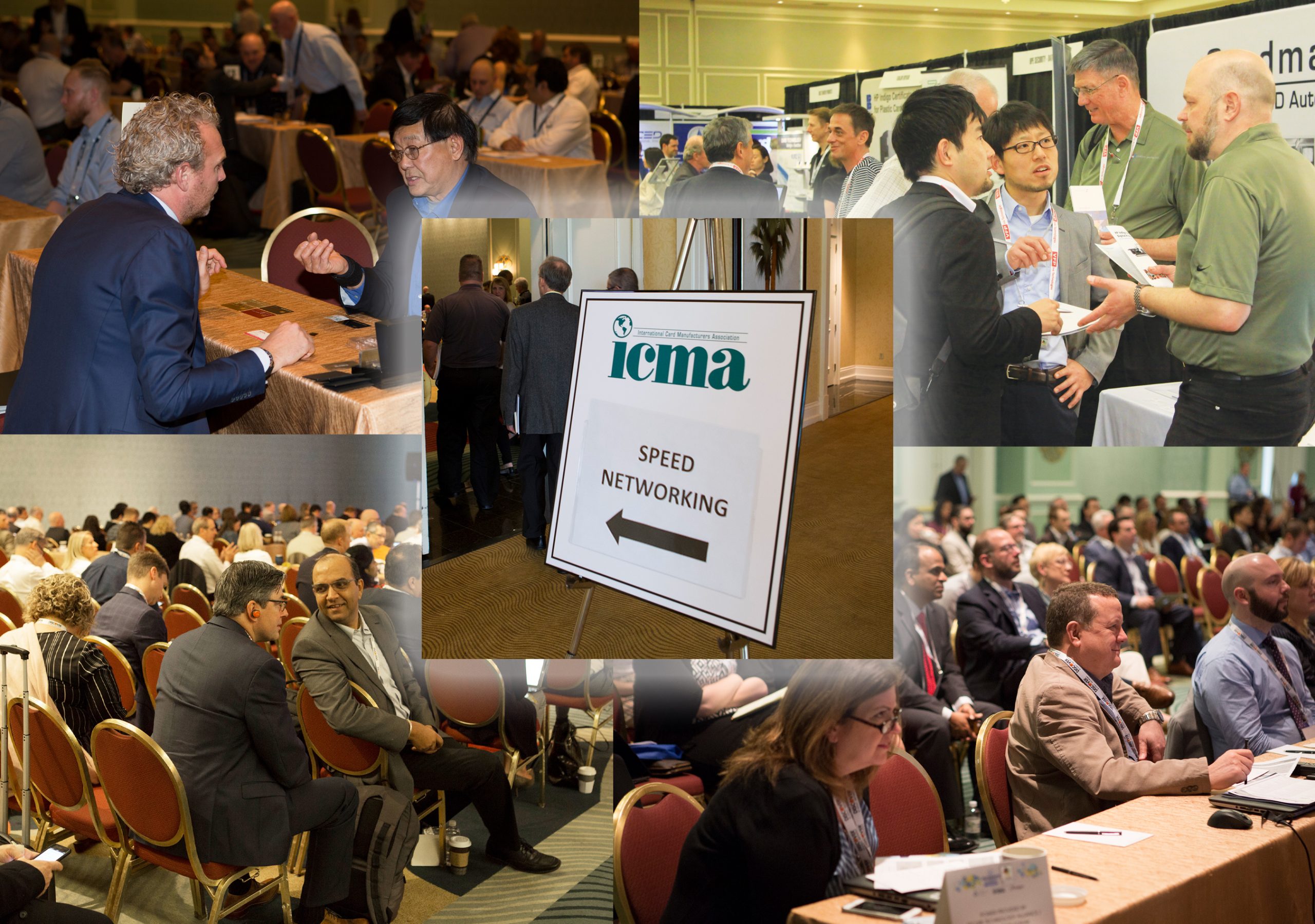 Trade shows and conferences are one of the most valuable and effective opportunities for face-to-face networking. This year's EXPO is no exception. As an exhibitor or sponsor, you will have greater visibility to showcase your product and brand directly to your target audience—the card industry's pioneers and trendsetters. Whether you are a small business or a large company, this year's EXPO will provide unique opportunities to maximize exposure and connect to consumers on a personal level.
Maximize your time and marketing budget at this year's ICMA Card Manufacturing & Personalization EXPO:

#1 Engage with Card Industry Leaders
When it comes to influencing a decision, nothing competes with the face-to-face interaction you'll have at the EXPO. Exhibits that incorporate creative or functional product displays help set the stage for attracting attention and building face-to-face connections with attendees. Exhibiting is your opportunity to engage with attendees and current customers to spread the word about exciting company news, products and promotions. It doesn't matter whether you're marketing a service or promoting a new product; an in-person presentation or a short conversation can help you close the deal quickly.
#2 Generate Leads
By serving as an exhibitor at the world's only manufacturing-focused global card conference, you'll gain exposure to an audience that has an interest in your product or services and is most likely ready to make a purchase or move forward with utilizing your services. Use the EXPO to meet with existing customers to strengthen brand loyalty and to create business relationships with other vendors and industry professionals. Major trade shows like the EXPO have a dedicated following of attendees year after year. Traveling from all corners of the world, each attendee is a lead waiting to be captured. After the event, be sure to follow up with the people you meet—while your interaction is fresh in their minds.
#3 Make the Most of Your Marketing Budget: Trade Shows are Cost-Effective
You may think the cost for a booth or sponsorship package is a steep price to pay for a single marketing event. But this year's EXPO is sure to be buzzing with action as attendees search for solutions that meet their unique needs—from eco-friendly cards to gift cards to magnetic stripe manufacturers. By combining exposure to a large number of potential leads with the ability to interact personally, trade shows offer an experience for both the business and attendee that other forms of marketing cannot deliver. The benefits to be an exhibitor or sponsor can far exceed the investment. The EXPO also presents opportunities for companies that are geographically further from the market to interact with customers they wouldn't normally be able to access, especially face-to-face.
#4 Receive Immediate Feedback
The EXPO is an excellent opportunity to introduce new products to the market, especially if you are still gauging consumer interest. You'll be able to collect instant feedback from attendees. Allowing customers to experience or hold your product will increase interest and drive sales, even after the show has ended. Industry leaders from around the world who attend the EXPO are the active buyers who want to establish contact with exhibitors and sponsors. They typically have purchasing power and are willing to try something new.
#5 Gather Market Intelligence
The EXPO will give you the chance to learn about the competition and market trends. Visit exhibitors' booths and check out their products to get a better understanding of your position in the marketplace. With numerous educational opportunities and presentations by industry leaders, the EXPO will ensure you stay on the cutting-edge of industry news, research and product development.
Reserve Your Exhibitor Booth
Limited exhibitor spaces remain at the world's only global meeting of leading card industry professionals. The EXPO, which features more than 50 exhibitors, is full of information sharing and networking opportunities. Email Dwebster@icma.com to reserve your booth!
Secure Your Sponsorship Package
The complete list of sponsorship opportunities is now available. There's something for every budget. New this year is the premier Full Meeting Sponsorship, which includes the highest level benefits—logo at the "top of the page" on all EXPO promotions, including the
program book, mobile app, event advertising and press releases.
Register for the 2019 EXPO
Don't miss out! If you haven't registered yet, there's still time. With a focus on how the world transacts, this premier event is sure to provide attendees from around the world with a truly unique and valuable experience.