ICMA Élan Winner CompoSecure Innovates with Metal Cards
Each year, the prestigious International Card Manufacturers Association's (ICMA) Élan Awards of Excellence cast a spotlight on the best of the best in the global transaction card industry, honoring world-class achievements in card design, technological innovation and other categories that establish the global vanguard for card manufacturing excellence.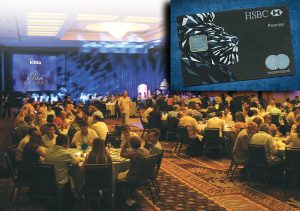 In 2018, CompoSecure LLC won the Élan Award for the Unique Innovation Category, which recognizes the most innovative technical achievement in card functionality or personalization for a product or service that demonstrates novel or expanded functionality. CompoSecure received the Élan Award for the HSBC Lion manufactured for HSBC.
HSBC wanted to create a bold and daring design for their new card and used a combination of graphical techniques on a metal veneer construction. A unique combination of knock outs and mechanical engraving, facets and other features make the metal come alive in the dual interface card. It appears the lion is practically "roaring" right off the card. The judges for the Élan Awards were impressed by the combined multiple production effects with perceived tactile value of metal.
Year after year, CompoSecure continues to be recognized for its innovative approach, cleverly combining science and art to offer clients secure and durable proprietary products that implement leading-edge engineering capabilities and technology. Innovation is fundamental to everything they do. They continue to stay ahead of the curve through technical and unique approaches to maintain a competitive edge. With security a top industry concern, CompoSecure ensures their cards meet the most stringent requirements by including security elements and unique composite materials in the card manufacturing process.
Manufacturing metal cards is challenging. Combining dissimilar materials that meet the same standards as plastic cards requires a lot of research and development. To include EMV and contactless functionality in the card construct is even more complex.
"By incorporating these elements with graphical and production techniques, we help our clients create elevated experiences for their customers at the point of sale," said CompoSecure's Dori Skelding, who is the company's vice president of marketing and supply chain. "To be recognized for our unique card designs by our peers indicates that they understand the complexities of our manufacturing process and our desire to produce high-quality cards."
Since 2013, CompoSecure has had a winning card design every year. To date, the company has won nine Élan Awards and has placed as a finalist 13 times.
"Metal cards remain top of wallet," Skelding said. "Submitting entries year after year and continuing to be recognized as a global leader is truly an honor. Our strong track record winning Élan Awards continues to confirm our status as the world's leading metal card manufacturer."
Widely acknowledged as the most renowned platform for card excellence, the prestigious Élan Awards distinguish ICMA manufacturers, suppliers and personalization/fulfillment members as industry leaders.
Skelding agrees that the impact of winning an Élan Award is far-reaching and can lead a company down multiple paths to success. "We use the success of our award-winning designs in every sales presentation we give," she said. "Being able to show the winning cards during presentations has been an important marketing tool when talking to potential clients about incorporating metal cards into their portfolios."
There is still time to submit an entry for the Élan Awards. The deadline is Friday, March 8, 2019.