Élan Award Winner Burgopak Innovates with Packaging to Generate Brand Awareness
Burgopak recently earned the prestigious International Card Manufacturers Association's (ICMA) 2019 Élan Award of Excellence in the Best Personalization and Fulfillment Product, Service or Project Category for the MCO Visa Metal by Crypto.com manufactured for Crypto.com.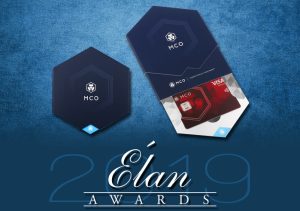 The Élan Awards are the only industry-wide awards for card manufacturing in the areas of card design and development, as well as supplier and personalization innovation. They celebrate the pinnacle of card design innovation, security and technical achievements in the industry.
Burgopak offers a variety of proprietary options as well as an award-winning design studio that delivers customized solutions. The winning design for crypto.com combines brand identity with unique packaging to create an "experience" for the customer.
When discussing the winning design, Rosie Reardon, managing director, said, "The exciting, yet unexpected packaging design we created for crypto.com, particularly the telescopic opening mechanism creates an element of surprise for the consumer. At Burgopak, we believe in creating incredible moments, where a brand engages with the consumer on an emotional level."
Price said packaging is an area where Burgopak has dedicated extensive research and that has yielded substantial growth for the company. Burgopak combines eye-catching designs and packaging with engaging touch points, exciting experiences and rewards consumers for social sharing.
"Packaging isn't an afterthought. It is one of the few physical touch points remaining in the card and loyalty industry," Reardon said. "At Burgopak, we take a holistic approach to creating products that consumers want to keep and share for months to come. That notion is central to our business philosophy—providing value to the consumer in exciting and unexpected ways."
As a new ICMA member, Burgopak has already seen the benefits of an ICMA membership. This year marks the company's first Élan Award.
"The level of competition was particularly high this year and we are humbled to be recognized among the best of the best," Reardon added. "We hope the award will further our reputation as a premium and innovative packaging provider in the card and loyalty industry."
With a focus on delivering innovative packing solutions that offer a unique opening experience, Burgopak creates impactful designs optimized for manufacturability, offers advanced prototyping and partners with a trusted network of global manufacturers to deliver world-class packaging.
Want more industry insider insights or a glimpse into global card trends?
For three decades, ICMA has represented the interests of the card manufacturing industry—which includes manufacturers, personalizers, issuers and suppliers—as its leading global association.
ICMA maintains several industry-leading training and education programs about card manufacturing for members. These include the Advanced Card Education (ACE) designation and the web-based Card Industry Training & Education (CITE) programs, which provide information on key areas of the industry, as well as online tutorials and webinars on specific topics from card industry experts and leading industry suppliers.
ICMA also provides reports on the card market and on personalization and fulfillment statistics to keep members informed of emerging trends and changing standards.
The organization hosts three conferences each year. The main event is the Annual Card Manufacturing & Personalization EXPO and the other two conferences are CardTREX North America and CardTREX Europe.
To learn more about the benefits of ICMA membership, click here.