Gift Cards Change 'Gifting Experience'
Gift cards are one of the most requested holiday gifts. They are unique, targeted, personal and when, done right, create experiences that delight the recipient. Generic, one-size-fits-all gift cards are a thing of the past.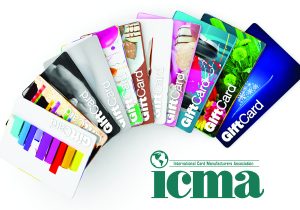 PLI Card Marketing Solution's Melissa Clemente, corporate director of innovation and marketing, said, "Gift cards need to have an element of surprise and make the recipient feel special. "We create cards that are fun, exciting and provide a 'gifting experience.'"
PLI received the International Card Manufacturers Association's (ICMA) 2019 Élan Award of Excellence in the Loyalty, Promotional and Gift Card Category for the Holiday Surprise card manufactured for Starbucks.
In today's experience-based economy, consumers want memorable, shareable and feel-good moments, and savvy merchants are delivering. Appealing gift card packaging creates an upscale presentation that intrigues the recipient, creating excitement for the "big reveal."
Gift card packaging is even being leveraged on social media. "Unboxing videos receive millions of views on social media and the phenomena continues to grow," added Clemente. "In a crowded gift card market, packaging can even trigger the decision to purchase one card over another."
Although eco-friendly gift cards are growing in popularity, consumers still want dazzling and engaging special effects, which means adding foils that can reduce the "green factor." However, there are foil laminated substrates, silk screen applications and graphic treatments that are eye-catching and eco-friendly.
Gift Card Marketing Opportunities
Companies that use gift cards to elevate their ability to connect on a personal level and distinguish their brand in the marketplace are getting it right. Gift cards build revenue, drive impulse buys and increase in-store and online traffic. Nearly 60% of consumers spend more than the face value of a gift card.
Despite growth in digital, the demand for physical gift cards is still strong and, in most cases, preferred. Opportunity in both physical and digital lies with companies taking the personalization of gift cards to the next level—multiplying the gifting sentiment and driving sales for retailers.
Beyond appealing to consumer personalities and preferences, gift cards are even being designed for local and regional markets, often featuring specific cities and special attractions. The right design combined with targeted messaging creates affinity and loyalty.
To accommodate the increasing desire for targeted, personalized gift cards, multiple shorter print runs and intricate combination runs are required, making careful planning and project management essential for manufacturers. Customized digital printing is also playing a growing role in the card manufacturing mix.
Specific geographic preferences and designs result in smaller shipments to multiple delivery points. Even gift card fulfillment and distribution logistics are becoming more complex. The need for rigorous, consistent and nimble processes continues to grow. Speed-to-market and just-in-time inventory are simply the expectation in today's on-demand economy.
The days of printing millions of four-color, single-design gift cards and shipping them to a single warehouse location are ending. To be successful, manufacturers need to adapt to meet the needs of the changing marketplace and instead, look at gift cards as marketing tools.
Combatting Gift Card Fraud
With gift card sales expected to remain high throughout the holiday season, especially in the hospitality sector, research and development efforts of products and processes to combat gift card fraud is ongoing.
CPS Card Group's president and ICMA board member, Jim Cooney, said, "Retailers are moving more towards folded gift card carriers at the third-party outlets.  Folded carriers give the consumer the perception that the card is more secure in the package, and it gives retailers more space to be creative."
A variety of tamper-evident security tapes and labels are available, with more robust options being tested and introduced. Secure packaging is also a fraud mitigation option that is constantly being refined. In addition, new designs for tamper-evident gift card carriers in which the carrier must be opened to reveal the card number, makes compromised cards more easily detectable by purchasers and cashiers.
"In the coming years, there will also be more creativity on the scratch-off label to enhance the security of the card data," added Cooney.
Although gift card fraud is just under 1% of card sales, it is still a concern as it equates to more than $1.5 billion in losses annually. As fraudsters become savvier with automated "bots" continuously checking for card activation, the potential for fraud has become greater.
"Monitoring fraudster tactics and being able to predict fraud behaviors, will continue to be important," Clemente added. "Beyond the dollar loss, gift card fraud creates an unpleasant and stressful experience for recipients when they attempt to make a purchase, only to find the funds have been drained."
Want more industry insider insights or a glimpse into global card trends?
For three decades, ICMA has represented the interests of the card manufacturing industry—which includes manufacturers, personalizers, issuers and suppliers—as its leading global association.
ICMA offers regular educational opportunities, including the web-based Card Industry Training & Education program, which provides information on key areas of the industry, as well as tutorials and webinars from industry experts. ICMA also provides reports on the card market and on personalization and fulfillment statistics to keep members informed of emerging trends and changing standards. Throughout the year, ICMA members have the opportunity to share insights and knowledge by giving presentations at ICMA events, webcasts and tutorials.
The organization hosts three conferences each year. The main event is the annual Card Manufacturing & Personalization EXPO and the other two conferences are CardTREX North America and CardTREX Europe.
To learn more about the benefits of ICMA membership, click here.