Will COVID-19 Spur a Rise in Contactless Gift Cards?
Amid COVID-19, many small- to medium-sized businesses have found a way to secure cash flow while adhering to social distancing guidelines that have been put in place to minimize the spread of the coronavirus. Businesses are asking customers to support them by purchasing gift cards now for redemption when recovery comes. Millions of Americans have stepped up to make that investment, helping local merchants make it through the pandemic.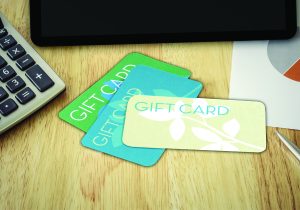 But this business strategy is not necessarily translating into more orders for card manufacturers. "With many nonessential retail stores closed, the need for gift cards is at an all-time low," said Michael Swiecicki, former general manager of CheckPoint Card Group.
Michael Dorner, CEO of Variuscard GmbH and vice president of the International Card Manufacturers Association (ICMA) added, "Although the economy has been hit hard, which is impacting the size and volume of new gift card orders, the gift card industry will stay strong in markets where it is already established in the United States and the United Kingdom. In eastern Europe, physical gift cards have recently grown in popularity, but concerns surrounding the coronavirus may drive more e-gift card usage in this region. In Austria, there is a shift toward the use of paper gift cards to save costs and the environment."
Many people are opting for contactless payment methods to deter transmission of the coronavirus, which could trigger a rise in the use of contactless gift cards or even a direct switch  to mobile gift cards. Contactless gift cards with scannable barcodes already exist. There are also near-field communication (NFC)-based gift cards being used in Europe. Gift cards that feature an NFC chip or QR code are more interactive; when scanned, they provide a digital or video message customized for the gift recipient.
Whether or not the contactless gift card trend will catch on depends partly on the card industry supporting contactless technology, but also on the promotion of the benefits of NFC. The cost, as well as infrastructure investment, will play an important role in a widespread conversion to contactless gift cards.
"Although it is possible that COVID-19 could spur a leap forward for contactless gift cards, chip manufacturers would also have to play a role, possibly developing cheaper chips for short-life products like gift cards," Dorner said.
Typically, gift cards are only used for one or two transactions and then they are discarded. In comparison, secure credit and debit cards have a much longer lifespan. Contactless gift cards will most likely cost three to five times more to manufacture than a typical plastic card. More merchants would have to enable the interface between the cards and their cash registers. Other factors like chip programming and interface standards also have to be considered.
"With prices for NFC chips going down and the drive to minimize interactions between people and common surfaces to combat the spread of the coronavirus, contactless technology will see a good push," Dorner said. "Now that smartphones are enabled with NFC, allowing payment via Apple Pay, Samsung Pay or Google Pay—transactions require no physical contact between the payment device and the payment reader. Consumers can add a credit, debit, gift or membership card by scanning a card with the phone's camera. Gift cards can be used in a contactless manner that way as well."
Prior to the pandemic, ICMA's 2019 Global Card Market Statistics Report found that among market segments, gift cards showed the strongest volume growth in 2019 with a 7.1% increase. Though the effects of the current global crisis on in-store gift card spending remain unknown, Swiecicki is hopeful that gift card manufacturing will pick up again when retail stores reopen, and the economy begins to gain momentum.
"It will take several months," he added. "Gift card purchases are consumer driven and consumers will not have excess funds for quite some time. Once people are back to work and retail stores open, people will be inclined to purchase gift cards with a lesser dollar value."
During this time of economic uncertainty, buying gift cards means retailers get cash now for purchases consumers will make later. Many merchants are discounting their gift cards as a means of thanking consumers for their support. For gift card manufacturers, the market will remain strong where it already has a firm hold and will bounce back in other sectors as recovery from COVID-19 comes.
Want More Industry Insider Insights or a Glimpse into Global Card Trends?
For three decades, ICMA has represented the interests of the card manufacturing industry—which includes manufacturers, personalizers, issuers and suppliers—as its leading global association.
ICMA offers regular educational opportunities, including the web-based Card Industry Training & Education program, which provides information on key areas of the industry, as well as tutorials and webinars from industry experts. ICMA also provides reports on the card market and on personalization and fulfillment statistics to keep members informed of emerging trends and changing forecasts.
Throughout the year, ICMA members have the opportunity to share insights and knowledge by giving presentations at ICMA events, webcasts and tutorials. The organization hosts three conferences each year. The main event is the annual Card Manufacturing & Personalization EXPO and the other two conferences are CardTREX North America and CardTREX Europe.
To learn more about the benefits of ICMA membership, click here.