ICMA Members Transform Manufacturing to Combat COVID-19  
As COVID-19 continues to impact the world in unprecedented ways, the need for protective equipment is on the rise for health care professionals and essential workers. To help, many manufacturers are identifying creative ways to produce much needed supplies, and some have even shifted entirely to pandemic operations.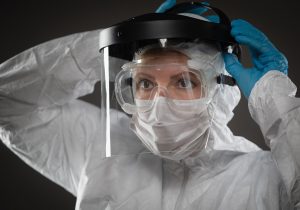 International Card Manufacturers Association (ICMA) members are among those joining the battle to combat the coronavirus while employing new tactics to keep employees safe.
Retooling Operations
As manufacturers try to meet the worldwide demand for face shields, some companies have shifted operations to make up for the shortage. EXIM is now offering a variety of solutions for face shield applications and face shield products.
Bristol ID Technologies is leveraging its experience in the global plastics manufacturing industry and pivoting operations to produce face shields. The company's initiative is in conjunction with New York State to supply hospitals with equipment to protect health care workers from the coronavirus. Bristol's shield features a state-of-the-art wrap around design for face protection with a clear polycarbonate and polyester (PET) film shield.
Ruhlamat GmbH has shifted operations to produce protective N95/FFP2 masks for frontline workers. The company's mask automation production line integrates mask forming, edge pressing, cutting, tape welding, nose bridge beam loading and printing processes. Automated ultrasonic equipment is used for mask forming and production, requiring just one or two employees for the entire production line.
When the outbreak of COVID-19 began in China, Covestro began supporting rush orders of medical equipment manufacturers by supplying raw materials to produce diagnostic and respiratory equipment, protective devices and test strips for disease control and other emergency aid.
To relieve the burden on medical facilities and to help contain the coronavirus, Covestro is applying its existing know-how and 3D printing technology to software for 3D printing of mask holders to improve wearability. In the United States, Covestro is collaborating with 3D printing companies and a research institute to explore 3D printing of ventilator components. Covestro also provides raw materials for the production of products such as medical devices, safety goggles for medical staff, as well as hospital mattresses.
Impact Innovations by Design Group is also supporting the fight against COVID-19 by supplying communities with personal protective equipment (PPE). Utilizing the same die-cutting equipment and assembly staff, which is typically used to manufacture membership cards and point-of-purchase displays, Impact pivoted portions of its production to produce face shields for a variety of markets including medical, dental, long term care facilities and funeral homes.
Protecting the Workforce
Frontline production workers cannot do their jobs from the safety of their homes. During a time when employee risk and stress is high, companies like Arroweye have increased safety measures and communication to keep employee morale up.
"As a result of COVID-19, companies are reacting to the demand for secure cards and they are fast-tracking their orders," said Peter M. Krauss, president and CEO of Arroweye. "We are busier than ever, but our focus is to keep our people safe. We've been taking extraordinary efforts to take care of our frontline team members—ramping up mitigation protocols, issuing masks to employees, taking employees' temperatures daily and following the proper cleaning and disinfecting practices."
Valid's response to COVID-19 has been similar to Arroweye's—staying ahead of the global pandemic while keeping an eye on all possible impacts that could affect stakeholders and production capabilities.
"First and foremost, we want to make sure our production employees are protected," said Eli Carmeli, president and CEO of Valid USA. "Prior to mandates that called for the required use of PPE for essential workers, we had already implemented a rigorous set of safety measures at our facilities, which includes staggered shifts and mandatory use of face masks and nitrile gloves."
Valid has also been proactive in fully utilizing its global supply chain. "We have been able to reduce significant materials and logistics impacts by shifting our supply chain to regions less impacted by the coronavirus," Cameli said. "This has allowed us to remain nimble without causing major disruptions to our day-to-day operations. Our clients are adjusting to simultaneous impacts across multiple areas of their businesses and we are doing our part to ease the burden for them with frequent and transparent communication."
Supporting the Community
CompoSecure has a strong track record of actively supporting small businesses and nonprofits. The company has donated personal protective equipment (gloves) to the Somerset County (New Jersey) Department of Health, and it is supporting local organizations that provide critical services for residents. In addition, a CompoSecure employee started a crowdfunding initiative, which raised funds to provide meals for more than 800 essential workers.
"We are all finding new ways to adapt and work together to be successful in the COVID-19 world," said Dori Skelding, vice president of marketing and pre-production services at CompoSecure. "Philanthropy is in our company DNA and we are using this time to deepen relationships with community organizations that need our support."
To learn more about how CompoSecure has helped their community, click this link: https://www.youtube.com/watch?v=4Mnu4Lvvz1s to see their ICMA Cares interview.
Want More Industry Insider Insights or a Glimpse into Global Card Trends?
For three decades, ICMA has represented the interests of the card manufacturing industry—which includes manufacturers, personalizers, issuers and suppliers—as its leading global association.
ICMA offers regular educational opportunities, including the web-based Card Industry Training & Education program, which provides information on key areas of the industry, as well as tutorials and webinars from industry experts. ICMA also provides reports on the card market and on personalization and fulfillment statistics to keep members informed of emerging trends and changing forecasts.
Throughout the year, ICMA members have the opportunity to share insights and knowledge by giving presentations at ICMA events, webcasts and tutorials. The organization hosts three conferences each year. The main event is the annual Card Manufacturing & Personalization EXPO and the other two conferences are CardTREX North America and CardTREX Europe.
To learn more about the benefits of ICMA membership, click here.