Card Manufacturers Value Technology in 'War on Waste'
Waste is a major issue in any manufacturing setting, and many card manufacturers are waging a war on waste with technology—software and hardware innovations—to reduce waste of raw materials while maximizing production and capacity.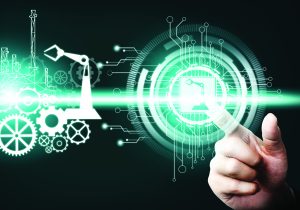 "The war on waste is huge," said Peter M. Krauss, president and CEO of Arroweye. "Waste is money and time that you can't get back. Card manufacturers can always get more materials and make more products, but loss of time is the one thing we can't recover."
Over the past year, Arroweye has invested more than $4 million in new equipment and technology to increase throughput and reduce waste.
"We took a step back and evaluated our entire workflow and focused on using technology to capture data," Krauss said. "The minutes and hours that we can save in our process—that translates to gains in efficiencies and profits."
Waste can occur in every step of production, for example, as a result of over processing, punching skeletons, printing defects or lamination imperfections. However, it can be reduced by standardizing the format and card structure between companies, for example, using the same thickness and sheet size. If scrap can be reduced, then the customer will need less raw material. (In September, the International Card Manufacturers Association (ICMA) will offer a live webcast on waste in card manufacturing. Check back for registration updates.)
Technology enhances productivity by ensuring machines process jobs more efficiently and in a more standardized way to boost production, which helps card manufacturers compete globally. The less setup that is required to deliver a good output also reduces waste of time in machine setup.
Save Money with Technology
Automation improvements and deploying technology to capture and report data in card manufacturing has made factories more productive than ever—reducing waste and maximizing return on investment for card manufacturers and their customers.
"If a card manufacturer has a high scrap rate of 20-30% and they don't know how that scrap is happening, that is an instance where the company should use technology to track and report on that data to make better business decisions," Krauss said. "It's surprising that some companies don't want to invest in getting the data, but you have to. It is worth the time and will pay dividends."
However, Krauss said capturing the data can also be accomplished in a low-tech way, for example, a production employee can be positioned by a machine with a clipboard to log data. There are also auto trackers that can help identify scrap rates to reduce waste.
"Whether you use technology or a pen and paper, you have to get the data first," Krauss said. "Once a company can identify and reduce the scrap rate, the rewards in time and money are invaluable. With our recent smart factory upgrades, our waste numbers are low, single-digit figures and that has allowed us to take on more business."
Reducing Waste, Supporting Sustainability
Waste will be generated in every manufacturing facility, however, businesses around the world, including card manufacturers, are responding to a global imperative to reduce waste, which also supports the sustainability initiatives that consumers demand.
"Cards are highly visible to the consumer," said Karen Brooker, vice president of client marketing and sales enablement at PLI. "When a card issuer reduces its impact on the environment with a change to card construction, the value of the brand is elevated in the eyes of environmentally conscious consumers."
Finding an appropriate pre-consumer waste stream can be difficult. There is often limited recycled materials that run counter to the card issuer's desire for a high percentage of recycled content in the finished card.
Although many card manufacturers have been pursuing greener options, amid the pandemic, many green company initiatives and products may be postponed, since green, raw material is usually more expensive. Recycled content often needs additional processing for successful film production, making the card more expensive than the standard product. However, companies should remain proactive in planning, which can help avoid urgent and partial shipments by air when recovery from COVID-19 comes.
Contamination of the waste stream can also be an issue, requiring the total purge of the supply stream and even causing damage to manufacturing equipment. But Brooker says that improved technology at the equipment level enables manufacturers to reduce energy consumption and to better manage inventory and to limit waste.
In September, ICMA will offer a live webcast on waste in card manufacturing. Check back for registration updates.
Want More Industry Insider Insights or a Glimpse into Global Card Trends?
For three decades, ICMA has represented the interests of the card manufacturing industry—which includes manufacturers, personalizers, issuers and suppliers—as its leading global association.
ICMA offers regular educational opportunities, including the web-based Card Industry Training & Education program, which provides information on key areas of the industry, as well as tutorials and webinars from industry experts. ICMA also provides reports on the card market and on personalization and fulfillment statistics to keep members informed of emerging trends and changing forecasts.
Throughout the year, ICMA members have the opportunity to share insights and knowledge by giving presentations at ICMA events, webcasts and tutorials. The organization hosts three conferences each year. The main event is the annual Card Manufacturing & Personalization EXPO and the other two conferences are CardTREX North America and CardTREX Europe.
Learn more about the benefits of an ICMA membership.