Magnetic Stripes Become Trendy in Plastic Cards
Now more than ever, companies are looking for new ways to differentiate cards from competitors with unique card design features.
Many are achieving that distinction with magnetic stripes.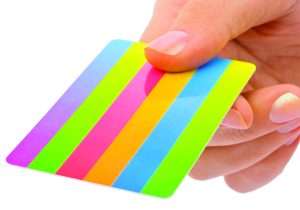 Magnetic stripes are no longer considered "just" a necessary part of a card's construction. Instead, card issuers and card manufacturers are finding valuable real estate on plastic cards by integrating the magnetic stripe as a design feature. They are leveraging it to deliver new value and increase return on investment at a nominal cost.
Magnetic stripe cards work by swiping a magnetic stripe through a card reader like a credit card. They are one of the oldest forms of cards and offer minimal security because they can be copied very easily. However, magnetic stripes offer a reliable data storage and reading method when other processes are damaged or inaccessible.
Magnetic stripe cards typically work as a single application card and are primarily used in low-security settings for casino player cards, entry to a hotel room, as well as for membership, loyalty and gift cards.
Innovative Magnetic Stripe Concepts
Designing a plastic card that communicates the corporate identity and brand values of an issuer in a 3 3/8-inch-by-2 1/8-inch space is a challenge. Card designers and card manufacturers need to align with branding guidelines while ensuring that the design follows the latest trends, all while maintaining a time, cost and quality balance.
"Using magnetic stripes as a design feature is a new way to gain real estate on the card," said Aida Aranda, global business development manager for composite materials at Sun Chemical. "Previously, the only way to extract brand value out of the magnetic stripe area in a plastic card was to play with its color, but Pantone® color matching can be costly and time-consuming, making this option less attractive for small to medium production runs."
Three innovative magnetic stripe design solutions include: the "bleed-out" effect, hidden magnetic stripes and holographic elements using lamination plates.
Bleed-Out Effect
The bleed-out effect refers to the magnetic stripe being placed at the edge of a card. To achieve this, a wider than standard magnetic stripe is used (usually between 14.3 mm and 16 mm). This design complies with current card manufacturing specifications and even allows cards to be encoded with the traditional tracks and read by standard equipment. The wide magnetic stripe can be any color—there are no limitations.
Hidden Magnetic Stripes
In Asia, specifically Japan, the hidden magnetic stripe has been used for several years. Widespread global adoption faced several barriers, from intellectual property to the practicality of production. However, card manufacturers now have access to overlay sheets that have been pre-laminated with hidden magnetic stripes and primed—ready to be overprinted and collated for lamination.
This option offers complete freedom of design as the magnetic stripe can be overprinted without losing its function.
"Card manufacturers can mimic a wide magnetic stripe, a custom color magnetic stripe or fully cover the magnetic stripe for a completely hidden design," said Aranda. "The hidden magnetic stripes are ideal for small production runs and sophisticated designs."
Holographic Effects Using Lamination Plates
Specially designed lamination plates allow card manufacturers to add a logo or text and imprint it onto the magnetic stripe during lamination to provide a holographic, dynamic light reflecting feature.
This process is more cost- and time-effective than sourcing specially designed holographic magnetic tapes. It also offers a unique anti-counterfeit feature for production campaigns of any volume.
Want More Industry Insider Insights or a Glimpse into Global Card Trends?
For three decades, ICMA has represented the interests of the card manufacturing industry—which includes manufacturers, personalizers, issuers and suppliers—as its leading global association.
ICMA offers regular educational opportunities, including the web-based Card Industry Training & Education program, which provides information on key areas of the industry, as well as tutorials and webinars from industry experts. ICMA also provides reports on the card market and on personalization and fulfillment statistics to keep members informed of emerging trends and changing forecasts.
Throughout the year, ICMA members have the opportunity to share insights and knowledge by giving presentations at ICMA events, webcasts and tutorials. The organization hosts three in-person conferences each year. The main event is the annual Card Manufacturing & Personalization EXPO and the other two conferences are CardTREX North America and CardTREX Europe.
New this year is ICMA's inaugural virtual forum and trade show—ICMA Connect, which will take place November 4-5, 2020. ICMA is excited to bring many of the benefits of the live events…virtually with a dynamic, interactive experience.
Learn more about the benefits of an ICMA membership.