Selling 'Experience': New Cards Move Millennials, Gen Z
Generation Z is officially the most accurate way to describe today's youth. As a mobile-first generation, 55% of Gen Z-ers use their smartphones five or more hours a day and 26% use their phones 10 or more hours a day. However, when it comes to purchasing behavior, members of Generation Z along with millennials, are widely known for valuing experiences and social identity over products.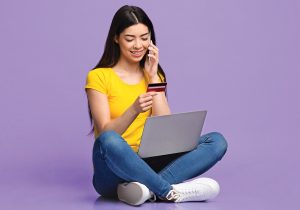 In fact, members of Generation Z now represent a cultural and economic force that is hard to overlook. Sixty-seven million Americans are a part of Generation Z. They are the fastest growing segment of borrowers even though the oldest Gen Z-ers are just turning 22 years old.
Currently, 31.4 million of those eligible for a credit card are members of Generation Z. Millennials are opening 30-40% of the new American Express accounts and about 41% of Gen Z-ers have credit cards, compared to 34% of millennials.
Millennials and Gen Z are the future of the card industry.
What does that mean for the card industry?
How to 'Win' with Millennials and Generation Z
In today's "experience" economy, generic, one-size-fits-all cards are a thing of the past. To get the attention of young consumers, brands need to connect with the audience on a personal level with diverse designs and unique, memorable elements that appeal to different personalities.
"The card industry must go beyond the physical card to produce authentic and engaging brand experiences," said Adam Wahler, ACE-M, creative director at A2A Studio Solutions. "To connect with the latest generations, cards will have to sell experiences. You have to figure out how to capture the attention of millennials and Generation Z and make them part of the audience. The goal is to get them to open their first credit card and then a checking account and then take a loan—creating lifetime customers of the issuer."
Beyond uniqueness and personalized experiences, appealing to what is significant and valued by millennials and Generation Z is key to capturing their attention. The desire to "go green" is continuing to gain momentum. Often coined the "green generation," millennials are driving the sustainable movement with their lifestyle choices. When it comes to cards, they are seeking recyclable, environmentally friendly alternatives to traditional PVC cards.
Create an 'Unboxing' Experience
Millennials and Generation Z want eye-catching packaging that creates an upscale presentation. Creating a card that resonates with millennials and Generation Z requires a heightened sensibility around their attitudes and behaviors.
Millennials want to connect with brands through content and engage with authentic messages. Rather than traditional promotional advertising, content-based marketing (often user-generated) is typically more effective with millennials. Making cards and packaging suitable for an unboxing experience is the new target.
Unboxing and brand activation experiences are becoming more and more important in design. For example, The Revolver by Burgopak rotates the card as the user opens the box.
"Burgopak's offerings are becoming the de facto standard in delivering a unique card experience," Wahler said.
Packaging for millennials is a huge priority for brands, especially with unboxing being an expected experience. Savvy marketers realize this, and unique, creative and engaging packaging is becoming more of a need rather than an option. Similar to Burgopak, PLI Card Marketing Solutions is continually evolving its offerings to deliver new and unique ideas for gift cards, often with integrated "freemiums" that will trigger a purchase.
Millennials and members of Generation Z want brands that share their cultural beliefs and represent their points of view. That means designers have to understand and craft messages that speak to young adults in insightful ways.
Partnership and strong communication between all project stakeholder is key to delivering unique card experiences that will earn consumer loyalty.
"Collaboration from the start of a card project saves time and prevents interference in the momentum of a project," Wahler added. "A lot has to do with card manufacturers and issuers stepping out of their comfort zone and engaging with suppliers a little differently. When the lines of communication are direct and open, we can make great things together."
Want More Industry Insider Insights or a Glimpse into Global Card Trends?
For three decades, ICMA has represented the interests of the card manufacturing industry—which includes manufacturers, personalizers, issuers and suppliers—as its leading global association.
ICMA offers regular educational opportunities, including the web-based Card Industry Training & Education program, which provides information on key areas of the industry, as well as tutorials and webinars from industry experts. ICMA also provides reports on the card market and on personalization and fulfillment statistics to keep members informed of emerging trends and changing forecasts.
Throughout the year, ICMA members have the opportunity to share insights and knowledge by giving presentations at ICMA events, webcasts and tutorials. The organization hosts three in-person conferences each year. The main event is the annual Card Manufacturing & Personalization EXPO and the other two conferences are CardTREX North America and CardTREX Europe.
New this year is ICMA's inaugural virtual forum and trade show—ICMA Connect, which will take place Nov. 4-5, 2020. ICMA is excited to bring many of the benefits of the live events…virtually with a dynamic, interactive experience.
Learn more about the benefits of an ICMA membership.