5 Ways to Safely Handle Cards Amid COVID-19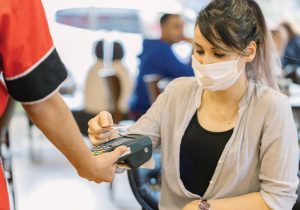 Money is often thought of as both dirty and a breeding ground for bacteria. Amid COVID-19, some countries started disinfecting cash and the World Health Organization suggested people avoid using paper money if possible to stop the spread of the virus.
As consumers seek alternatives to handling cash and touching point-of-sale terminals in an effort to protect themselves, the global card industry offers consumers five safe ways to handle cards amid the global COVID-19 pandemic.
Luca Castellani, an international area manager at Liveo Research, said several innovative hygiene solutions for frequently used and touched cards have emerged within the card manufacturing industry.
"The human body can be fragile, especially when it is attacked by invisible enemies such as bacteria and viruses," Castellani said. "While antibodies and white blood cells and other natural defense systems can defeat the majority of these attacks, in some cases the human body is not well equipped to fight against these invaders that cause infections, sickness and disease."
#1. Keep cards clean.
In Visa's new global "Back to Business Study 2021 Outlook," 62% of respondents reported taking some steps to maintain the cleanliness of their cards. Using a disinfectant was the top approach to achieving card cleanliness at 31%. Millennials, at 73%, were more likely to take measures to maintain their cards' cleanliness than Generation X members (61%) and baby boomers (50%).
"Every time someone touches a card, it leaves something on our skin and this something comes from the card's surface," added Castellani, who said washing cards with soap and water and/or with an alcoholic solution can remove bacteria from the card's surface.
Washing cards too often, however, may damage the card's components such as the microchip and magnetic stripe and can shorten the card's lifecycle, according to Castellani.
#2. Use antibacterial spray.
Various antibacterial sprays are available to spray onto the card's surface to create a protective layer.
Castellani recommended using sprays that are approximately 99% antibacterial for the best effectiveness. Using the card and moving it in and out of a wallet or purse will degrade the protective layer overtime, he warned. Cardholders can spray their cards more often than every 90 days but there has been no research into how that would affect the card's components or lifecycle.
#3. Use cards with an antibacterial coating.
Some card manufacturers are placing an antibacterial coating on top of the card's overlay to protect cardholders from bacteria that can live on its surface. This coating is more difficult to remove than that created by the antibacterial spray, but it may affect the personalization of the card, according to Castellani.
#4. Use cards made with antibacterial PVC.
Antibacterial PVC contains an antibacterial agent that does not change the structure of the PVC. "It can't be scratched or removed and, after lamination, has more than 99% efficacy," Castellani said. "It's long-lasting because it is inside the card body and will last longer than the lifetime of the card. Antibacterial PVC can very easily replace a standard overlay."
#5. Use contactless transactions for in-store purchases.
Contactless cards offer consumers a safe and clean way to complete in-store transactions. Tap-and-go credit and debit cards allow consumers to pay without having to enter a pin or a signature into a point-of-sale terminal.
When a cardholder uses a contactless card for making a transaction, the card establishes communication with the point-of sale terminal via near-field communication or radio frequency identification. After that, the card generates a unique code for each transaction which makes the process safer.
Contactless technology is more popular in some parts of the world than in others. For example, Europe, Canada and many parts of the Asia Pacific region have seen the broad adoption of contactless payments while the United States has been slow to switch, as retailers and consumers still rely heavily on a payment infrastructure dependent on cards with embedded contact payment chips or magnetic stripes as well as cash.
As card issuers assess their portfolios moving forward, however, Entrust expects more of them to turn to contactless technology. "At Entrust, we continue to introduce new solutions for personalizing, packaging and delivering debit and credit cards to consumers, including contactless cards," said Dan Good, vice president of bureau solutions at Entrust.
Recent Mastercard global transaction data and consumer research suggests a significant acceleration in the use of contactless payments across the globe. The company conducted a poll across 19 countries in March 2020 as many imposed necessary social distancing restrictions amid the COVID-19 pandemic. The poll results indicated that the number of contactless card payments grew by 25% compared to the previous year.
Citing safety and cleanliness, 79% of people worldwide and 91% in the Asia Pacific region say they are now using tap-and-go payments. This data further reinforces that people are seeking alternatives to handling cash and touching pens and point-of-sale terminals when making in-store purchases.
Contactless payments are both effective for consumers who want to feel safer in the check-out line and for businesses to overcome the ill-effects of the COVID-19 pandemic. The World Health Organization has even stated, "When possible it would be advisable to use contactless payments to reduce the risk of transmission."
And according to Visa's "Back to Business Study 2021 Outlook," of the survey's 5,000 global respondents only 16% said they expect to go back to paying for in-store purchases with previously used methods once the coronavirus pandemic is over and vaccine distribution is widespread.
Want More Industry Insider Insights or a Glimpse into Global Card Trends?
For three decades, ICMA has represented the interests of the card manufacturing industry—which includes manufacturers, personalizers, issuers and suppliers—as its leading global association.
ICMA offers regular educational opportunities, including the web-based Card Industry Training & Education program, which provides information on key areas of the industry, as well as tutorials and webinars from industry experts. ICMA also provides reports on the card market and on personalization and fulfillment statistics to keep members informed of emerging trends and changing forecasts.
Throughout the year, ICMA members have the opportunity to share insights and knowledge by giving presentations at ICMA events, webcasts and tutorials. The organization hosts an annual Card Manufacturing & Personalization EXPO. New in 2020, ICMA introduced ICMA Connect, a virtual forum and trade show.
Learn more about the benefits of an ICMA membership.