5 Pro Tips for Powerful Card Packaging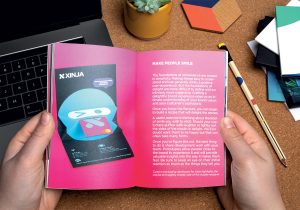 In the world of digital banking, where there is often less opportunity to physically interact with customers, the payment card and its packaging have become important vehicles to drive physical engagement. Payment cards are no longer just bank cards but lifestyle accessories that banks invest time and energy into in order to create an impact with customers.
Since card packaging is now seen as a meaningful introduction to these impactful card products, Burgopak Ltd. Creative Director Dane Whitehurst offers five professional tips for powerful card packaging:
Go Beyond the Traditional
Banks that mail cards to customers in traditional bi-fold paper carriers housed in envelopes aren't necessarily doing anything wrong as this solution is functional and cost effective. However, Whitehurst said, consumer expectations have shifted in this space and ignoring the potential of packaging to leverage brand equity is perhaps a missed opportunity.
"Packaging helps to build not only value but a great first experience," Whitehurst said. "It can help to highlight calls-to-action around key steps in the setup journey to help improve activation."
Cards have become attractive, and the packaging helps to amplify the perceived value and build differentiation.
"Packaging is capturing the essence of what makes each brand special, using different papers and structures and pushing the envelope in different ways to create unique personalities and promote differentiation," Whitehurst said.
Amplify Brand Identity
Brand innovation is driving the use of new finishes, colors and textures in packaging. "Often we are not just aligning with the brand identity but amplifying it," Whitehurst said. "The quality of the card has an impact on the packaging but also on the perceived value of the product and the brand."
A high-impact unboxing experience has also become valuable due to its shareability through social media. "Google 'unboxing' and you will get over 100 million hits," Whitehurst said. "Packaging has so much potential through social media campaigns to reach people and communities that would otherwise be difficult to access."
On the flip side, there has also been a movement toward packaging ease and convenience. "Creating simple experiences with very nice details is another trend we are seeing," Whitehurst said.
Package for the Environment
As the environment becomes more of a talking point each and every day, card packaging designers are exploring new materials, finishes and processes that do not compromise on the "wow factor" or aesthetics while being respectful of the environment. "We generally work with paper board, which is flexible, relatively cheap and scalable," Whitehurst said. "Low tooling costs mean customers can start small and scale fast with little or no change to the design. Paper-based materials are readily and easily recycled, and consumer awareness is high, leading to excellent recycling rates. But even in the worst-case scenario, if discarded, it will decompose significantly faster than most alternatives out there."
There is a growing trend in which card packaging designers are working with mills that are committed to sustainable practices and to protecting the environment. "Holmen Iggesund, for example, replants three trees for every one that is harvested within their forests in Sweden, totaling over 30 million new trees each year," Whitehurst said. "Not only do their forests continually regenerate but they also act as a carbon sink absorbing up to 10% of the country's carbon dioxide output."
Develop Project-Long Partnerships
Packaging designers often work directly or indirectly with card manufacturers. "It's really important to have everyone's involvement in the design process from the get-go," Whitehurst said. "Efficiency is key and feedback from different stakeholders is crucial in optimizing our designs. Often throughout the process, we provide prototypes to our partners ahead of mass production so they can test them and make certain the packaging works. Ultimately, if there are issues that need improvement, we want to learn that early on."
Overall, any card project has to start with the right foundation. The right questions have to be asked, the right creative brief has to be developed and the right goalposts have to be set to keep a project on time and on budget. Even postage costs have to be considered and, "baking that kind of knowledge into the process and setting expectations and goalposts early on will ultimately determine what can and can't be done," Whitehurst said.
And it's this kind of holistic approach to card packaging design that Whitehurst's new book intends to promote and provide insights on.
Read the Book
Whitehurst shares Burgopak's studio secrets and practical insights on the power of packaging for card and financial services in the new publication, Welcome to the Club: Packaging Design for NeoBanks & Fintechs. The book is divided into two sections: "Building the Right Experience" and "Making Something That Works." Throughout, Whitehurst relates card packaging design stories and solutions and includes inspirational materials to provide a helpful guide for card packaging designers.
"We breakdown the process and provide key insights and top tips for getting it right," Whitehurst said. "We have created a resource for whoever is reading the book to achieve the best possible start to any packaging design project."
To download a copy of the e-book, Welcome to the Club: Packaging Design for NeoBanks & Fintechs, visit https://burgopak.info/Welcome-to-the-Club.
Want More Industry Insider Insights or a Glimpse into Global Card Trends?
For more than three decades, ICMA has represented the interests of the card manufacturing industry—which includes manufacturers, personalizers, issuers and suppliers—as its leading global association.
Virtual and In-Person Events
Every year ICMA provides education and networking at various events across the globe.
ICMA will host CardTREX virtually on June 10. CardTREX will pack everything you expect from a card industry conference into a single-day event. CardTREX is unique in that it brings card industry professionals together for regionally focused education and networking.
The event will feature two tracks. Educational and networking opportunities for European track attendees will be presented from 7 a.m. to 10:30 a.m. EDT. Educational and networking opportunities for North American track attendees will be presented from 11 a.m. to 2:30 p.m. EDT. Both tracks will feature three educational presentations on hot topics and trends specific to the region. Both tracks will also feature a roundtable discussion and time for networking. Attending either track will help you learn about new technologies and trends and enhance strategic business relationships in the region of the world where you work. Attendees will also gain indispensable industry insights to drive innovation and profitability within their organizations.
ICMA will host its in-person Card Manufacturing & Personalization EXPO from November 7-10 at the Renaissance Orlando at SeaWorld in Orlando, Florida.
The EXPO features an exhibition of 50+ leading card industry suppliers showcasing equipment, materials, card components and services. The event will include a diverse educational program with presentations and panel discussions on the most current card industry topics. Winners of the 2021 ICMA Élan Awards of Excellence will be announced. The EXPO also offers various formal and informal networking opportunities.
Cutting-Edge Training, Education

ICMA maintains several industry-leading training and education programs about card manufacturing. These include the Advanced Card Education (ACE) program, which provides information on key areas of the industry, as well as online tutorials and webinars on specific topics from card industry experts and leading industry suppliers.
The ACE program is the global standard of recognition for advanced knowledge of the card manufacturing industry. There is a certification level curriculum and designations offered in manufacturing, personalization and advanced technologies. The newest addition to the program is ACE-Commercial, a virtual training series, which offers education to various segments of member companies. The ACE program is designed to offer companies an edge in an intensely competitive field. As the demand for experts grows, continual training and expertise is crucial for individuals—and companies—to stay ahead of the crowd.
Global Market and Personalization Statistics Reports
ICMA publishes two annual reports that analyze the industry and assess the industry's present environment and future. Designed to assist ICMA member companies with strategic planning, the reports are segmented by global views, industry verticals and geographic regions and they cover trends in manufacturing, personalization, and fulfillment statistics. The reports are free to members and are available in the member-only portal at icma.com.
To learn more about the benefits of ICMA membership, click here.