CardTREX: 3 Reasons Why You Should Attend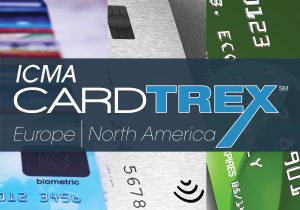 With presentations on the latest technologies and trends shaping the future of the global card industry and networking opportunities to enhance strategic business relationships in the region of the world where you work, the International Card Manufacturers Association (ICMA)'s CardTREX is a must-attend event that will take place virtually on June 10.
CardTREX will pack everything you expect from a card industry conference into a three-hour online event. Educational and networking opportunities for European/MEA track attendees will be presented from 7 a.m. to 10:30 a.m. EDT. Educational and networking opportunities for North American track attendees will be presented from 11 a.m. to 2:30 p.m. EDT.
Wondering why you should attend?
#1. Learn A Lot in 3 Hours
Each track will feature three 30-minute educational presentations.
The lineup of presentations for European/MEA track attendees includes:
"Biometric Payment Cards Ready for Mass-Market Deployment," Presented by Henrik Nilsson, director product management, BL Payment & Access at Fingerprint Cards
"The Growth and Global Appeal of Metal Cards," Presented by Julia Caron, head of Thales Innovative Cards Product Line at Thales DIS
"Sustainable Innovation: Done Right, One Plus One Equals Three," Presented by Peo Akesson, CEO and founder, Sustainable Cards
Caron said she is excited to share Thales Group's view of the growing global appreciation and appeal for metal cards. "From high net worth to mass affluent consumers and beyond, there is a metal product befitting every target segment," she said.
Akesson said Sustainable Cards believes that a sustainable business can also be a sound profitable business. "We believe environmentalism and economics do mix and the results can benefit society," he said. "By reducing the need for petroleum-based products and by using cards made from sustainable forest products, we can help reduce harmful greenhouse gases and contribute to a sustainable planet for the next generation to enjoy."
The lineup of presentations for North American track attendees includes:
"Paper vs. Plastic: How and Why the Gift Card Industry is Migrating to Paper," Presented by Greg Maze, director of product management, packaging, and Doug Grever, national sales manager at Neenah Paper
"7 Golden Rules for a More Sustainable Card Production," Presented by Luca Castellani, export manager at Liveo Research
"Elevating the User Experience with Specialty Cards," Presented by Alberto Hernandez, senior vice president, payments sales and marketing at Valid
Regarding his presentation on behalf of Liveo Research, Castellani said, "Think sustainable card production and Gordon Ramsay—the link between fine cuisine and our industry."
Hernandez said Valid sees brands are elevating their users' experience with physical card solutions to complement an increasing demand for digital payment options. "From metal to environmentally conscious card materials, specialty payment cards are providing unique brand experiences for consumers," he said.
#2. Collaborate with Your Peers
Both tracks will include a roundtable discussion on a trending topic in the global card industry. European track attendees will discuss biometrics.
Nilsson of Fingerprint Cards said the adoption of contactless cards has boomed, reaching new markets and consumer segments as a convenient, hygienic way to pay. "Biometrics on-card is a natural evolution, and the maturity of the technology has truly evolved in the recent year. Tune in to get up to speed on the latest technology behind this new innovation."
North American track attendees will discuss sustainability in the card industry.
"In the distant future, we see rapid growth in all short-term and single-use plastic applications as more corporations/brands implement sustainability goals or government regulations force them into the adoption of plastic alternatives such as paper-based solutions," said Maze of Neenah Paper.
#3. Develop Strategic Business Relationships
Every person you meet can potentially help you achieve a business goal or perfect a manufacturing, design or production process. That's why attending CardTREX should be part of your professional and organizational growth strategy.
The networking opportunities offered at CardTREX will put you face to face with industry peers, thought leaders and experts in their field. In addition to the roundtable discussion, each track will feature time to engage with the presenters and a dedicated networking session where you can speak live with other attendees.
The complete agenda for both CardTREX tracks is available at cardtrex.org/virtual/.
CardTREX is an ICMA members-only event. For details on becoming an ICMA member, please email info@icma.com. For more information and to register for the event, visit cardtrex.org/virtual/.
More About ICMA
ICMA is the leading global card association for card manufacturers and personalizers supported by suppliers and other industry participants.
For more than 30 years, ICMA's annual Card Manufacturing & Personalization EXPO has served as the world's only transaction card-focused conference and exhibition. This year, the EXPO will take place from November 7-10 in Orlando, Florida.
The association also maintains several industry-leading training and education programs including the Advanced Card Education program, which is the global standard of recognition for advanced knowledge of the card manufacturing industry.
ICMA officially participates in the International Standards Organization (ISO) and the American National Standards Institute (ANSI) and annually publishes two global market statistics reports on the card industry.
For more information, visit icma.com.