Studio Secrets, Practical Insights on the Power of Card Packaging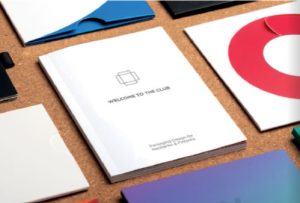 Fintechs are winning customers by putting people at the center of their brands, not just for snappy marketing campaigns but as an entire industry ethos. They began by getting to know their customers and then building their brands around the lifestyles, desires and aspirations that define their customers. Their products are carefully focused on neatly infiltrating daily rituals and providing convenience, simplicity and efficiency to the digital-first generation, according to Burgopak Ltd. Creative Director Dane Whitehurst.
"In the world of digital banking, however, where so many aspects are less tangible, there is often less opportunity to physically interact with customers," Whitehurst said. "And so, the physical card and its packaging have become important vehicles to drive this physical engagement. The plastic card has become not just a bank card, but a membership card. In the absence of a handshake, the way it is presented through its packaging fundamentally defines the first, 'hello and welcome to the club.'"
Whitehurst shares Bugopak's studio secrets and practical insights on the power of packaging for card and financial services in the new publication, Welcome to the Club: Packaging Design for NeoBanks & Fintechs. The book is divided into two sections: "Building the Right Experience" and "Making Something That Works." Throughout, Whitehurst relates card packaging design stories and solutions and includes inspirational materials to provide a helpful guide for card packaging designers.
"We breakdown the process and provide key insights and top tips for getting it right," Whitehurst said. "We have created a resource for whoever is reading the book to achieve the best possible start to any packaging design project."
Go Beyond the Traditional
Whitehurst said banks that mail cards to customers in traditional bi-fold paper carriers housed in envelopes aren't necessarily doing anything wrong as this solution is functional and cost effective. However, he said, the current transformation of banks into lifestyle brands means bank cards have become quite desirable objects—objects that were once hidden away in wallets that are now waved around and even photographed when used. Consumer expectations have shifted in this space and ignoring the potential of packaging to leverage brand equity is perhaps a missed opportunity.
Value is being developed around cards, making them lifestyle accessories with banks investing time and energy into their products to create an impact. Card packaging is now seen as an impactful introduction to these card products. "Packaging helps to build not only value but a great first experience. It can help to highlight calls-to-action around key steps in the setup journey to help improve activation," Whitehurst said. "Some brands did a great job with packaging early on and their strategy became a success story. I think that created a halo effect in the packaging industry. Cards became attractive and the packaging helped to amplify the perceived value and build differentiation."
Banks now aim to build a strong sense of self and identity with their card products. They have a solid foundation to build customer experiences and differentiation, both of which are driving card product innovation. "Packaging is capturing the essence of what makes each brand special," Whitehurst said, "using different papers and structures and pushing the envelope in different ways to create unique personalities and promote differentiation."
Amplify Brand Identity
Brand innovation is driving the use of new finishes, colors and textures in packaging. "Often we are not just aligning with the brand identity but amplifying it," Whitehurst said. "The quality of the card has an impact on the packaging but also on the perceived value of the product and the brand."
A high-impact unboxing experience has also become valuable due to its shareability through social media. "Google 'unboxing' and you will get over 100 million hits," Whitehurst said. "It's really insane. Packaging has so much potential through social media campaigns to reach people and communities that would otherwise be difficult to access."
On the flip side, there has also been a movement toward packaging ease and convenience. "Creating simple experiences with very nice details is another trend we are seeing," Whitehurst said.
Package for the Environment
As the environment becomes more of a talking point each and every day, card packaging designers are exploring new materials, finishes and processes that do not compromise on the "wow factor" or aesthetics while being respectful of the environment. "We generally work with paper board, which is flexible, relatively cheap and scalable," Whitehurst said. "Low tooling costs mean customers can start small and scale fast with little or no change to the design. Paper-based materials are readily and easily recycled, and consumer awareness is high, leading to excellent recycling rates. But even in the worst-case scenario, if discarded, it will decompose significantly faster than most alternatives out there."
Whitehurst continued, "We also work with some incredible mills that are committed to sustainable practices and to protecting the environment. Holmen Iggesund, for example, replants three trees for every one that is harvested within their forests in Sweden, totaling over 30 million new trees each year. Not only do their forests continually regenerate but they also act as a carbon sink absorbing up to 10% of the country's carbon dioxide output."
Develop Project-Long Partnerships
Packaging designers often work directly or indirectly with card manufacturers. "At the end of the day, we supply the packaging that all travels through the card manufacturer who personalizes the card and puts it into the packaging," Whitehurst said. "It's really important to have everyone's involvement in the design process from the get-go. Efficiency is key and feedback from different stakeholders is crucial in optimizing our designs. Often throughout the process, we provide prototypes to our partners ahead of mass production so they can test them and make certain the packaging works. Ultimately, if there are issues that need improvement, we want to learn that early on."
Overall, any card project has to start with the right foundation. The right questions have to be asked, the right creative brief has to be developed and the right goalposts have to be set to keep a project on time and on budget. Even postage costs have to be considered and, "baking that kind of knowledge into the process and setting expectations and goalposts early on will ultimately determine what can and can't be done," Whitehurst said. And it's this kind of holistic approach to card packaging design that Whitehurst's new book intends to promote and provide insights on.
To download a copy of the e-book, Welcome to the Club: Packaging Design for NeoBanks & Fintechs, visit and https://burgopak.info/Welcome-to-the-Club.
A limited number of hard copies are also available. For more information, email info@burgopak.com.