Card Manufacturers Accelerating Use of 'Green' Materials
While the adoption of eco-friendly and sustainable materials in card manufacturing has been of niche interest for many years, the trend to mainstream use is now clearly in place. Issuers, including financial institutions, see their cardholders as being more environmentally conscious. Here is a list of some of the more recent industry announcements: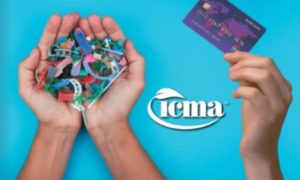 CPI Card Group in Fall 2019 announced its new Second Wave® payment card product. It is based on what the company calls "recovered ocean-bound plastic;" plastic recovered within 50 km from a seashore or rivers and streams that lead to the ocean. Within the last several months the company has added two additional eco-friendly products: EarthwiseTM recycled PETG and EarthwiseTM recycled PVC, both high content (up to 85%). Notably, these products have also been ICMA EcoLabel certified.
Thales DIS announced a commitment to sustainable materials in card manufacturing, including its bio-sourced PLA card, reclaimed ocean plastic card and recycled PVC card.
IDEMIA announced its GREENPAY recycled PVC card, which consists of greater than 85% recycled PVC derived from production waste.
UBS (Switzerland) announces its launch of a PLA card that is greater than 80% biodegradable (Optimus Foundation Credit Card Eco).
Ecosia launches its wood based TreeCard contactless debit card. In addition to being manufactured primarily from wood, for every $60 spent on the card, 80% of TreeCard profits from merchant surcharges will be devoted to tree replanting in 38 locations worldwide.
BBVA (Spain) announces the launch of its 86% recycled PVC (post-industrial use) bank card and intends to have 100% recycled cards in circulation in 2021.
CaixaBank in Spain announced in September 2019 that it is starting to issue prepaid debit cards made primarily of PLA. The company's anticipated annual production is 150,000 cards.
Now, this is by no means an exhaustive or comprehensive list. Rather it is intended to provide support for the idea that both card manufacturers and issuers are accelerating their use of alternative materials in their card products.
Many manufacturers and suppliers are now providing films and cards with a variety of other materials and recycled plastics. While recycled PVC has been leading the way for many, other recycled materials include HDPE (high-density polyethelene) and PETG (polyethelene terephthalate). (Elsewhere in this issue of Card Manufacturing is an article discussing the superior characteristics of using recycled PET and PETG material in a Life Cycle Analysis of environmental impact).
Other plastic alternatives include wood, noted in an announcement above, and PLA (polylactic acid), also noted above, which has the advantage of being compostable as well. Another alternative entirely is the use of recycled paper constructions, with coatings for durability, in certain non-secure card products. Metal and metal composite cards are another alternative for both reduced content and alternative materials.
ICMA launched the EcoLabel Program to offer a card industry standard in the identification and quantification of sustainable materials and practices in card manufacturing. Part of this program is a certification program for card manufacturers to register their card products that meet certain thresholds in use and application of reduced materials, recycled materials and compostable/biodegradable materials. The program documents are freely available to ICMA members and I encourage all of you to both become familiar with their contents and register your card products to show your leadership in this important initiative.
With the accelerating interest in greenhouse gas reduction around the globe, card manufacturing will see an increasing scrutiny of its materials of construction. Recycled content, reduced content and alternative materials are all in the solution set. The ICMA EcoLabel Standard Program materials provide both guidance and leadership in the card industry to address this need.
About the Author: David Tushie, ICMA standards and technical representative, has had a long and continuing career in the card industry, working for international companies such as DataCard, UbiQ and NBS Technologies. He has master's degrees in engineering and business, holds U.S. and international patents in measurement and card issuance systems and has had several years of involvement with the ANSI, INCITS and ISO Standards process. ICMA is represented at six ISO and ANSI Standards Meetings through Tushie's standards role within the association.