Pioneering the Way with Security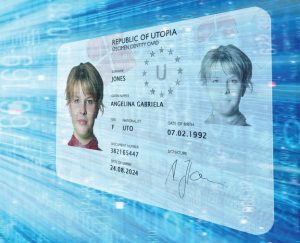 Ten years ago, drop-on-demand (DoD) inkjet technology began to be used in the personalization of government ID cards, voter IDs, driver's licenses, etc., opening entirely new prospects. Two arguments in favor of DoD were particularly persuasive at the time.
René Stoerk, sales director card systems at Atlantic Zeiser, who has been with the company since the very beginning, reports on why the technology has become so widely accepted and why demand for this type of government ID card is growing today.
What was Atlantic Zeiser's role in introducing DoD technology for ID cards?
We were one of the first to use this technology to print and personalize ID cards of all types, starting in 2011. This was very much a revolution in this area. No other provider on the market has since commissioned as many DoD technology systems for government ID cards as we have.
Did people immediately recognize the potential of this technology?
Oh, yes. They saw it right away. But in this area, you often deal with agencies and organizations that perform sovereign tasks, so to speak. They are always interested in new technologies but are often a bit hesitant to actually use them. But we were able to quickly overcome this tendency and convince them finally.
What specific advantages were especially important to potential customers?
We had (and still have) two convincing arguments on our side: One is that thermal transfer print, which dominated the area, is not very resistant to abrasion and is also susceptible to tampering. The other is that we could prove that costs per card are far lower for DoD technology than for thermal transfer or ribbon print.
Can you be more precise?
The costs for consumable materials for DoD printing are more than 70% less than those for thermal transfer print, which is, of course, an impressive argument. That is why DoD technology pays for itself several times over in a very short time. Another important factor is that abrasion resistance is four times as high for UV-cured DoD ink than it is for thermal transfer printed cards. DoD technology makes it easy to have a service life of 10 years or more that is required for ID cards.
What role does print quality play for ID cards?
That was another decisive factor. DoD technology's advantage is especially pronounced when it comes to integrating color photos into ID cards. This is because of its extremely high resolution and the brilliant quality of its color printing.
But you could also use a laser to print in color.
That is true. But using a color laser is very, very expensive, and one of the reasons for that is that it often requires a special card material. And color laser throughput is relatively low. We use laser technology in our systems where needed—primarily as an additional security feature. We laser the black parts of an image into the card material and then DoD-print the color. Even if someone were able to remove the ink, the card would remain practically unusable for a new overprint. DoD and laser are thus a strong and especially secure combination—it gives us the best of both worlds.
There are lots of ID applications. Are DoD technology systems limited to a particular segment?
On the contrary: one of the biggest advantages of these systems is that they are particularly flexible and can be used in a number of ways. ID cards, driver's licenses, health insurance cards, voter cards with or without chip programming: it can all be done on the same system, job changes are easy, and the only requirement is the addition of new modules or software. And in some countries, the systems are used in a wide variety of ways for various applications. For instance, they are currently being used for "COVID cards"—for government services during the pandemic.
How can a company distinguish itself in the DoD technology arena?
You have to be able to do more than completely master the actual DoD inkjet printing process and pretreatment and curing processes. Ideally, you would also be able to develop and adapt inks for specific materials, surfaces and applications. Then there are workflow technologies that support full "rainbow deck" capability.
And by that you mean the function that allows customization of each individual card on the fly without setting up the system for a new job?
That's right. To use that function, you need additional inspection systems that uses the "rainbow deck" data stream to allow inline inspection without any additional set up. It is also important to have a secure data management environment that supports "security printing" levels of data protection and traceability.
Where do you see challenges in the future?
There is no question that security feature requirements will become more stringent. In this area, we are pursuing various approaches, such as special varnish or invisible ink, both of which we are able to apply inline. At the same time, the need for ID cards is growing very quickly worldwide. One reason for this is that many countries are just starting to provide their populations with counterfeit-proof ID cards of all types. Another is that many countries require replacements when existing cards need to be switched out for cards with chip personalization (in the area of health care, for instance). These developments are increasing the demand for solutions that can handle large orders quickly and reliably and can also deliver small batches at reasonable prices.
About the Author: René Stoerk is the sales director at Atlantic Zeiser for the card printing, personalization and mailing systems that the company has been offering since 1998. He has initialized the development of a global strategic network aligning with digital personalization pioneering DoD ink jet technology in the card industry for many card applications since then. René Stoerk stands for more than 40 years of experience with global government organization offices for passport, ID and health card projects.