6 Advantages of Winning an ICMA Élan Award of Excellence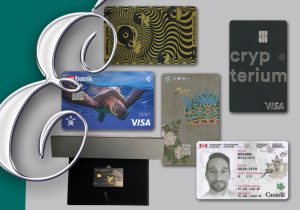 For more than 30 years, the International Card Manufacturers Association (ICMA)'s Élan Awards of Excellence have celebrated the pinnacle of design innovation, security and technical achievements in the global transaction card industry. The most recent award ceremony took place virtually on Dec. 9, 2021.
Élan Award Criteria
The Élan Award judges use a quantifiable scoring system, based on criteria in nine categories to determine the winners: graphical design, printing, complexity, technology, quality, innovation, uniqueness, practicality and security (if applicable).
"ICMA is excited to announce the latest Élan Award winners," said Jeffrey Barnhart, ICMA founder and executive director. "The recipients represent the best of the best in the global transaction card industry by exemplifying technological developments and new design trends, along with the use of innovative and eco-friendly materials."
Environmentally Friendly Category Winners
ICMA added an Environmentally Friendly Feature Card category to its latest Élan Awards of Excellence because of the growing movement to use environmentally friendly materials and processes to help protect the environment. Furthermore, to emphasize the heightened importance of sustainability in the card manufacturing industry to meet growing consumer demand for eco-focused cards. This award category recognizes cards created with eco-friendly materials and/or sustainable card manufacturing processes.
The winners included:
Advantages of Winning an Élan Award
Winners shared the following benefits of winning an Élan Award:
Heightened industry prestige with customers and peers
Positive branding and positioning, as being a leader in card manufacturing, sustainability, innovation, adoption of new technologies and delivering high-quality products
Demonstrated success in the marketplace
Enhanced visibility of capabilities, particularly in emerging technologies and card materials
Recognition of excellence, which supports product promotion
Business growth
Élan Award Winners
G+D, a global security technology group, earned three Élan Awards in the following categories:
Personalization & Fulfillment Product, Service or Project: China Everbright Bank Traditional Chinese Medicine Diamond Credit Card Gift Set for China Everbright Bank
Secure Payment Cards: Huaxia Bank Beauty Prime Years Platinum Card for Huaxia Bank
Unique Innovation: China CITIC Bank Huawei Card for China CITIC Bank Credit Card Center
"The Élan Awards are known as the 'Oscars of the Card Industry' and are unanimously recognized because of their authority, prestige and focus on innovation," said Xiao Wei, head of operations and sales in China for Giesecke+Devrient. "As such, G+D company is extremely proud of this recognition to our continuous efforts in developing new products and services and delivering them to our customers with the best user experience. Additionally, it also keeps on motivating G+D to focus on Innovation, on addressing our customers' needs and on strengthening our technology leader positioning."
Wei continues, "We're constantly challenging ourselves. Design thinking is part of our DNA to enable to keep pace with the trends of design and features and adopt new technologies to increase product performance, differentiation and user experience. The three awards are proof of these great achievements in developing new packaging designs and bringing new wow effects on the payment cards with inlaid glitter powder or the use of silk and ceramic materials."
"An Élan Award puts the light on our company and helps to enhance our intimacy with financial institutions. G+D is offering premium and unique products to banks, such as the ones which have been awarded, to test the appetite of the market and, in case of success, strongly support customer loyalty and acquisition. By continually providing value to the customers, both the banks and G+D can achieve business growth," Wei said.
SPICA, a manufacturer of high-performance film, won an Élan Award in the Supplier/Vendor New Product, Service or Innovation category for its Liveo Research Srl ISO ID1 card with antimicrobial overlay protection for Publicenter Italy to promote antimicrobial protection on cards.
"This is the first Élan award in our 20-year history of being an ICMA member," said Marco Balatti, sales & marketing manager of SPICA. "We're very proud and excited for this award, which represents a great achievement for the whole SPICA family."
"Being recognized with an Élan Award for SPICA's efforts in developing and delivering innovative and high-quality products to the card's market illustrates our capability to meet the needs of everyday people, which enables them to keep using the cards widely and fearlessly. The antimicrobial/antiviral overlay is the culmination of the last two years of hard work, in partnership with Sanitized AG, and brings enormous pride to our R&D team," Balatti continues.
"The advantage of winning an Élan Award is the opportunity to use ICMA's acknowledgement of excellence to promote this product even more proudly than before. This award shows our commitment to react to the market demands and see beyond them to build the future of cards," said Balatti.
ICK International, a designer and manufacturer of payment cards in metal and PVC, won an Élan Award in the Metal Feature Card category for Crypterium manufactured for UAB Walletto.
"Anytime ICK wins a recognition from its peers, competitors and industry experts, we get excited," said Scott Magnacca, executive vice president global sales & marketing of ICK International. "It validates the great work our global teams are doing, together with issuers around the world. Also, as a business with offices on multiple continents, this industry feedback allows us to tangibly demonstrate our success in the marketplace and to share the actual award in our offices, so that all our employees can see the recognition we achieved together with our customers. Similarly, we like that the award is available for our customer to display."
Magnacca continues, "Our membership in ICMA and winning an Élan Award is highly valued by our company leadership and employees. Each year, we work with our issuers to advise them of the value of this award to encourage their permission to submit their cards to ICMA for evaluation by the judges. We know from our customers that our work is valued, and it's wonderful to get this additional recognition from an award of excellence."
"The major benefit of winning an Élan Award is a heightened visibility of our capability and recognition of the strength and diversity of our metal payment card product line. This award allows us to connect with a growing number of issuers who want to clearly differentiate their dual interface metal card products, with the innovative and patented technology offered by ICK International," said Magnacca.
PLI Card Marketing Solutions—a provider of key card, gift, loyalty and membership card marketing solutions, including card production, personalization, packaging, fulfillment and display fixtures—won an Élan Award in the Loyalty, Promotional, Gift Cards category for the Hollister Club Cali Gold Gift Card it manufactured for Abercrombie & Fitch.
"We're honored that PLI Card Marketing Solutions has been selected as the winner of the Élan Award," said Mary Parks, VP of marketing and innovation, PLI Card Marketing Solutions. "It's always a privilege when you can win an award among your peers."
Parks continues, "At PLI, we're always striving to push creativity. Our team goes above and beyond to achieve excellence when it comes to printing cards. We hope that retailers and brands will recognize PLI is an innovator in creating different applications and our action coat features are one of those applications that sets PLI apart in the industry."
Canadian Bank Note Company, Limited also won an Élan Award in the ID and Access Control Cards category for the card it manufactured for Government of Canada – Immigration, Refugees and Citizenship Canada.
A Renowned Showcase for the World's Best Cards and Technology
The ICMA Élan Awards of Excellence are open to ICMA members only. The 2022 Élan Awards will be presented at the ICMA Card Manufacturing and Personalization EXPO Awards Dinner in Tampa, Florida on May 17.
New in 2022: Prototypes/concept cards developed between June 1, 2021 and March 31, 2022 can be considered for the Unique Innovation category.
Review the guidelines for submitting entries in to the awards program in the 2022 brochure and enter now.
Learn more about the benefits of an ICMA membership.