ICMA EXPO Presenters to Reveal Latest Card Manufacturing and Design Trends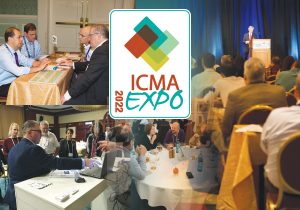 The global cards market size is expected to grow from $251.33 billion in 2021 to $275.5 billion in 2022, at a compound annual growth rate (CAGR) of 9.6%. In 2026, the global card market size is expected to grow to $399.15 billion at a CAGR of 9.7%. The rising demand for credit cards is expected to fuel the growth of the cards market in the forecast period.
Despite digitalization taking hold across the world, physical cards continue to play a key role in our daily lives and will for many years to come, as they are continuously being reimagined to meet issuer and consumer needs. Thus, the International Card Manufacturers Association (ICMA), the leading global card association for card manufacturers and personalizers, selected Cards Reimagined as the 2022 ICMA EXPO theme. This in-person event is scheduled for May 15-18 at the Saddlebrook Resort in Tampa, Florida.
"We're pleased to meet in-person again, as ICMA had to postpone its EXPO for the past two years due to the pandemic," said Jeffrey Barnhart, ICMA founder and executive director. "Nothing compares to in-person networking. The EXPO isn't just the world's only card-focused event, it's our place to unite and strategize successful outcomes for all of our card industry initiatives and endeavors. It will offer a great deal of networking opportunities and a comprehensive agenda, with topics centered around the theme."
Following are ICMA EXPO presenters and topics:
Megan Anthony Bogard, design manager of CPI Card Group, will present Reinventing Card Design Using Traditional Materials. CPI is a payment technology company and provider of credit, debit and prepaid solutions.
"I'm looking forward to catching up with everyone at the ICMA EXPO," said Bogard. "During my presentation, I'm excited to share ideas about reinventing the look and feel of the card using commonly stocked materials and treatments in uncommon ways."
The presentation will open with the importance of gathering the materials needed to manufacture, before finalizing the card design. Readily available core materials serve as the foundation of the design phase, along with ideas for selecting treatments to enhance the core and the design elements in unison. It also will incorporate ways to differentiate the visual aesthetic of the card using elements that are already integrated into traditional card manufacturing, changing the way the end user sees the card, while maintaining full functionality of the card product.
Chris Burket, senior product marketing engineer of TDK Corporation, will present The 3 Ms: Metal, Magnetics and Modules. TDK provides electronic solutions for the "smart society."
"My presentation will address some of the new challenges encountered by card manufacturers as they migrate into the metal card space," confirmed Burket. "I'm excited to be presenting potential solutions to card manufacturers, which will improve performance related to the contactless communication range. Also, to show how leading-edge magnetic materials and unique module technology can help resolve other challenges such as overall card thickness."
Today's credit cards are in a phase of continued migration from all plastic to metal-plastic hybrids or full metal jacket smart cards. With an outer surface metal configuration, there are a number of new challenges encountered by the card maker.
Some of the key challenges include:
1) Performance impact to the contactless communication range
2) Addition of newly required materials into the card environment (e.g., magnetics)
3) Total metal card thickness vs. increased card weights.
This presentation will focus on these issues, along with some others, and will offer potential solutions to the "challenges" through state-of-the-art magnetic materials. In addition, a unique antenna module technology also will be introduced, which will assist the card maker by reducing the layer count and card thickness, minimize variables in the manufacturing process, and enable more consistent electrical parameters.
To learn more about the latest trends in the global card industry, register to attend the ICMA EXPO.
Industry Insider Insights and Glimpse into Global Card Trends
For more than 30 years, ICMA has represented the interests of the card manufacturing industry—which includes manufacturers, personalizers, issuers and suppliers—as its leading global association.
Throughout the year, ICMA members have the opportunity to share insights and knowledge by giving presentations during ICMA webcasts and events. ICMA offers regular educational opportunities, including virtual ACE-Commercial training, which provides sales, marketing, customer service and other key personnel at ICMA member companies with the opportunity to learn the fundamentals of card manufacturing.
Learn more about the benefits of an ICMA membership.