ICMA Offers Strategic Marketing Solutions for Members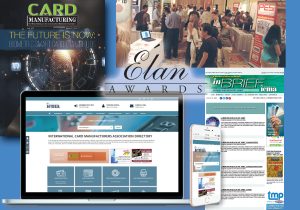 Card manufacturers and personalizers face many challenges including keeping pace with recent technologies and how the world wants to transact. As such, staying on the forefront and ensuring that the right brand message is reaching target audiences through the best marketing channels are critical to lead generation and business growth.
This is consistent with the latest marketing industry trends. According to a new report on current global marketing issues, the top challenges of 2022 include:
Generating traffic and leads
Demonstrating ROI of marketing activities
Reaching global audiences
The International Card Manufacturers Association (ICMA), the leading global card association for card manufacturers and personalizers, offers its members resources to address these marketing challenges and more. Utilizing ICMA Marketing Solutions, members can market their brand, product and/or services among customers and prospects. Additionally, they can enhance their overall industry exposure globally.
"ICMA provides its participating members with key marketing services that get results," said Kelsey Tweedly, marketing manager, ICMA. "Through a myriad of marketing solutions including advertising, public relations, content marketing, social media marketing, digital marketing, events and publications, ICMA assists member companies in garnering more brand recognition and industry access."
Tweedly continues, "Also, members who engage in marketing programs benefit through additional exposure by ICMA itself. We promote contributing companies on ICMA's social media channels, as well as in blogs, email promotions and digital advertising campaigns."
ICMA offers a wide range of free and paid marketing options to its members including:
Content Marketing, Public Relations and Advertising  
Card Manufacturing Magazine: ICMA's official publication, Card Manufacturing, engages the global card industry and positions card manufacturers, personalizers, principal issuing organizations, industry suppliers and service providers on the forefront of change and business success. Members can place advertisements, submit company press releases and news. Likewise, be considered for submitting a feature article, showcasing company expertise.
ICMA InBrief: This weekly news resource curates the most relevant industry news. It serves as a brief burst of need-to-know news, encompassing the latest insights and market trends. Members can participate by submitting company news for inclusion. Or secure a banner ad, to get in front of more than 1,000 global members.
Inside ICMA Banner Advertisements: Provides the latest association news, highlighting ICMA card education and training programs, webinar topics, Card Manufacturingmagazine articles, event details and member news. Members can display their brand to ICMA members monthly through these paid banner ads.
Banner Advertisements: ICMA's website has more than 1,500 visitors per month. Members can purchase banner advertisements to put their company in front of thousands.
ICMA Blogs: Centered around member promotion, companies are featured in ICMA blogs, which position them as thought leaders in their subject area and industry.
Event Exhibition, Sponsorships and Facility Tour Hosting
ICMA EXPO Exhibition Booths: The ICMA EXPO is the largest annual gathering of card manufacturers, personalizers, suppliers, payment brands, bank and retail issuers and other industry executives. Members can feature their company's brand, products and/or services by reserving exhibition booth
ICMA EXPO Sponsorship Opportunities: ICMA EXPO sponsorships can differentiate members from their competitors, in addition to elevating sales and brand awareness. Available for all budgets, each sponsorship comes with a variety of extras, including free EXPO registrations if applicable.
Integrated Marketing Services for Suppliers
ICMA Supplier Recognition Program: This vendor program consists of three marketing levels: Diamond, Platinum and Gold. Depending on the chosen option, members will get their marketing message out through:

Advertising in Card Manufacturingmagazine, website or e-newsletters
Exhibiting at the ICMA EXPO
Sponsoring the EXPO
Industry Award Recognition and Promotion  
ICMA Élan Awards of Excellence: Celebrating the pinnacle of design innovation, security and technical achievements in the global transaction card industry for more than 30 years, the Élan Awards of Excellence provide members industry and brand recognition. Members also benefit from the post promotion, consisting of being included in ICMA press releases, blogs and social media marketing. Recent award recipients shared advantages of winning an Élan Award.
To demonstrate a commitment to sustainability, members can enter the recently added Environmentally Friendly Feature Card category, which recognizes cards created with eco-friendly materials and/or sustainable card manufacturing processes.
Digital Marketing
ICMA Member Directory: ICMA's public page, its most visited webpage, allows website visitors to search for providers of selected product categories. Free to members, they have an opportunity to market to thousands through a profile page with their company brand, description and product listing and direct link to their website—thereby generating traffic and leads.
ICMA Webcast Series and Tutorial and Event Presentations: ICMA webcasts are presented remotely to members around the world, while its tutorials reside on the website for members to watch at their leisure. Members can position their company as an industry thought leader by presenting at one of the events, on one of the webcasts or by creating a tutorial. Presenting at an event puts members in front of industry executives and decision makers.
Social Media Marketing
ICMA Social Media Marketing: Members who are a part of ICMA programs such as writing bylined articles for Card Manufacturing magazine, becoming an EcoLabel licensee, or speaking or exhibiting at ICMA events are promoted on ICMA's social media channels. They gain industry exposure by being mentioned and tagged and can share these posts with their own networks, which could result in additional business connections.
More Insights on Card Trends
For more than 30 years, ICMA has represented the interests of the card manufacturing industry—which includes manufacturers, personalizers, issuers and suppliers—as its leading global association.
In response to consumer and card issuer demand for green transaction and identification cards, the ICMA EcoLabel Standard Program provides a determination of the environmental performance of a manufacturer's cards through a third-party ecolabeling certification program. Manufacturers can become EcoLabel Program licensees to showcase their support of sustainability initiatives. Licensees can also offer clients a valuable EcoLabel opportunity for cards that meet established criteria in the following categories: reduced materials, recycled content, compostable and biobased content.
ICMA also offers regular educational opportunities, including virtual ACE-Commercial training, which provides sales, marketing, customer service and other key personnel at ICMA member companies with the opportunity to learn the fundamentals of card manufacturing.
Throughout the year, ICMA members have the opportunity to share insights and knowledge by giving presentations during ICMA webcasts and events. The association's main event is its annual Card Manufacturing & Personalization EXPO, happening May 15-18.
Learn more about the benefits of an ICMA membership.