Wooden Key Cards: Eco-Friendly Solution for the Hospitality Industry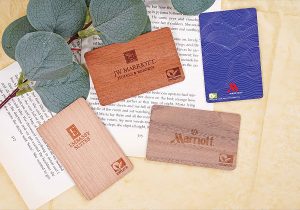 Green Hotel Cards Inc. (GHC) joins the growing list of card manufacturers that are producing eco-friendly products using sustainable materials including polylactic acid, recovered ocean bound plastic and recycled stainless steel. GHC is a new member of the International Card Manufacturers Association (ICMA), the leading global card association for card manufacturers and personalizers, supported by suppliers and other industry participants.
"GHC is proud to be a member of ICMA, as it's exactly the platform the company has been seeking for years," said Valerie Chan, director of operations, GHC. "Both organizations share the mission to protect the earth and promote sustainability in the card manufacturing industry."
Eco-Friendly Advantages of Wood
GHC produces RFID key cards made from deforestation-free wood for the hospitality industry.  According to a new report, wood-based products can assist with climate change mitigation by storing carbon, while also helping to avoid or reduce the greenhouse gas emissions associated with the materials for which they substitute, such as plastics, concrete, steel and synthetic fibers.
With more than 15 years of experience in the RFID key card industry, GHC works with thousands of hotels and has become one of the top suppliers in this segment. In addition to a hotel key card, wood cards can be used as transportation cards, souvenir cards, ID cards and other smart cards.
Chan continues, "At GHC, we realize that smart cards will face more severe challenges if we don't move toward sustainable options. Our development team spent years on choosing and testing, to assure a durable lifespan with sustainable wooden materials, which has proven to be a great success in our market usage."
All raw materials come from commercially-planted forests, with no concern for deforestation and further pollution to the environment.
Below are additional advantages of wooden hotel key cards:
Waterproof and compatible with major lock systems
As durable as a PVC card, with more than 100,000 times of usage under normal practice
Easily biodegrade and totally green, with no pollution to the environment
Polished for an elegant and classy user experience
Forest Management Solution Partnership
With a significant investment in research and validation, GHC partners with the Forest Stewardship Council (FSC), the world's most trusted sustainable forest management solution. The organization promotes environmentally appropriate, socially beneficial and economically viable management of the world's forests.
As an FSC-certified supplier, GHC runs thousands of repeating tests and verification. GHC then chooses the seven types of natural wood, from all FSC-approved wooden sources, to process into hotel RFID key cards. All materials are originated from the FSC full-chain certification.
"The core value of using an eco-friendly material in hotel key cards is there's no additional damage or burden to our earth's sustainable development," Chan stated. "Upholding this mission, using 100% natural wood to process daily-use RFID cards, complies with FSC standards. Bringing sustainable products to the smart card industry is a small step. However, GHC hopes to gather more companions to achieve the earth's healthy sustainable development for generations."
More Insights on Card Trends
For more than 30 years, ICMA has represented the interests of the card manufacturing industry—which includes manufacturers, personalizers, issuers and suppliers—as its leading global association.
In response to consumer and card issuer demand for green transaction and identification cards, the ICMA EcoLabel Standard Program provides a determination of the environmental performance of a manufacturer's cards through a third-party ecolabeling certification program. Manufacturers can become EcoLabel Program licensees to showcase their support of sustainability initiatives. Licensees can also offer clients a valuable EcoLabel opportunity for cards that meet established criteria in the following categories: reduced materials, recycled content, compostable and biobased content.
ICMA also offers regular educational opportunities, including virtual ACE-Commercial training, which provides sales, marketing, customer service and other key personnel at ICMA member companies with the opportunity to learn the fundamentals of card manufacturing.
Throughout the year, ICMA members have the opportunity to share insights and knowledge by giving presentations during ICMA webcasts and events. The association's main event is its annual Card Manufacturing & Personalization EXPO.
Learn more about the benefits of an ICMA membership.