ICMA Élan Award Winners: Who's Leading the Global Transaction Card Industry?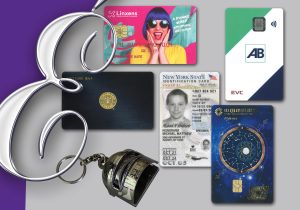 The International Card Manufacturers Association (ICMA)'s Élan Awards distinguish ICMA manufacturers, suppliers and personalization/fulfillment members before their peers and customers as global industry leaders. ICMA Founder and Executive Director Jeffrey Barnhart revealed the 2022 Élan Award winners during a ceremony at ICMA's Card Manufacturing and Personalization EXPO in Tampa, Florida on May 17.
"For more than 30 years, the ICMA Élan Awards have applauded world-class achievements in design, security and technological advances in the global transaction card industry," said Barnhart. "Along with earning international card industry recognition, winning an Élan Award stimulates brand awareness, prestige and new business opportunities."
Élan Award Criteria
To determine the winners, the Élan Award judges use a quantifiable scoring system, based on criteria in the following nine categories:
Graphical Design
Printing
Complexity
Technology
Quality
Innovation
Uniqueness
Practicality
Security (if applicable)
Élan Award Winners
Here are the latest ICMA Élan Award winners leading the global transaction card industry.
Giesecke+Devrient (G+D) (China) Technologies Co. Ltd.
Category: Manufacturer – Loyalty, Promotional, Gift Cards
Card Name: Starbucks Brand-History Card
Manufactured for: Starbucks
The card set has four layouts, all of which utilize unique designs and materials. Each material is combined with a Starbucks's logo from a distinct time period to fully reflect the brand's development history.
The cards with the wooden and leather layouts have the respective texture that highlights the brand's profound history and appeal. Meanwhile, the black brushed-metal layout adds a touch of modernity. The layout with green 3D ink appears to ripple under different light angles. While the card with the logo created with dual-color gilding makes it look fashionable.
Category: Manufacturer – Unique Innovation Prototype Concept Card
Card Name: Special-Shaped Chip Card
Manufactured for: Concept Card
G+D has pioneered the design and development of special-shaped chips. While fully satisfying the purpose and specifications of chips, the card manufacturer has created uniquely shaped chips that may be used widely. Unlike the conventional monotonous square shape, colors and engraving have been added to turn chips into exquisite and unique inlaid artworks.
Category: Personalization & Fulfillment – Product, Service or Project
Card Name: China CITIC Bank's American Express Game for Peace Special-Shaped Card
Manufactured for: China CITIC Bank
China CITIC Bank has partnered with "Game for Peace" to launch a new wearable payment device, which is based on a classic device from the game. It may seem like the game's merchandise, but it actually allows contactless payment.
"The Élan Awards provide G+D with the perfect opportunity to push our boundaries to the next level for more engaging, attractive and innovative design," replied Dong Quin, deputy manager of design center at G+D (China) Technologies Co. Ltd. "It also offers us the opportunity to compete with other existing providers. This enables us to strengthen our position in this competitive market. The award also is a recognition in the industry, as it provides our clients better indication of our abilities and potential offerings."
Canadian Bank Note Co.
Category: Manufacturer – ID and Access Control Cards
Card Name: New York State Driver License
Manufactured for: New York State Department of Motor Vehicles
Released in March 2022, the New York State Enhanced ID card is a 100% polycarbonate, laser-engraved credential that balances function, security and aesthetics. This innovative physical credential was crafted using Canadian Bank Note Co. (CBN)'s Intuitive Design technique for harmonious integration and registration of design elements and security features. The result is easy detection of counterfeits and strong deterrence of fraudsters. It demonstrates how banknote-grade security printing, laser-engraved personalization and innovative features interlink to achieve superior document security.
Key security features include:
Integrated Multiple Laser Image, which involves laser engraving two images in the same area of the card, so that the image being seen changes when viewed at different angles
Mixed tactile and non-tactile laser-engraved data highly aligned to the lithographic print
Embossed text and images
A complex laser engraved interlocking "wave" of biographical data that weaves through the windows from front to back
"The seven Élan Awards that we have won over the years celebrate hard work and success with our winning customers," stated Todd Wawryk, vice president and general manager, driver and vehicle at CBN. "The award also provides recognition that lets our prospective customers know that CBN is an industry leader in card design, manufacturing and personalization."
Goldpac Limited
Category: Manufacturer – Unique Innovation
Card Name: Bank of Guiyang Shuang Ying Men VIP Diamond Debit Card – Private Banking Card
Manufactured for: Bank of Guiyang
Designed for a high-end clientele, the chip is specially branded, and the card surface is inlaid with Swarovski crystals to display the cardholder's supremacy.
"By participating in the Élan Awards, Goldpac demonstrates its technological strength, gains industry recognition, improves its visibility and shows more excellent products and services to its customers," said Lindda Li, design director at Goldpac Limited. "In turn, this creates new business opportunities and attracts more customers and businesses. Through the competition, Goldpac communicates with different card manufacturers around the world, which not only brought more inspiration to Goldpac, but also provided the possibility of seeking win-win cooperation."
Thales DIS
Category: Feature Card – Metal
Card Name: Viseca Visa Platinum Metal
Manufactured for: Viseca
The elegance of this exclusive edge-to-edge metal card is underlined by a minimalistic yet elegant design. The striking brushed texture and elaborate tactile details on the card front make it a unique piece of art. Thales achieved the highly textured look and feel with a special digital printing technology. Combined with a premium packaging, it provides a unique experience to the cardholders.
"Entering the ICMA Élan Awards competition gives domestic launches of products and services the opportunity to gain international exposure and recognition," exclaimed Diana Sevilya Nevsehilrli, product marketing manager, innovative cards at Thales.
IDEMIA FRANCE SAS
Category: Feature Card – Biometric
Card Name: Rocker Touch
Manufactured for: Rocker
IDEMIA and Rocker have collaborated to launch Rocker Touch, the first biometric card in the Swedish market. The card aligns convenience and simplicity, all while preserving payment security.
Rocker Touch was developed based on IDEMIA's F.CODE biometric card. This product allows customers to authorize payments via a fingerprint sensor embedded into the card. To ensure privacy, biometric data is securely stored in the chip and never leaves the card.
Besides increased security, nothing else changes for the cardholder or the merchant. With this fully EMV-compliant card, transactions are still made by tapping or inserting the card into a merchant point of sale (POS) terminal. With Rocker Touch the transaction is authenticated the same instant the card is tapped; meaning the contactless payment method can be used no matter the amount of the transaction or the threshold. This makes transaction security even more convenient and hygienic.
Hengbao Co. Ltd.
Category: Manufacturer – Secure Payment Cards
Card Name: China Construction Bank Moon and Stars Platinum Card in the Sunlight Series
Manufactured for: China Construction Bank
Hengbao Co. Ltd.'s new "Sunlight, Moonlight and Star Series Card Series," launched by China Construction Bank, is based on the idea that "the sun and the moon glitter together; stars sparkle," indicating the harmony and coexistence of the universe. This series of cards can be sold as a whole or separate based on customer preference. The colorful hot stamping process of explosive beads and flash gold shows the mystery and dazzling mirror of the planet. The surrounding stars are custom-made and surrounded by gold. The dual-color card base echoes with the customized card edge, highlighting its uniqueness.
The sun and the moon in the Venus constellation use a colorful shell base. Dazzling with cat's eye hot stamping and diamond inlays, the golden ring represents protection and perfection. The inner circle, using hot stamping amber, echoes with the theme. For its color, it uses peacock blue as the base and adopts light-changing ink process to represent innate nobility and elegance, further reflecting the bright and moving stars and the moon.
LINXENS
Category: Supplier/Vendor – New Product, Service or Innovation
Card Name: Concept card made by LINXENS
Manufactured for: N/A
A prelam/inlay enables any card manufacturer to manufacture a dynamic CVV/CVM card. Contrary to other products currently on the market, this requires no special machinery, process or materials. Standard smartcard equipment and processes are needed only. Moreover, LINXENS' integrated technology does not rely on a battery. The entire system is powered by the POS reader field. The static/printed three- or four-digit security code of the credit card is replaced by a display. The dynamic security code (CVV/CVM) is updated whenever the card is powered by a reader/POS during a "card present transaction."
A dynamic CVV/CVM code is one of the most effective measures to fight the raising "card-not-present" fraud, while maintaining a seamless e-commerce shopping experience for the customer. Battery-free technology, in connection with easy processing on the card manufacturing side, paves the way for mass deployment. The technical principle of this reader-powered electronic inlay can also be applied for future application in transit, loyalty or pre-stored value.
SPS
Category: Supplier/Vendor – New Product, Service or Innovation
Card Name: EVC All-In-One by ELLIPSE, SPS, ABCorp
Manufactured for: ELLIPSE, SPS, ABCorp.
Card-not-present payments, used in e-commerce, are plagued with fraud caused by the low level of security provided by the CVV/CVC printed on the signature panel of most payment cards. Ellipse has developed the Ellipse Verification Code (EVC), displayed on the back of the card, that refreshes automatically during every contact or contactless EMV transaction, rendering pointless any fraudster attempt to copy and reuse it. Thanks to the integration of SPS's eBoost® inductive coupling technology with the EVC® All-In-One module, card manufacturers can easily mass produce e-commerce-ready payment cards. Dual-interface cards based on this technology do not require any physical connection between the micromodule and the antenna, thus benefitting from the advantages of this simple embedding process in terms of cost efficiency, reliability and card life expectancy.
CompoSecure LLC
Category: Feature Card – Environmentally Friendly
Card Name: Truist Wealth
Manufactured for: Truist/Fiserv
Truist Wealth consists of an abstract design brushed on to the metal veneer of the dual-interface card. It has a sweeping color pattern, with the enhanced mechanical engraving of the Truist logo into the stainless-steel card body. This financial card is made up of 54% post-consumer materials. CompoSecure's personalization partner, Fiserv, contributed to the design and success of this card program.
A Renowned Showcase for the World's Best Cards and Technology
The ICMA Élan Awards of Excellence are open to ICMA members only. The 2023 Élan Awards will be presented at the ICMA Card Manufacturing and Personalization EXPO Awards Dinner in Orlando, Florida on Wednesday, May 17.
Review the guidelines for submitting entries into the awards program in the 2023 brochure and enter now. The submission deadline is March 1.
Learn more about the benefits of an ICMA membership.