Digital Printing Advancements in the Card Manufacturing Industry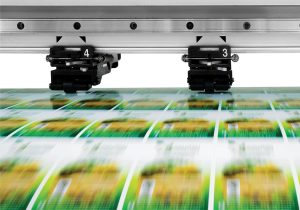 Digital printing in the card manufacturing industry has grown, as advancements persist. The need to produce sustainable products continues to drive this trend. Currently, digital printing is being deployed globally.
In fact, the global digital printing market size was estimated at $27.4 billion in 2021, according to a recent report. It's projected to surpass around $49.7 billion by 2030 and anticipated to grow at a registered CAGR of 6.84% between 2022 and 2030.
Eve Lopez, North American marketing manager at HP and a member of the International Card Manufacturers Association (ICMA), uncovers digital printing advancements in the card manufacturing industry and the factors guiding this change.
Digital Printing Advancements
Key card manufacturing industry players are investing in Indigo technology and other types, to complement their overall operations.
They include:
Indigo Electro Ink: Has the ability to match the look and feel of offset inks being used in the synthetic card manufacturing space, which is a benefit over other printing presses.
Indigo CMYK-OGV: Provides an advantage in matching brand colors for the card space. It's also been qualified by major players in the card space.
HP Spot Color(s) & Expanded Gamut (CMYK-OVG): Is qualified by card issuers and security ink (invisible yellow).
Inline Corona Treater: Has flexibility in synthetic usage.
Inline Coater: Is used for applying invisible inks.
"Other digital technologies, such as UV-LED, are being used," said Lopez. "However, they pose a problem in matching color and leave a raised image effect due to the nature of the process. But there are applications where it's a benefit, such as drop on-demand (DOD) applications."
Digital Printing Limitations
Longer runs continue to stay on traditional offset presses. Digital printing is allowing expansion of a current offering for high-value markets, with a wide application range.
Lopez continues, "A successful recipe requires testing and working with the supplier for both media and overlay. Likewise, on very specific settings in the finishing system including temperature, pressure and dwell. This process can be time consuming and very important for customers entering the digital market."
Factors Guiding Change to Digital Printing
Here are the top factors propelling the change to digital printing:
Shorter run lengths and quick turn-around: These are the main factors contributing to the change.
Ability to satisfy shortages: Card manufacturers experience shortages from time to time. Having a digital device fingerprinted to their existing offset technology enables the digital platform to satisfy shortages quickly with less waste. This is a tremendous benefit to the overall operation. Shortages take time to run on offset presses and are not as cost effective.
No wash-up and little wasted sheets: Factor in what it takes for an offset press. The presses must be washed up for desired PMS color and those colors need to match the previous run. Then there's the waste of expensive synthetic media for that short-run make-ready. All that only to produce a couple of hundred cards. A digital press requires no wash-up of PMS colors and takes very little, if any, wasted sheets for make-ready.
Ties into the global sustainability initiative: A digital press wastes far less media than an offset press. This is the driving force for change.
Cost savings: There's cost savings in waste, as synthetic media is very expensive.
More Insights on Card Industry Trends
For more than 30 years, ICMA has represented the interests of the card manufacturing industry—which includes manufacturers, personalizers, issuers and suppliers—as its leading global association.
In response to consumer and card issuer demand for green transaction and identification cards, the ICMA EcoLabel Standard Program provides a determination of the environmental performance of a manufacturer's cards through a third-party ecolabeling certification program. Manufacturers can become EcoLabel Program licensees to showcase their support of sustainability initiatives. Licensees can also offer clients a valuable EcoLabel opportunity for cards that meet established criteria in the following categories: reduced materials, recycled content, compostable and biobased content.
ICMA also offers regular educational opportunities, including virtual ACE-Commercial training, which provides sales, marketing, customer service and other key personnel at ICMA member companies with the opportunity to learn the fundamentals of card manufacturing.
Throughout the year, ICMA members have the opportunity to share insights and knowledge by giving presentations during ICMA webcasts and events. The association's main event is its annual Card Manufacturing & Personalization EXPO. The 2023 EXPO will take place from May 15-18 in Orlando, Florida.
Learn more about the benefits of an ICMA membership.