Why It's Time for a Recycled PVC Core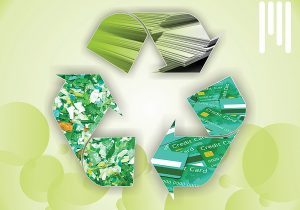 Times are changing for the card manufacturing industry. Consumers are clearer than ever before about what they want from card manufacturers—sustainable solutions for payment. This includes partners who activate their environmental, social and governance (ESG) policies.
A recent IBM Institute report finds:
More than half (51%) of consumers say that sustainability is more important today than 12 months ago.
These consumers stated that they're willing to pay a premium for purchases viewed as sustainable.
Bob Forbes, director of sales and marketing at VinylOne and an International Card Manufacturers Association (ICMA) member, uncovers:
Reasons to move toward sustainable practices.
Why it's time for a recycled PVC (rPVC) core.
How to engage with clients in their transition strategies.
Why it makes sense to be an early adopter.
Why move toward sustainable practices?
ESG associated opportunities and risks are becoming more and more relevant for financial institutions, as stated by KPMG, which operates in 143 countries and territories across the globe, offering audit, tax and advisory services.
Not only do ESG considerations make sense for the environment, but sustainable operations are also linked with better economic performance. Banks are therefore concerned not only with their own ESG footprint, but also the ESG risks and opportunities they're subject to as a lender. This is coupled with a constant flow of new regulations, which is bringing extensive compliance and horizon scanning challenges for banks.
Due to ESG's role in the marketplace and material savings, card manufacturers should begin the movement toward sustainable practices and embrace this new expectation and standard.
Why is it time for an rPVC core?
Now is the ideal time for card manufacturers to consider an rPVC core.
The latest benefits include:
First-use PVC plastic reduction: Using new sustainable plastics, for either individual layers or the whole card, reduces the amount of first-use PVC in the card.
Immediate savings: Savings are immediately recognized in set up sheet requirements. Set up sheets are a great place to start using rPVC. These sheets are for internal use only. There's an inherent savings using rPVC versus 100% virgin material.
Exceptional print results: There are processes available today that will provide exceptional printing results. Technology and the evolution of manufacturing and inks allow for optimized results. Previously, rPVC presented some challenges that inexperienced operators could have found difficult. 2023 allows for a near turn-key situation for rPVC.
Color control (printing on solid white versus virgin white core): This is one of the processes by which the manufacturer can deliver the solid and bright white for their cards. The rPVC market has an extremely limited amount of bright white material. By flooding the card in a bright white ink, the manufacturer is bringing the rPVC core up to nearly identical visual standards as virgin material.
Color accuracy: By compounding in 40,000 # lots, color accuracy is ensured within .8 Delta.
How can you engage with clients in their transition strategies?
There are a few ways to engage in this conversation:
Lead with sustainability: The consumer data presented in this blog is clear. This is an authentic and grassroots iteration of "green" solutions. This also ties in perfectly with the new ESG initiatives, as companies scramble to find suitable actions to address the consequences of ESG in our industry.
Talk about savings on material cost: Depending on market conditions, rPVC can deliver a 20-40% savings for material costs. Combined with the sustainability story and price efficiency, this is a compelling message for organizations looking to write the next chapter in card manufacturing.
Why be an early adopter?
When you look to the European Union, it's clear where the U.S. industry is heading. You can be an early adopter and reap the benefits or scramble later to bring production forward to the new standards. The former is always more profitable than starting later and attempting to recapture market share forfeited by delayed adaptation.
Do you want more insights on card trends?
For more than 30 years, ICMA has represented the interests of the card manufacturing industry—which includes manufacturers, personalizers, issuers and suppliers—as its leading global association.
In response to consumer and card issuer demand for green transaction and identification cards, the ICMA EcoLabel Standard Program provides a determination of the environmental performance of a manufacturer's cards through a third-party ecolabeling certification program. Manufacturers can become EcoLabel Program licensees to showcase their support of sustainability initiatives. Licensees can also offer clients a valuable EcoLabel opportunity for cards that meet established criteria in the following categories: reduced materials, recycled content, compostable and biobased content.
ICMA also offers regular educational opportunities, including virtual ACE-Commercial training, which provides sales, marketing, customer service and other key personnel at ICMA member companies with the opportunity to learn the fundamentals of card manufacturing In 2023, public ACE-Commercial trainings will take place on June 14, August 23 and November 1.
Throughout the year, ICMA members have the opportunity to share insights and knowledge by giving presentations during ICMA webcasts and events. The association's main event is its annual Card Manufacturing & Personalization EXPO. The 2023 EXPO will take place from May 15-18 in Orlando, Florida.
Learn more about the benefits of an ICMA membership.