ICMA Élan Award Winners: Global Transaction Card Industry Leaders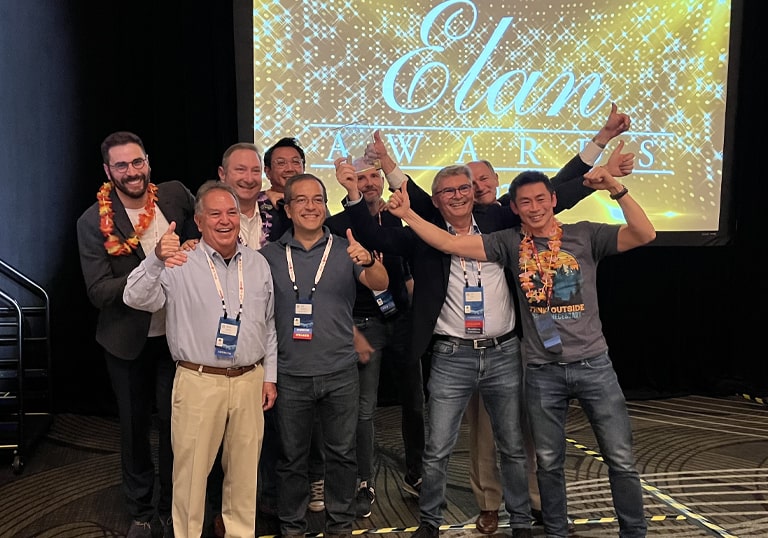 By Jennifer Kohlhepp – Managing Editor, ICMA
ICMA's Élan Awards of Excellence represent companies that are innovating and leading the global transaction card industry. Honoring world-class achievements in card design, technological innovation and other categories, the Élan Awards have established the global vanguard for card manufacturing excellence for more than 30 years.
ICMA Founder and Executive Director Jeffrey Barnhart revealed the 2023 Élan Award winners during a ceremony at ICMA's Card Manufacturing and Personalization EXPO in Orlando, Florida on May 17.
"Widely acknowledged as the most renowned platform for card excellence, the coveted Élan Awards distinguish ICMA manufacturers, suppliers and personalization/fulfillment members before their peers and customers as industry leaders," said Barnhart. "Winning an Élan Award stimulates brand awareness, prestige and new business opportunities Plus, it offers significant promotional opportunities for high-profile industry recognition and visibility."
Open to ICMA members only, Élan Award winners are selected from more than 100 entries from North America, MEA, Asia, Europe and other areas of the world. This year, ICMA received the most entries in the competition's history.
To determine the winners, the Élan Award judges use a quantifiable scoring system, based on criteria including graphical design, printing, complexity, technology, quality, innovation, uniqueness, practicality and security (if applicable). ICMA would like to thank Brian Summerhayes of Barnes International, Mike Walsh of SPICA, David Tushie, ICMA's standards and technical representative and Dori (Skelding) Rombola of Infineon Technologies for serving as judges this year.
Click here to see the 2023 winners and finalists of ICMA's Élan Awards of Excellence.
The ICMA Élan Awards of Excellence are open to ICMA members only. The 2024 Élan Awards will be presented at the ICMA Card Manufacturing and Personalization EXPO Awards Ceremony and Dinner in Orlando, Florida next May.
To learn more about submitting an entry into next year's competition, email info@icma.com.
To learn more about the benefits of an ICMA membership, visit ICMA.com.