Unique Innovations Guiding the Global Card Manufacturing Industry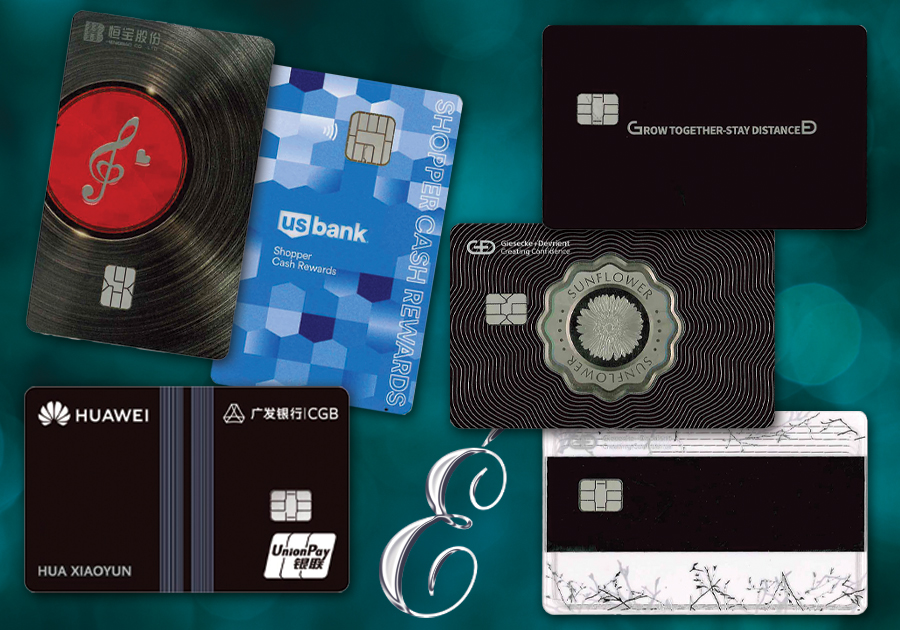 Card manufacturing companies including CompoSecure LLC, Giesecke+Devrient (G+D) and Hengbao Co. are guiding the global card manufacturing industry, according to the International Card Manufacturers Association (ICMA). The leading global card association recently recognized them with a 2023 Élan Award in the Unique Innovation and Unique Innovation Prototype categories.
The Élan Awards, open to members only,represent companies that are innovating and leading the global transaction card industry. Honoring world-class achievements in card design, technological innovation and other categories, the Élan Awards have established the global vanguard for card manufacturing excellence for more than 30 years.
The Unique Innovation category recognizes the most innovative technical achievement in card functionality or personalization/fulfillment product or service that demonstrates novel, unique or expanded functionality in response to customer application requirements. The awards program also features a category for protypes/concept cards.
Unique Innovation Cards
The Élan Award-winners in the Unique Innovation category are:
Hengbao Co. (Winner)
Hengbao Co. launched The Music Gift Card, which included specially designed heart-shaped notes inscribed on the vintage red music film, echoing the idea that "music reflects my heart," reflecting the pure and beautiful gilded time of music lovers. The shimmering luster of the music film is like the flow of the years, interpreting the unique chapter of each person. The rasterization, combined with a customized embossing process, vividly renders the lightness and tactile sense of the music film. The heart-shaped note is made of customized vertical gold craft, with partial dispensing craft, to make it more transparent and vertical—interpreting the gilded sense of light and music.
Following is the process description:
The whole card uses a customized embossing process. The music symbols protrude from the card surface and the background has rasterization and light variation effects.
The card uses a red laser card base.
CompoSecure LLC (Finalist)
CompoSecure LLC manufactured the US Bank Shoppers Card for US Bank. With the launch of US Bank's Shopper Cash Rewards card, CompoSecure LLC has successfully navigated the challenge of incorporating LED lighting into its metal payment cards.
The company employed new CNC etching techniques to create a special cavity for the fully independent backlighting assembly. Using this unique LED assembly, CompoSecure is able to provide a pleasing glow to customer logos or other symbols while still retaining the premium look and feel of its luxury card offerings.
The company's custom light masking techniques allow it to adapt to a wide variety of artwork. The patented LUX LED™ card gives immediate visual feedback to the end user, both guiding the contactless transaction and enhancing customer satisfaction. The battery-free design ensures an operational life of tens of thousands of hours, more than sufficient for a typical payment card issuance period.
G+D (Finalist)
G+D manufactured the China Guangfa Bank and HUAWEI Commemorative Ceramic Card for China Guangfa Bank.
Since the development of a mono-colour ceramic card, G+D has continued its experiments and innovation and has once again achieved a breakthrough, by adding colors to ceramic to create color ceramic. The ceramic card uses super-fine raw materials, with high purity. With new molecule composition and structure design, high-precision ceramic is combined with alloy powder of precious metals before undergoing a precise and rigorous production process. The end product is tough, fall- and wear-resistant with an exquisite motif and a smooth finish. In addition to its fine texture, the card produces a crispy sound when tapped.
Unique Innovation Prototype Cards
The Élan Award-winners in the Unique Innovation Prototype category are:
G+D (Winner)
G+D manufactured the dual-interface ceramic card, which is:
An emerging and innovative processing technique, based on the pure contact ceramic card.
A new type of printed dual-interface ceramic card for banks and industries that use cards.
An innovative technique that disrupts existing products.
After a shape is created through the compaction of specially developed powder, it's fired at a high temperature, as per the kiln sintering process. Then, it's polished with precision control. Next, a copper wire is placed in the card and sealed in a special process. The card surface is then coated with anti-fingerprint oil, to ensure the card is clean and sleek.
The card has the following advantages, due to this complex process:
High density, a compact structure and strong resistance against crushing. It doesn't easily bend and break, and has a long service life, winning it the reputation of "ceramic steel."
Looks delicate and smooth like a mirror. It has a color gentle like jade, with strong wear resistance.
Chemical properties that are extremely stable, and resistant to the corrosion of various organic acids and bases.
Easy to use, by being inserted into a device or used in contactless payments.
G+D (Finalist)
G+D manufactured the 3D-holographic card. With the use of new materials and special lamination, a 3D relief-sculpture effect is created using holographic sculpting. Its wide adaptability gives designers greater artistic flexibility and allows the creation of a frosted, glossy or special-textured effect that enhances the metallic feel of the 3D subject.
G+D (Finalist)
G+D manufactured the mirror card. Breaking free of the material limitations of conventional bank cards and to meet the aesthetic demands of special clientele, a customized mirror material has been specifically researched and developed. This differs from old foil cards and focuses on the issuance and use of bank cards.
After the specially customized mirror material is accurately and meticulously embedded in the card that has undergone high-precision cleaning, the card comes alive. It will interact wonderfully with its holder, while its unique brightness and appearance enhance its overall presentation and charm.
"G+D is proud to have won four ICMA Élan Awards between these two categories," said Xiao Wei, general manager at G+D. "The unique and innovative products developed by G+D help bank customers find new growth points of performance. Through the amazing effect and the rareness of products, it can enhance the brand recognition and reputation, and push to help improve profitability."
Wei continues, "Winning an ICMA Élan Award is widely regarded as high-level recognition of professionalism and innovative strengths, which helps G+D stand out in this highly competitive market. G+D strives to provide stellar service to every segment of the cardholder market, helping banks to provide more card choices and increase customer loyalty."
A Renowned Showcase for the World's Best Cards and Technology
The ICMA Élan Awards of Excellence are open to ICMA members only. The 2024 Élan Awards will be presented at the ICMA Card Manufacturing and Personalization EXPO, which will take place from May 13-16, 2024 in Orlando, Florida.
Learn more about the other benefits of an ICMA membership.