CardTrex: Network with the 'Who's Who' of Card Manufacturing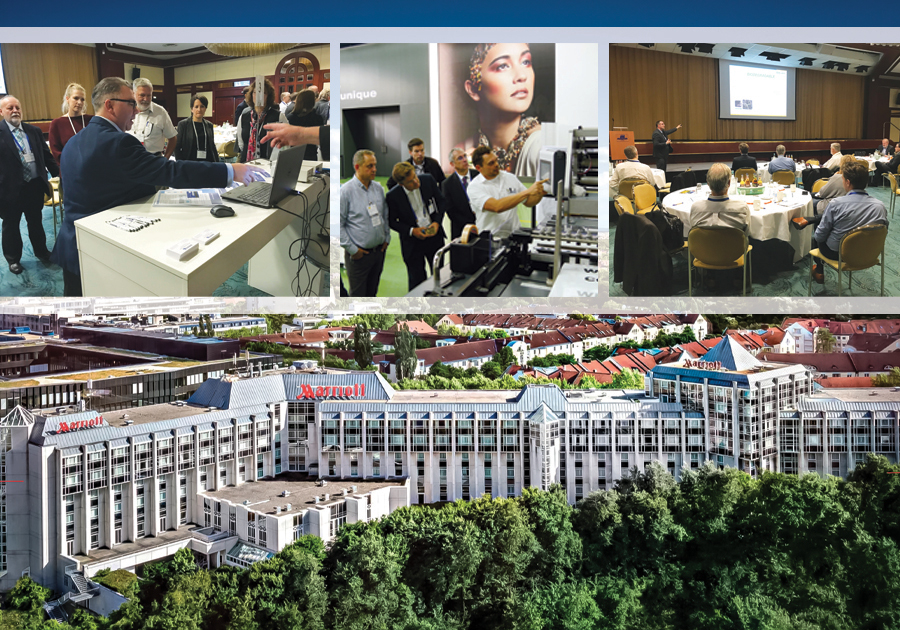 Card manufacturers have an ongoing commitment to improve their productivity, performance, delivery, quality, compliance, environmental footprint and customer satisfaction. As the card manufacturing industry landscape continues to evolve, organizations need to know how to adapt and grow in a competitive marketplace. Understanding the unique solutions other manufacturers develop to universal challenges has never been more important.
In response, the International Card Manufacturers Association (ICMA), the leading global card association for card manufacturers and personalizers, presents CardTREX from 12-13 October at the Munich Marriott Hotel in Munich, Germany. The one-and-a-half-day conference is open to ICMA members and non-members.
"CardTREX brings together the 'who's who' of card manufacturing executives, plant personnel, cutting-edge technology providers and supplier partners of various levels from around the globe," said Thomas Decker, CardTREX chair and vice president of payments product marketing at Linxens. "The program is a dynamic conversation, among experienced and rising card industry leaders, on how to best navigate real-world challenges and opportunities. I look forward to the conversations and vibrancy of learning from one another at this unique event."
In addition to ICMA's signature Speed Share session, where exhibitors will promote their best product and attendees will vote on the best product of the event, the conference offers a facility tour, educational presentations and networking opportunities.
Tour a Microsystems Technology Facility
On the first day, attendees will be taken off site to Fraunhofer Institute for Electronic Microsystems and Solid State Technologies EMFT for two educational presentations as well as a facility tour. The featured presentations during the facility tour are:
• Flexible Hybrid Electronics by Roll-to-Roll at Fraunhofer EMFT, presented by Christof Landesberger, Fraunhofer EMFT, will show technical examples of how electronic systems on flexible film substrates can be prepared by roll-to-roll (R2R) processing.
• GreenICT: Research Platform in Germany Toward Greener Electronics will be presented by Sabine Scherbaum and Jennifer Goldbrunner, Fraunhofer EMFT. Since last year, the competence center for resource-conscious information and communication technology (Green ICT@FMD) has been available to industrial partners. Under the criterion of resource efficiency, processes of packaging and interconnection technology as well as demonstrators for the modularization of flexible electronics are developed at EMFT. Comparative lifecycle assessments are carried out on metallization processes. Existing processes are examined for resource-saving substitution of materials and processes.
Discover the Latest Industry Trends and Solutions
CardTREX offers a comprehensive agenda including the following presentations:
• Digital Intelligence Brings ROI to Card Personalization & Issuance presented by Zain Aleem, Director Global Business Analysis & Consulting, Entrust.
• How to Differentiate in the Payment Card Space While Improving Consumer Loyalty and UX presented by Ursula Schilling, Director for Business Development, Chip Card and Security Division, Infineon Technologies AG
• The State of Play: An Update presented by Thomas Decker, Vice President of Payments Product Marketing, Linxens
• Benefits of Composite Cards: Optimizing Security, Durability & Cost presented by Michael Korzeniewski, Account Manager EMEA, TESLIN® Substrate Products PPG
• Exploring Eco-Friendly Bonding Approaches for Recycled/Biobased Card Materials presented by Christoph Kramer, Senior Marketing Manager Cards & Security – Smart Bonding Solutions for Secure Documents, Lohmann GmbH & Co. KG
• Innovative Plastic-Free Wood Cards Enable the Payment Card Industry to Even More Sustainability presented by Dr. Christian Lehringer, Copecto
• Suppliers Versus Partners: The Evolution in Purchasing presented by Núria Llonch, Global Category Manager Films, Giesecke+Devrient ePayments GmbH
• Payment Card Sustainability and Circularity presented by Tapio Vailahti, Head of Innovation & Development/Card Personalization,
Tietoevry Banking
Network with Industry Thought Leaders
Exhibits from Arsenal Testhouse, Barnes International, Copecto, Lohmann and PGP Group in ICMA's signature Networking Zone will bring card manufacturers, personalizers, suppliers and issuers together to discuss opportunities and challenges.
Together with having access to the Networking Zone, CardTREX offers attendees the opportunity to enhance strategic business relationships by connecting them with thought leaders, industry peers and experts in their field. Likewise, attendees will get industry insights from the educational sessions that they can leverage to drive innovation and profitability within their organizations.
For more information, visit ICMA.com/cardtrex.