3 Ways Card Manufacturers Can Stand Out in Helping Issuers Adopt Sustainable Payment Cards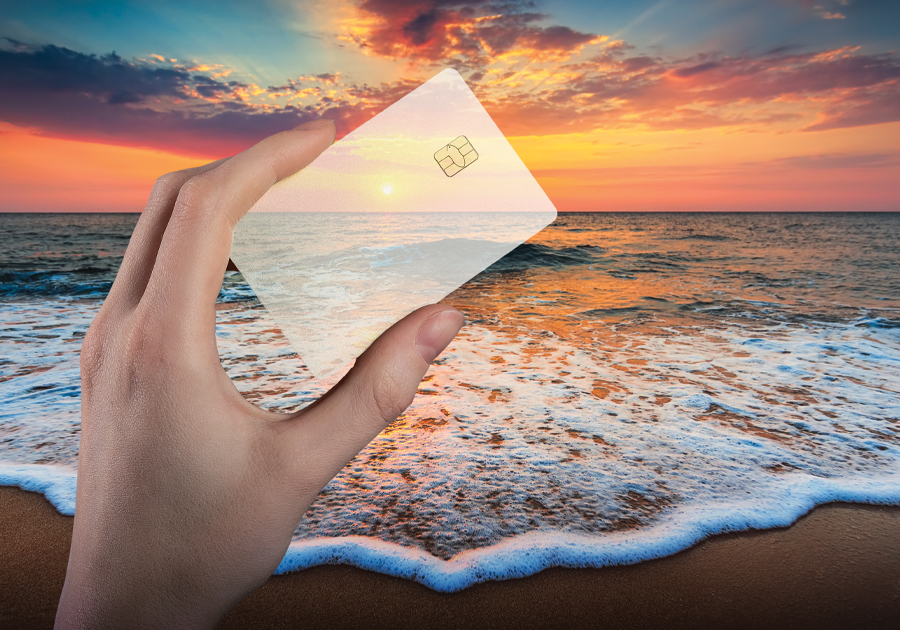 Eco-focused payment cards continue to gain popularity among both financial institutions and their customers looking for more sustainable alternatives to traditional cards that are manufactured from first-use plastics. This increased appetite for more environmentally conscious card choices has many issuers scrambling to keep up with demand amid the shifting trends in the industry.
Savvy card manufacturers can position themselves as solutions-oriented providers in the eyes of their customers by helping issuers navigate the adoption of these "environmentally friendly" cards from initial design to final delivery.
Here are three ways card manufacturers can help their customers successfully adopt eco-focused cards:
1. Act as a Trusted Advisor by Understanding and Communicating Market Trends
The card market has relied on PVC as its manufacturing material of choice for more than 70 years. All ISO standards for card functionality and lifespan were based on tests of PVC, and in the new age of cards made from recovered ocean plastics, recycled plastics and plastic alternatives, manufacturers have a responsibility to help issuers understand how this translates to durability, functionality and compliance.
Knowledgeable card manufacturers can stand out as thought leaders by explaining the due diligence that goes into producing these cards and verifying their suitability for long-term use. Manufacturers should educate issuers on what solutions might be right for them by communicating the brand certifications, testing and third-party evaluations such as ICMA EcoLabel certification to which these cards are subjected.
For manufacturers that haven't already begun having conversations with their customers about eco-focused cards, the time to do so is now. Many leading financial institutions have publicly declared their intentions to offer cards made with recycled and recovered
materials while steadily decreasing the cards produced from first-use plastics.
Mastercard notably made headlines in April 2023 when it declared that all cards bearing the Mastercard mark will be expected to be made with material other than first-use PVC by 2028. The company has also implemented a certification program analyzing card materials for their environmental impact to support its efforts to preserve natural resources and mitigate waste.
As more issuers declare their intent to offer eco-focused options, manufacturers can help their customers stay ahead of the curve by engaging in an open dialogue about what card options best meet the needs of the market—both now and in the near future.
2. Factor Material Choice into Design Considerations
Manufacturers should take a proactive approach in engaging financial institutions about card material choice during the design process. Many design factors are dependent on material choice, so deciding early in the design phase whether eco-focused materials will be used can help streamline and bring clarity to the process. For example, certain colors or treatments require a particular substrate that may only be available with the use of specific materials, so it's best to have conversations at the front-end of an engagement with your customers' design and manufacturing teams to see what options best meet their needs and their vision.
Beyond the composite used for the card itself, foils, colored cores, inks and other embellishments have their own environmental impacts to be considered. Manufacturers should talk to their customers about other sustainable card options that may be available, such as water-based inks that reduce the use of solvent-based pigments derived from oil and UV curing techniques that can help prevent volatile organic compounds (VOCs) from being spread into the manufacturing environment. By knowing customer preferences, manufacturers can help facilitate eco-focused design options that cater to the demands of sustainability-focused clients.
3. Plan for Personalization
Just as manufacturers need to be talking to issuers about how materials affect design, so too should they be talking to them about personalization preferences and the ways those preferences contribute to the overall impact of the card and package.
Payment brands have offered more flexibility with personalization requirements over the last few years, allowing for flat printing, back-of-card personalization and vertical orientations. Card manufacturers are on the front lines of putting these changes into production and can help issuers determine the best options for eco-focused substrates for these particular elements.
Additionally, instant issuance and print-on-demand options can help reduce
the volume of stock being vaulted. Card designers should be involved in the conversation when developing art that accommodates instant issuance and print-on-demand fulfillment requirements. Card manufacturers not currently offering instant issuance or print-on-demand functions should welcome the opportunity to do so to help empower their customers to fulfill consumer expectations for real-time service in a way that helps conserve natural resources.
Issuers rely on forward-thinking manufacturers to provide the latest products and services. Card manufacturers taking the time and effort to gauge customer appetites for eco-focused solutions can benefit from increased loyalty and trust while simultaneously doing their part to protect the planet.
About the Author: Megan Anthony Bogard is design manager for CPI and a member of the Board of Directors of the International Card Manufacturers Association. Megan brings more than 18 years of experience working in the card industry, having started her career in the prepress department of the CPI Colorado manufacturing facility. She went on to advance within CPI, eventually taking on a variety of roles in production and marketing before being named design manager in 2017. She continues to advance her skill set within secure card manufacturing and has her ACE-Manufacturing certification. She graduated with a bachelor's degree in graphic design from the University of Northern Colorado in 2002, and currently resides in Morrison, Colorado.