4 Key Factors Driving Eco-Friendly Products in the Payment Card Industry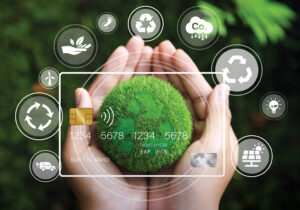 The payment card industry currently relies heavily on PVC plastic for the six billion payment cards in circulation globally. Each PVC payment card creates on average 160-170 grams of CO2-equivalent emissions. Switching to a recycled-plastic equivalent material can reduce those emissions by 75% per card.
David González, head of sales South + West Europe, Africa and Middle East at Giesecke+Devrient (G+D) and a member of the International Card Manufacturers Association (ICMA), outlines key factors driving eco-friendly products in the payment card industry and how it's replacing virgin plastics with eco-friendly materials.
Factors Driving Eco-Friendly Payment Card Products
The trend toward eco-friendly and sustainable products in the payment card industry is driven by key factors including:
Growing Sense of Environmental Responsibility
Among banks, there's a growing sense of environmental responsibility. They recognize the need to reduce their environmental impact and are taking proactive steps toward sustainability. Utilizing eco-friendly materials for payment cards enables them to minimize their carbon footprint and contribute to a greener future.
Consumer Awareness and Preferences
Consumer awareness and preferences play a significant role. Today's consumers are increasingly conscious of environmental issues and seek products that align with their values. By offering payment cards made from eco-friendly materials, banks can cater to this growing demand for sustainable options. This not only helps attract environmentally conscious customers but also enhances the overall customer experience and loyalty.
Regulatory Compliance
A major driving factor is regulatory compliance. In many regions, there are regulations in place to promote waste reduction and lower carbon emissions. By adopting sustainable materials for their cards, banks can ensure compliance with these regulations, mitigate risks and avoid potential penalties.
Adoption of Sustainable Practices
This positively impacts the bank's brand image and reputation. Banks that demonstrate a commitment to the protection of the planet can position themselves as socially responsible institutions. This enhances their brand equity, fosters trust among customers and attracts individuals who prioritize sustainability in their decision-making process.
Overall, the demand for more eco-friendly and sustainable products in the card industry stems from a combination of environmental responsibility, consumer preferences, regulatory requirements and the desire to build a strong brand image. By embracing sustainability, banks can align themselves with these drivers and contribute to a more sustainable future while reaping the benefits of a positive brand perception.
Eco-Friendly Materials are Replacing Virgin Plastics
G+D is driving sustainability in the payment card industry by replacing virgin plastics with eco-friendly materials. The company has set a goal to transition all of its payment card products to sustainable materials by 2030, at the latest. Through its eco-innovation efforts, G+D has developed alternative materials that enable banks to align with their environmental strategies.
Banca Sella, an environmentally conscious Italian financial institution, has already embraced this vision by migrating all of its cards to recycled PVC (rPVC). Its Sella Junior Prepaid Card was a 2023 ICMA Élan Award finalist in the Environmentally Friendly Feature Card category. G+D manufactured the card with recycled polyethylene terephthalate ocean plastic, which is made of plastic collected from the oceans and coastal regions. It's the first sustainable prepaid card created in collaboration with Parley for the Oceans, a nonprofit organization dedicated to protecting the oceans.
The ocean plastic content in the card is a minimum of 75% intercepted from the coastal environments and includes a core and antenna layer. The overlays are a minimum of 90% recycled layers of the same plastic family as ocean plastic—thus bringing the overall card content to 80%. By opting for ocean plastic, Banca Sella differentiates this card from their existing rPVC-based cards, showcasing their commitment to sustainability and creating a unique offering for young customers.
More Insights on Card Trends
For more than 30 years, ICMA has represented the interests of the card manufacturing industry—which includes manufacturers, personalizers, issuers and suppliers—as its leading global association.
In response to consumer and card issuer demand for green transaction and identification cards, the ICMA EcoLabel Standard Program provides a determination of the environmental performance of a manufacturer's cards through a third-party ecolabeling certification program. Manufacturers can become EcoLabel Program licensees to showcase their support of sustainability initiatives. Licensees can also offer clients a valuable EcoLabel opportunity for cards that meet established criteria in the following categories: reduced materials, recycled content, compostable and biobased content.
Throughout the year, ICMA members have the opportunity to share insights and knowledge by giving presentations during ICMA webcasts and events. The association's main event is its annual Card Manufacturing & Personalization EXPO. The next EXPO will take place from May 13-16, 2024, in Orlando, Florida.
ICMA offers regular educational opportunities, including ACE-Manufacturing, ACE-Personalization and ACE-Advanced Technologies trainings and exams at the ICMA EXPO. ICMA also offers virtual ACE-Commercial training, which provides sales, marketing, customer service and other key personnel at ICMA member companies with the opportunity to learn the fundamentals of card manufacturing. The next ACE-Commercial training will take place on November 1.
Learn more about the benefits of ICMA membership.